This easy cranberry raspberry relish can be made in less than 15 minutes and tastes wonderful. This is one of our favorite Thanksgiving recipes.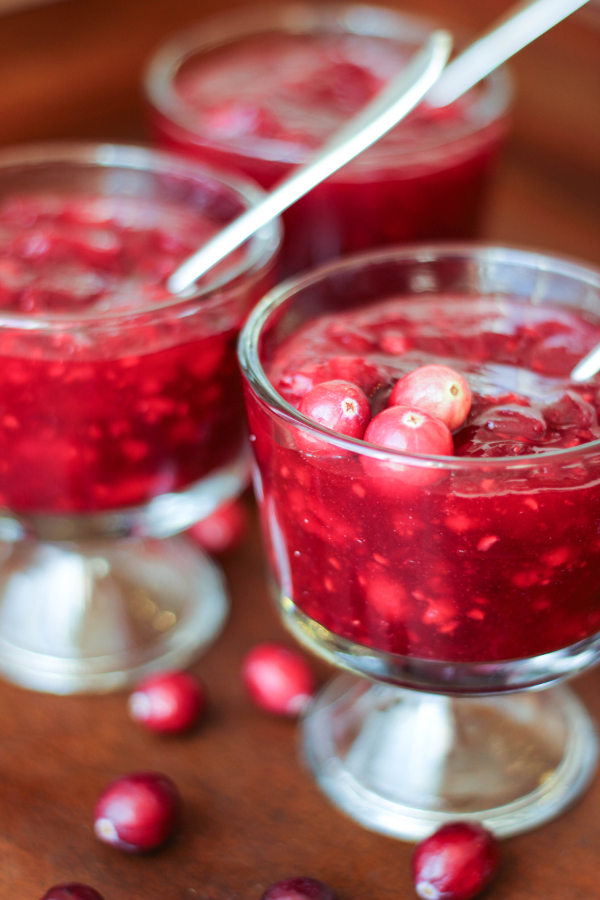 I was raised on jellied cranberry sauce from a can. Every year my father got out a square glass dish that had belonged to my grandmother and prepared the slices of jelly.
First, he used a can opener to open both ends of the can. Then the jelly was gently pushed out into the glass dish. When it was safely removed from the can in a perfect log the sharp can lid was used to slice rounds off of the jelly at every indentation left by the can.
It is one of the only traditions I remember of childhood Thanksgiving dinners. Because of that I was quite attached to my canned cranberry sauce.
At some point in my early 20s I picked up a bag of cranberries in the store and read the recipe on the back for sauce. I was surprised it was so easy. Everybody I knew just bought a can at Thanksgiving. They served it (with our without ceremony) and threw out most of the leftovers. Nobody cared a lot about it and that was that.
I broke with tradition that year and made a batch. It was a refreshing surprise! Then I added raspberries and I was a gonner. Now I look forward to the wonderful red cranberry raspberry relish that complements the bird so well.
Even my dad enjoys this version now but I confess I miss using the sharp aluminum lid to cut slices of thick red jelly and I guess I always will.
If you want something with a bit more zip in it, try my Jalapeno Cranberry Relish.
Cranberry Raspberry Relish
This cranberry relish is surprisingly easy with gourmet results. The raspberries make it extraordinary.
Ingredients
1

cup

water

1

cup

sugar

12

oz

fresh or frozen cranberries

6

oz

fresh or frozen raspberries
Instructions
In a medium saucepan combine the water, sugar, and cranberries. Bring to a boil over medium-high heat.

Turn down to a simmer and cook for 10 minutes.

Add the raspberries and mash to desired consistency with a potato masher or large spoon.

Chill and serve.