Flavorful turkey gravy made with vegetables leftover from roasting the turkey. The gravy is rich, creamy and more healthy and tasty than traditional gravy.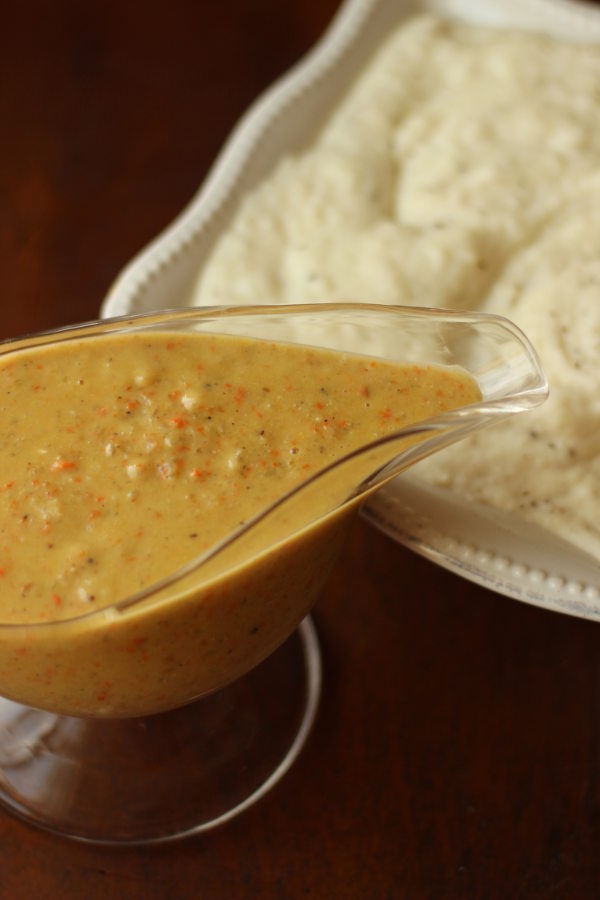 Everybody has that one recipe that makes it Thanksgiving. This gravy recipe is mine. Of course there are potatoes and turkey and bread and assorted extras, but if nobody makes this gravy I have not had my holiday.
It is a simple recipe. Roast the turkey. Grind up the veggies you used for the roasting along with the turkey juice. Thicken it up and serve. My mom makes it every year and every year we devour it. The hearty turkey flavor is complimented by the rich complexity of the roasted vegetables.
Make sure to try some of this on baked squash as well as the turkey. Also, if you are trying to watch what goes on your plate during the holidays, this gravy is a great healthy option. Most of the flavor comes from meat juices and vegetables instead of fat. There is some fat in it – don't get me wrong, butter is my friend but this is a significantly lower fat option than most of the gravy that gets served this time of year.
Plan ahead and cut the recipe in half if you don't need to serve as many people.  I make the entire batch and freeze leftovers to add to my favorite dinners later in the winter.
Still need a good recipe for that bird?  I have you covered with a easy brining and roasting plan.  
You might also like this amazing from scratch Pumpkin Pie!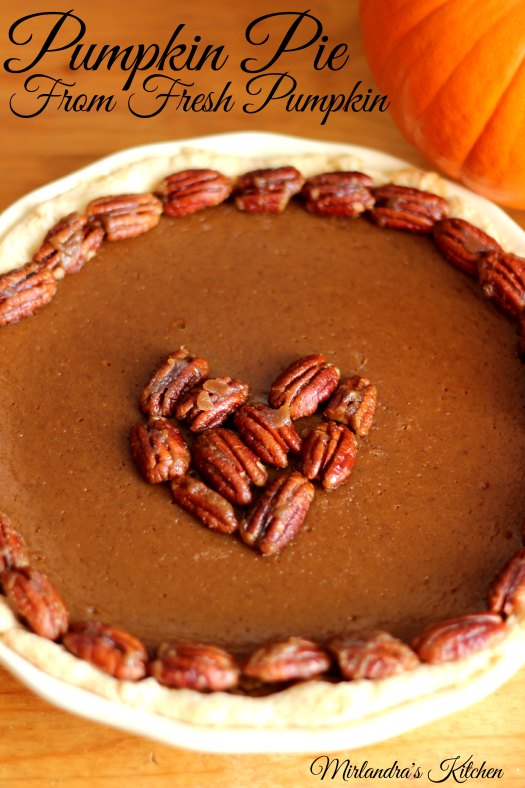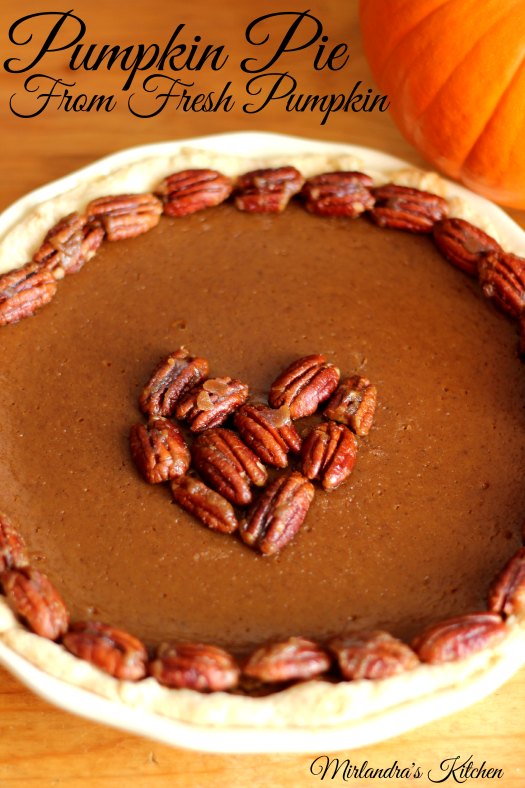 Roasted Vegetable Turkey Gravy
Ingredients
8

cups

veggies / drippings from roasting the turkey

1/2

cup

flour

1

Tbsp.

black pepper

1/2

tsp.

garlic powder

1/2

tsp

white pepper

1/4

cup

butter

1/2

cup

heavy cream

1/2

tsp.

salt

optional
Instructions
Remove your turkey and rack from the roasting pan to allow it to rest.

Dump all the vegetables and drippings from the pan into a giant measuring cup (8-12 cup capacity).

The turkey fat will float to the top. Scoop out about 1/2 to two thirds of that. Remove scoops of vegetables until you have a total of 8 cups of broth, fat, and veggies.

Grind half of the broth/veg mixture at a time in your food processor. Process 3-4 minutes per batch until it is the smoothness you desire. Usually I add the veggies and just some of the broth which makes it easier.

Put the ground veggies and any broth you set aside into a 12" skillet over medium heat. Whisk in flour 2 Tbsp. at a time. Be careful to mix it all the way in so you don't end up with lumps. If you find any large chunks of vegetables remove and discard.

Add the black pepper, white pepper, garlic powder and butter. Continue to whisk frequently and then constantly until the gravy comes to a simmer.

Maintain the simmer, adjusting heat as necessary, for 5-10 minutes. Whisk constantly. The gravy will thicken.

Remove from heat and add 1/2 cup of heavy cream. Taste and add the salt if desired. Serve hot.