Leftover turkey and rolls or biscuits make a delicious southern BBQ turkey sandwich. We are breaking out of our standard turkey sandwich rut this year!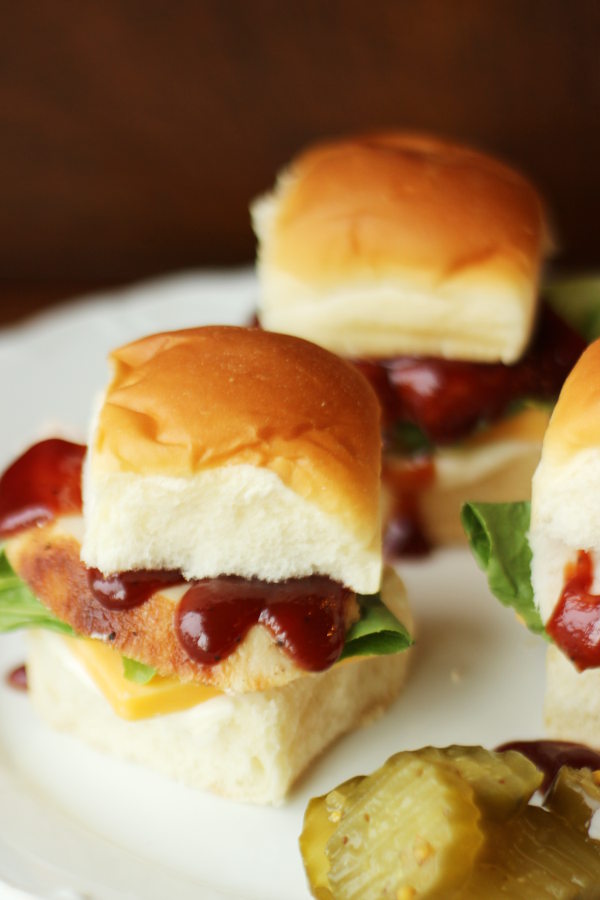 Best BBQ Turkey Sandwich
My favorite Thanksgiving Leftover is the Southern BBQ Turkey Sandwich.  Ask most any turkey lover what they look forward to most about Thanksgiving leftovers and be prepared to hear about their favorite sandwich. If you are a Friend's fan thoughts of the "moistmaker" are probably going through your head right now.
I love cooking for Thanksgiving dinner and consider it one of the best parts of my entire year. I pour myself into the task and while the results are always wonderful they also leave me a little tired. We spend the weekend after Thanksgiving engaging in a lot of down time and not very much cooking!
Jonathan has a four day weekend and we like to take that special time to rest, catch up, and start putting up our Christmas tree. Sometimes Jonathan makes a few meals, but generally we enjoy simpler food. This year we have been putting our Turkey to good use and munching up piles and piles of these delicious little BBQ sliders.
Using Leftover Turkey
I usually plan in advance and make sure we are well stocked on good BBQ sauce and sweet pickles. This year I was pretty sure there would not be many leftover rolls so I stashed some Hawaiian Sweet Rolls away to make sure there would be plenty of sandwich fixings.
Really any sauce and pickles will do the trick but we like Sweet Baby Rays sauce and Famous Dave's Pickles
. Frankly we don't patronize Famous Dave's BBQ restaurant but we bought two cases of the pickles this year from Costco. The pickles are so good I took them to a potluck last fall and somebody asked me for the recipe! I had to fess up that they were not, in fact, homemade.
After years and years of wonderful Turkey Sandwiches, I hope you enjoy trying something new and "Southernizing" your leftovers!
Use That Leftover Turkey for BBQ Turkey Sandwiches
Ingredients
leftover rolls

Mayo or Butter

lettuce

iceburg or romain

leftover turkey

Sweet Baby Rays BBQ Sauce

Sweet pickels

on the zesty side

white cheddar cheese slices
Instructions
Assemble as you like! If you are packing for a picnic or lunchbox pack the pickles and BBQ sauce on the side. Add them the sandwich right before you eat it.