This miso roasted asparagus is easy to put in the oven while you put dinner together.  I love the subtle undertone from the miso.  Anybody can nail this recipe and cook wonderful asparagus!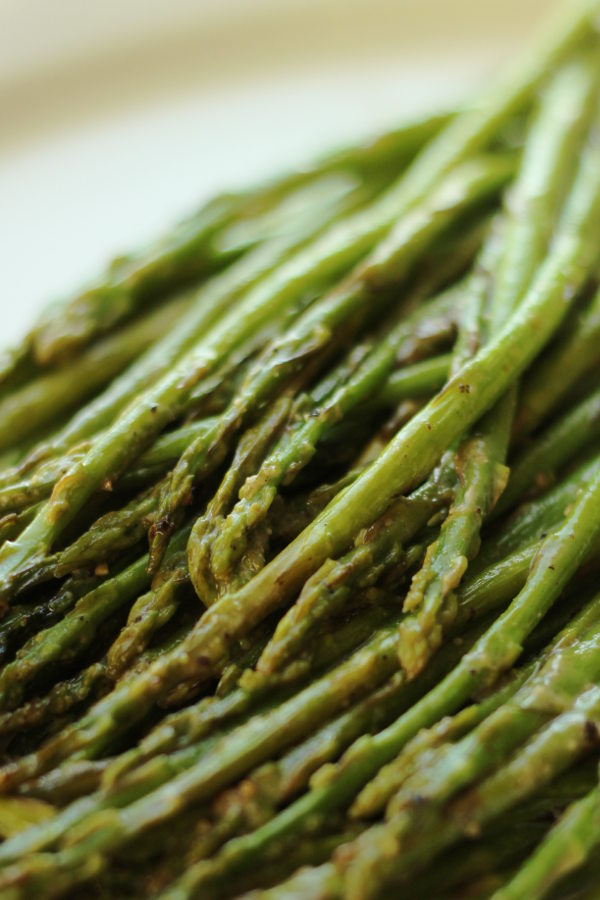 I never have a day that goes according to plan but today was extra special in that department. With my sanity on the line dinner needed to be a home run – but not too hard either. I came across some very small, tender asparagus this weekend which was a pleasant surprise for fall.
Miso Roasted Asparagus
We love asparagus. It is one of the few vegetables Jonathan will eat giant helpings of. Tonight I thought I would try a playful twist on my usual roasting recipe and add miso to the butter. The result was lovely.
Asparagus is a strongly flavored vegetable to start with but its flavor is wonderful. When I cook it I'm only looking for ways to highlight the existing taste. Miso is easy to use. It's very salty and is a hard working flavor booster in your cooking. The result is asparagus with just a hint of something else in the background that you can't quite put your finger on.
I love this side dish because it's easy to prep and does not need much tending once it's in the oven. It cooks while I toss dinner together leaving me free to focus on other things.
One caution – don't cook this vegetable until it goes to mush. Asparagus should be just tender with a hint of crunch when you bite down. This prevents it from becoming overly strong. I find that most people who dislike asparagus have never had it cooked well.
Try this with any meat dish or serve it for the upcoming holiday season.  It would be super good with my One Pan Sausage Alfredo! 
Miso- Roasted Asparagus
Ingredients
1

bundle of asparagus

2

Tbsp.

butter

lots of fresh ground black pepper

1

Tbsp.

mild yellow miso paste
Instructions
Preheat the oven to 425F.

Wash the asparagus and snap off the bottom ends where they break easily - usually 1" - 2". Discard the ends and place asparagus spears in a ceramic roasting pan.

Melt butter and miso in the microwave for about 30 seconds. Use a spoon to drizzle over the asparagus. Grind on lots of pepper.

Bake in preheated oven for 20-25 minutes. About half way through toss the asparagus with a tongs to make sure the butter is evenly distributed and things are cooking evenly. When done, the spears will be tender when you bite them with a slight crunch.
I read each and every comment and I try to respond to questions asap, so ask away! If you've made a recipe, I would love to hear about it! Please come back and share your experience and give the recipe a 5-star rating so other people will know how much you loved it!