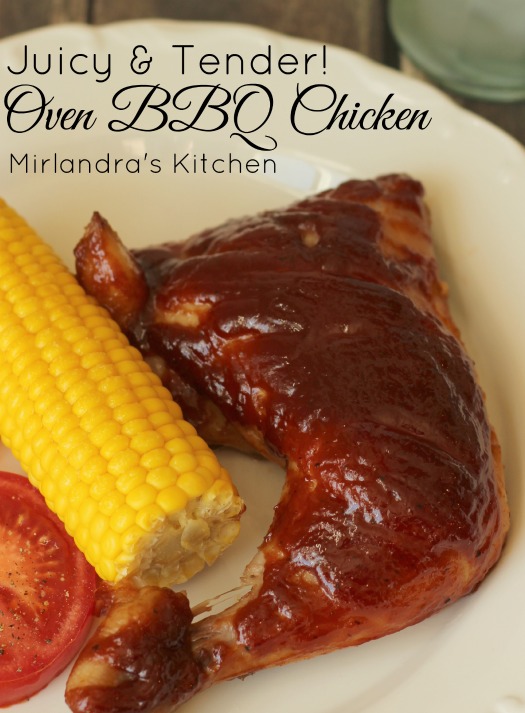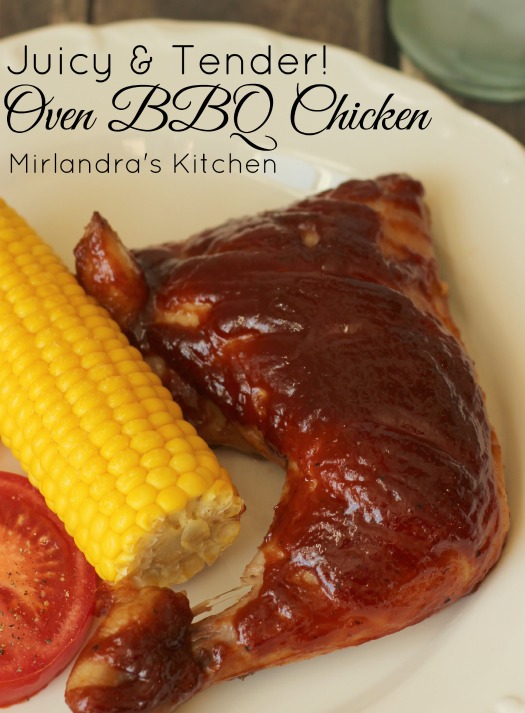 I love tender, juicy, succulent BBQ chicken but sometimes I don't want to stand outside in the snow and BBQ it. Let's be honest – I'm not a totally fair weather cook but sometimes when it's freezing cold I just want to be cozy inside.
We live in the Treasure Valley in Idaho and most winters the air does something nutty and we get an inversion. Basically any pollution in the air settles down into the valley and everything is foggy and gray and yucky. It does not usually last more than a few weeks but by the time it is done everybody is ready for summer!
About that time I turn to Oven BBQ Chicken and remember that summer is coming and along with it bear feet, trips to the lake and awesome BBQ! I can prep the chicken in about five minutes and it cooks in less than half an hour. That is an easy no fuss dinner, no question!
Chicken hind quarters are big enough to serve an adult and have the rich flavor of dark meat. They also can dry out very easily when cooking so I brine them first. Brining is a simple process of soaking the chicken in salt and water and sugar to allow it to pick up moisture and some flavor.
Even if you leave this meat in the oven a little too long it won't over cook! Brining is cooking magic that protects meat during the cooking process and helps retain all the yummy, juicy, chicken flavor.
It also means you can cook this at a very high temperature so feel free to throw in a pan of potatoes and carrots along the side. They will be ready in time. Sometimes I also splurge and buy a little winter corn on the cob if I can snag some at Costco or Trader Joe's.
So, next time the BBQ is on the blink, your weather is bad, or you just need a fast and easy dinner, pull out this Oven BBQ Chicken recipe and enjoy!
Oven BBQ Chicken
For adults I make1 chicken hind quarter per person.
Ingredients
3/4

cup

salt

3/4

cup

brown sugar

4

cups

of cold water

2-3

pounds

of chicken hind quarters

BBQ Sauce

I used Sweet Baby Ray's

Small potatoes and carrots

if desired
Instructions
Place salt, brown sugar, and cold water into a gallon Ziploc bag. Seal and shake to stir.

Add the chicken to the brine in the bag and leave to brine at room temperature for 90 minutes.

Preheat oven to 450 F. Remove chicken pieces from the brine and place in a glass baking dish.

Squirt a nice layer of sauce over each piece of chicken - about 1/4" thick over the entire piece of meat.

Bake in a preheated oven for 25-30 minutes until a digital thermometer reads 160 F. Because the BBQ sauce is red it is very hard to tell when the chicken is done without a thermometer.

If you want some roasted veggies to go with dinner you can bake those in a cast iron skillet or glass baking dish on a separate shelf. As long as you use baby carrots or large carrots cut into small pieces and small potatoes everything will be done about the same time. For best results, season the veggie mixture with some oil (your favorite kind), and salt and fresh ground pepper.
If you don't have a digital thermometer I highly recommend you grab one!   It is the perfect tool to know when food is ready and safe to eat but not overcooked.  My Taylor is a great tool and it is not expensive.  It has also held out for years even though sometimes "somebody" forgets it outside by the BBQ.  That is a good tool right there!