Delicious, healthy apple salad ready in 5 minutes with just 2 ingredients. Easy to pack in a lunchbox and stays good for an entire week without browning!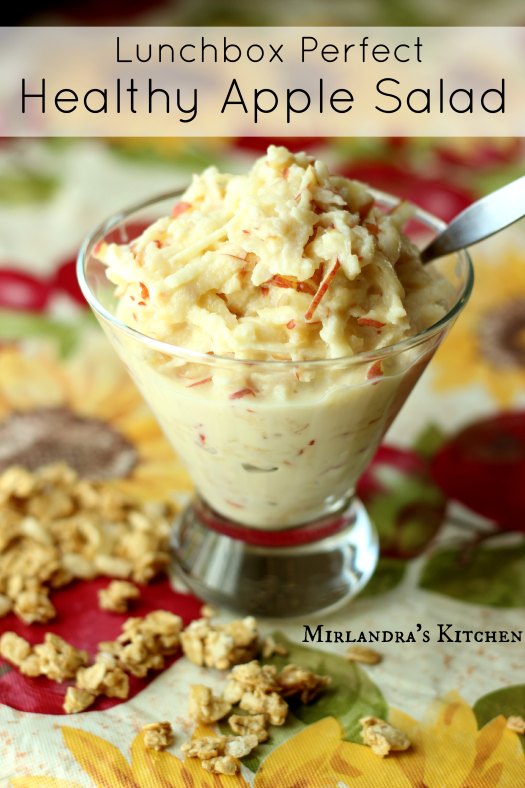 This Apple Salad is one of my easy helpers with the endless lunch packing routine.1 in 3 Americans bring a lunch to work. 2 in 5 children bring a lunch to school. Getting a lunch packed for the 250 work days and 180 school days every year sometimes feels like a battle. It's just a lot of food packing!
Last summer I had to pack a bunch of lunches in a row and I determined to find some new ways to pack healthy food that I would actually enjoy.  You know the drill.  You can pack all the good, healthy, make you feel like a yoga goddess food you want and it won't matter if you don't eat it!  The same goes for kids too.  The stuff that goes in the lunchbox needs to be edible at the least and exciting is preferable.
This lovely apple salad can be made up to five days ahead or can be made on the fly in the morning. It takes less than five minutes, has two ingredients and it's healthy! I usually avoid apple skin because I don't like to chew it. This recipe grates the skin into small bits that add texture and color. It is the perfect way to get all the great vitamins and minerals in the skin. I think it's kid friendly and you can make a few different versions of it. I like mine plain, sprinkled with cinnamon, topped with maple granola, or a few sliced almonds.
Lunchbox Perfect Apple Salad
Servings
1
adult serving or 2-3 child servings
Ingredients
1

apple

Fuji or your favorite variety

1-3

Tbsp

of fat free Greek honey yogurt

to taste

top with granola

cinnamon, dried cranberries or nuts if desired
Instructions
Wash apple. Peel if desired. Cut out stem and blossom ends. Cut into quarters and remove the core.

Grate apple quarters on a box grater.

Stir grated apple together with yogurt.

Pack in a container with a tight fitting lid. If you plan to serve with granola or nuts keep them separate until you serve the salad. Refrigerate and store for up to five days.
Reader Interactions