My Dad's amazing spicy ketchup recipe is flavorful and only modestly spicy. It is easy to make and a fun addition to ribs, meatloaf, roasted chicken and so many more staples.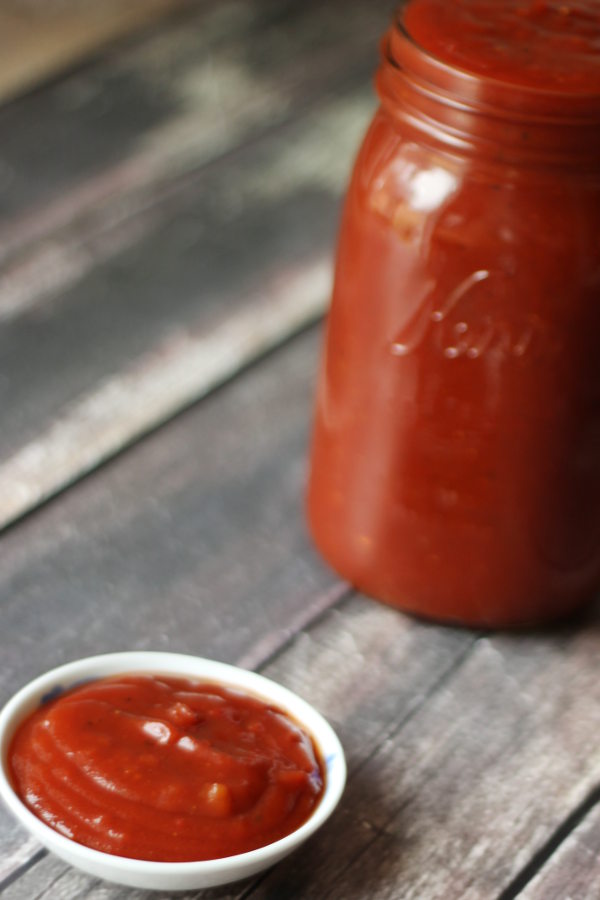 Food memories are some of the most powerful memories we have of our childhoods. Mom's special dish, a taste of Dad's beer, birthday cake, and of course the time you ate too much birthday cake. One of my most defining childhood food memories is my dad's Spicy Ketchup which he called Galactic Crossroads Thunder & Lightning Ketchup.  My grandmother probably passed a version of Thunder & Lightning Ketchup down to my Dad from a popular recipe in the 50s by the same name.  We just called it Daddy's BBQ Sauce.
For the Love of Spicy Ketchup
Memories of food are evocative. I remember that I was making toast in 1996 when the radio station announced Princess Diana's death. I remember the dinner my dad made for my date before the homecoming dance when I was 16. That night was a such a disaster I could use it as a solid argument to not date in high school.
My daddy made amazing spicy ketchup. It was zesty but not really that crazy hot. Even as a child I ate quite a bit of it and I was not a fan of truly spicy foods then or now. It really was just a kicked up ketchup full of subtle and pronounced flavors.
Everybody loved dad's food that came with spicy ketchup. As kids we ate it on stuffed peppers, roasted chicken and anything we barbecued but our all time favorites were his meatloaf and beef ribs. My husband is a bit of a rib snob and never really believed in this sauce or my dad's "special" ribs until he had them the first time this Christmas.
Jonathan was in instant convert. He made short work of the leftovers, interrogated my father for the cooking method and has been eyeing beef ribs in the store with a lean and hungry look. I have a feeling that blog post will be coming before too long. Meanwhile I will be sharing my version of Dad's really amazing meatloaf (made with this sauce) on Friday!
When my dad makes the sauce there is a lot of ceremony and style that entertains and delights. The man is full of stories and making this sauce with him is a few hours of non-stop stories. My method is simpler and quite a bit faster because the drawn out process just isn't fun without my dad and he is not available for loan out at this time.
The sauce is yummy the first day but I like to let a batch sit 2-4 weeks before I really start using it. The flavors just develop a lot more. The sauce can be canned in quart jars but I have not done it and don't have instructions for the method. If you are interested I would recommend using the method for canning tomato sauce.
I store my sauce in clean peanut butter jars or other Tupperware type containers the same way I would store open ketchup. I hope spicy ketchup makes some wonderful memories in your home!
Spicy Ketchup AKA Thunder and Lightning Ketchup
This spicy ketchup is flavorful and not too spicy. It is easy to make and a fun addition to ribs, meatloaf, roasted chicken and so many more staples.
Ingredients
1/4

cup

red bell pepper

1/4

onion

yellow

1/2

cup

deli-sliced peperoncini peppers

1

#10 can

ketchup

114oz

1/4

cup

Dijon mustard

3/4

cup

white cooking wine

I use cheap dry white from Trader Joes $2-$3 / bottle

1

Tbsp.

Worcestershire sauce

1

Tbsp.

ground black pepper

1

tsp.

ground white pepper

1

tsp.

ground cayanne pepper

2

tsp.

chili powder

1/2

tsp.

ground clove

1/2

tsp.

ground allspice

1/2`

tsp.

ground nutmeg

2

Tbsp.

Tabasco Sauce

original flavor (red)

1/2

cup

honey
Instructions
Toss bell pepper, onion, and peperoncini slices in the bowl of a food processor and pulse until finely minced.

Add minced veggies and everything else except the honey to a large heavy-bottomed soup pot.

Cook on medium-high heat until the sauce starts to bubble. Turn it down to a simmer and continue to cook for an hour. Stir often enough to keep from burning. I like to set a timer and check every 10 minutes or so.

Stir in 1/2 cup honey and simmer for additional 5 minutes.

Decant and refrigerate.
Nutrition
Nutrition Facts
Spicy Ketchup AKA Thunder and Lightning Ketchup
Amount Per Serving
Calories 28
% Daily Value*
Sodium 57mg2%
Potassium 26mg1%
Carbohydrates 5g2%
Vitamin A 130IU3%
Vitamin C 2.4mg3%
Calcium 6mg1%
Iron 0.2mg1%
* Percent Daily Values are based on a 2000 calorie diet.
I read each and every comment and I try to respond to questions asap, so ask away! If you've made a recipe, I would love to hear about it! Please come back and share your experience and give the recipe a 5-star rating so other people will know how much you loved it!