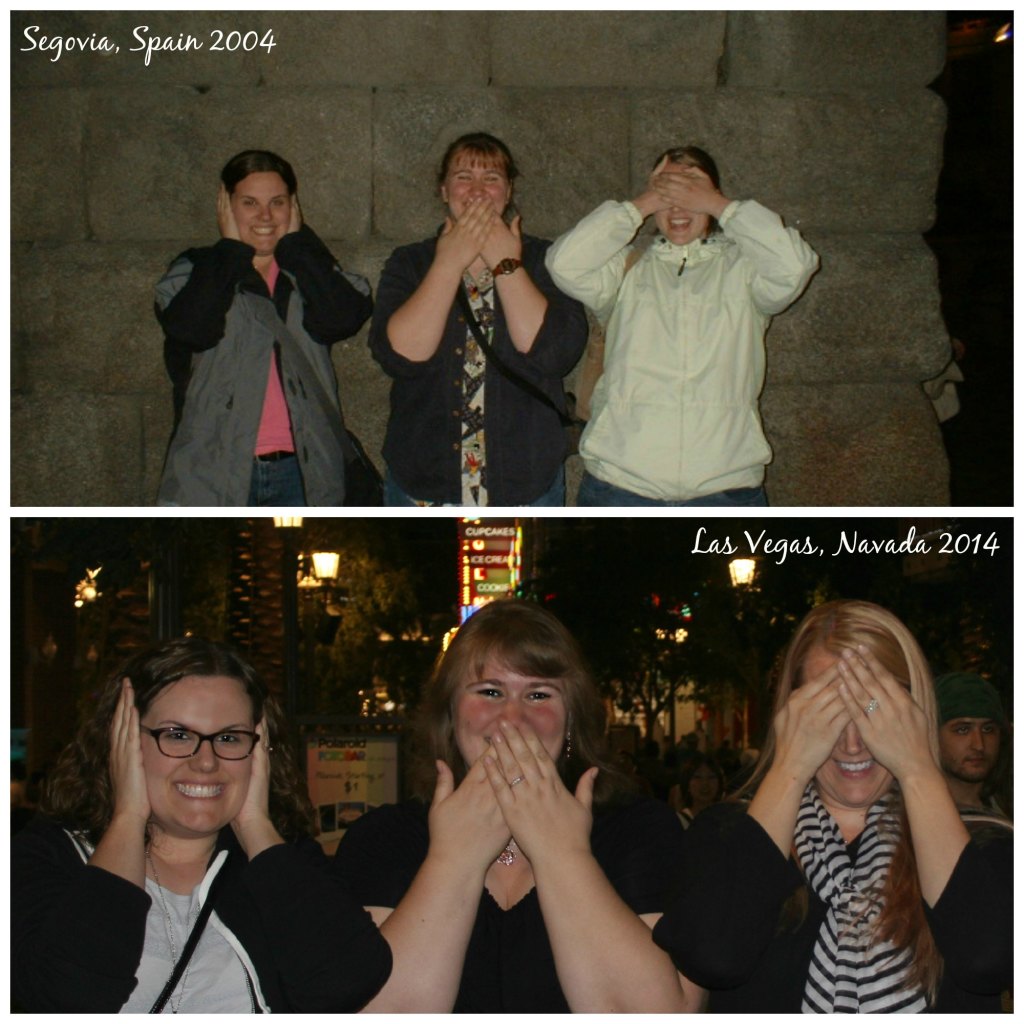 This month I took a weekend trip to Las Vegas with two girlfriends from college that I don't get to see often. It was great fun to kick back for a girl's weekend.  I am also quite happy to report that we are just as silly as we were 10 years ago! This is my short list of our loves and hates from the weekend.
The Circus, Circus Casino: Hated it
This was hands down the worst stop on our trip. The casino is old, smoky, and dingy. It was nothing like my fond childhood memories. I caught two of the circus shows and both were disappointing. The talent was decent but the show felt like a gaudy skin show in costume and presentation.
Walking The Strip: Liked it during the day
We spent time on the strip on several different occasions. If you want to see the sites in a low key way I suggest going in the morning during the week. There are lots of amazing buildings to see. Grab a water bottle, good walking shoes and enjoy.
If you are an avid people watcher check out the strip at night or on the weekend. I don't think there is anything else in the world like it. My favorite game is to count the brides! Be forewarned that clothing is close to optional – brides or otherwise.
For those of you who are traveling with kids be aware that day or night there are a lot of grown up themes. I ran into explicate genitalia themed souvenirs at kid eye level in multiple shops. One street performer ran at me screaming so suddenly I thought he actually meant us harm. Bottom line – know yourself, know your kids and plan your time on the strip accordingly.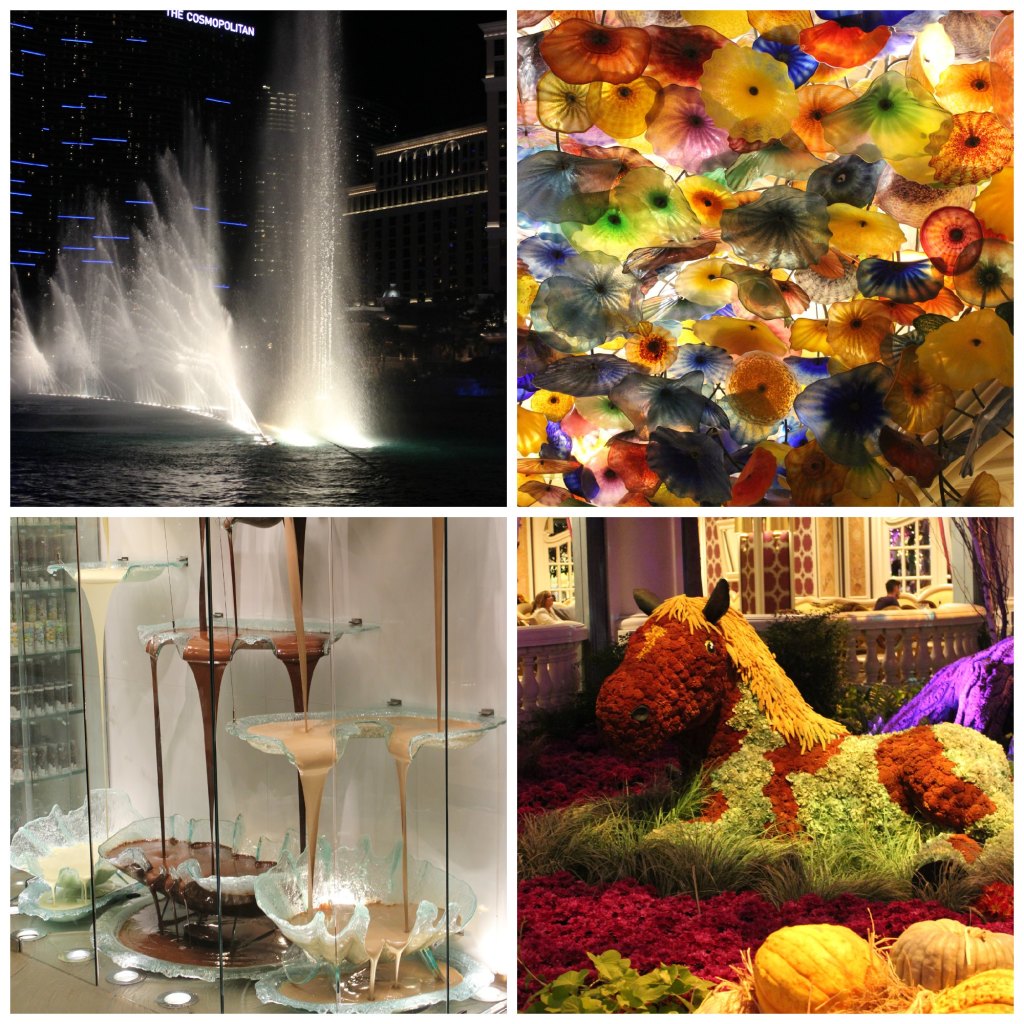 The Bellagio: Hands Down Best of Vegas
On our last night in town we ducked into the Bellagio for a quick peek at a few highlights. If you have just one day in Vegas this is not to be missed. I strongly suggest coming after dark to catch the fountain show. It's stunning and reminds me of the spirit of showmanship that has built Vegas into such a popular destination.
Inside take time to gawk at the beautiful architecture. Make sure to catch the Dale Chihuly ceiling and other works. Chihuly's glass work is fun and whimsical. I think of it as art for the normal person.
Along the way make sure you visit the Guinness World Record Chocolate Fountain. It's the largest in the world at 26ft 3in tall. A mind-blowing 4,409 pounds of chocolate(more than the weight of a large car) circulate through the fountain at a rate of 120 quarts per minute. Sadly it is behind glass so there is no sampling but you can refuel on gelato while you watch the fountain. I recommend the mint chocolate chip.
Wrap up your time at the Bellagio in the Conservatory and Botanical Gardens. I loved stumbling upon this elaborate display full of lights and art. We caught the Fall Harvest Show which will be running through November 30th.
If you are traveling with children of any age, I highly recommend taking them to the Bellagio. It's a magical place that will bring joy to all ages.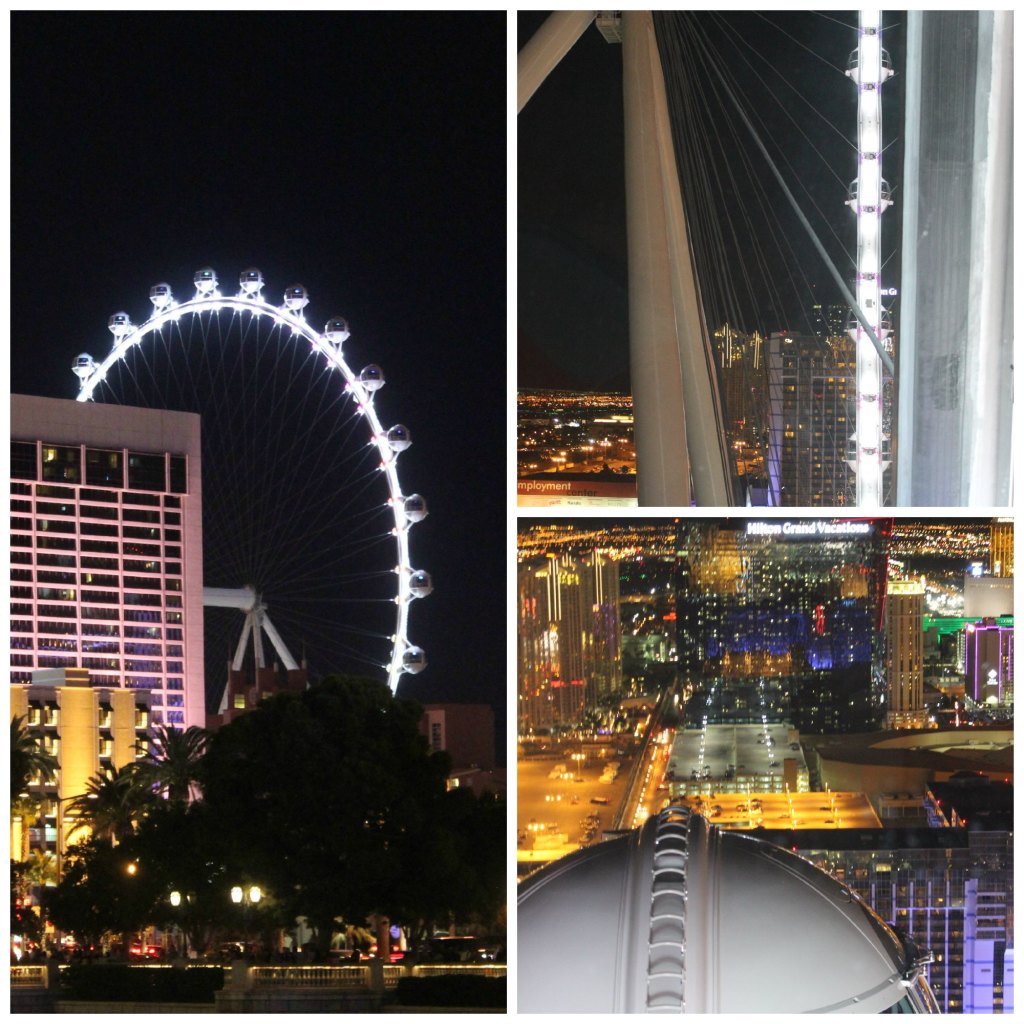 The High Roller Observation Wheel: Loved it
In March of this year Vegas opened a Guinness World Record breaking observation wheel. It stands 550 feet tall making it 107 feet taller than the London Eye! It really is a mammoth contraption and seeing it up close reminds me of what amazing things man has built in the last 100 years.
Tickets are $22 during the day and $37 at night. You can choose a standard pod or a happy hour pod that has a bar. We rode at night which was beautiful. Sadly you don't get very good photos through the glass and every pod holds up to 40 people so it can be a zoo. Plan to stand in line to pick up your tickets even if you book them in advance. We tried it because we won free tickets but all agreed that it would have been overpriced without them.
Cirque du Soleil's Zarkana at the Aria: Best entertainment of the trip
This, friends, is what I would return to Vegas for over and over. I had never seen a Cirque show and Zarkana took my breath away. I spent the entire 90 minutes of this general variety show on the edge of my seat. It was beautiful, it was a production of excellence, the live music was an unexpected delight – I was in heaven. There were a few acts that were more scary than I expected (snakes for one) but in I thought it was worth every penny. If you plan to catch a show check with your concierge about where to get reduced price tickets. You can generally save about 30% off the box office if you check around.
We had some good pizza and amazing garlic knots at the Five 50 Pizza Bar located in Aria not far from the theater. Prices are reasonable and the service is very friendly. I'm planning a copycat recipe of the amazing marinara dipping sauce we had.
Final Thoughts:
Las Vegas is a unique city and I look forward to going back someday with Jonathan. It would be fun to dig around and try some of the more off the beaten path attractions.
Click Here to read about our great visit to The Mob Museum in Downtown Las Vegas.