Candied Citrus Peel is usually made with lemons, oranges, or grapefruit. It's easy to make and lovely on a candy plate, as dessert or as garnish for a special drink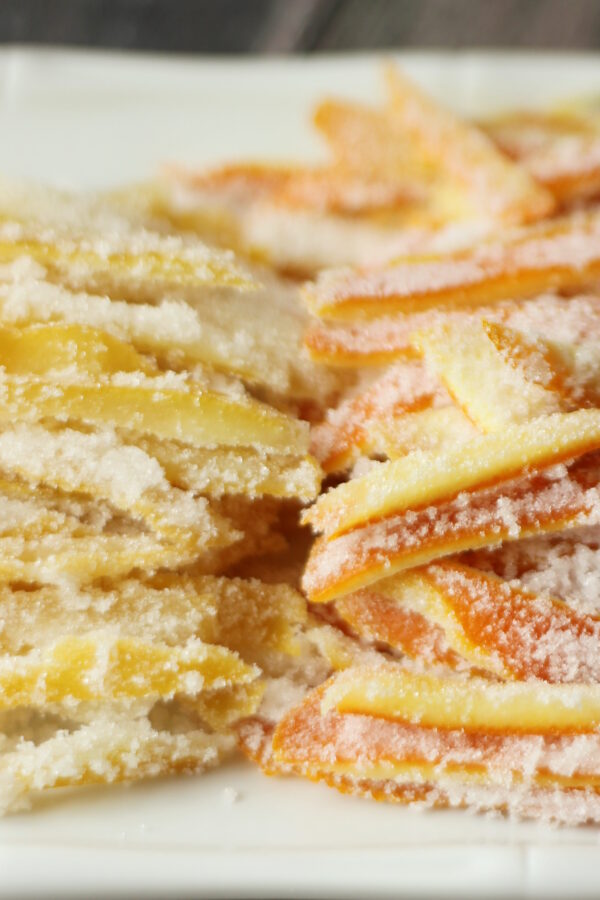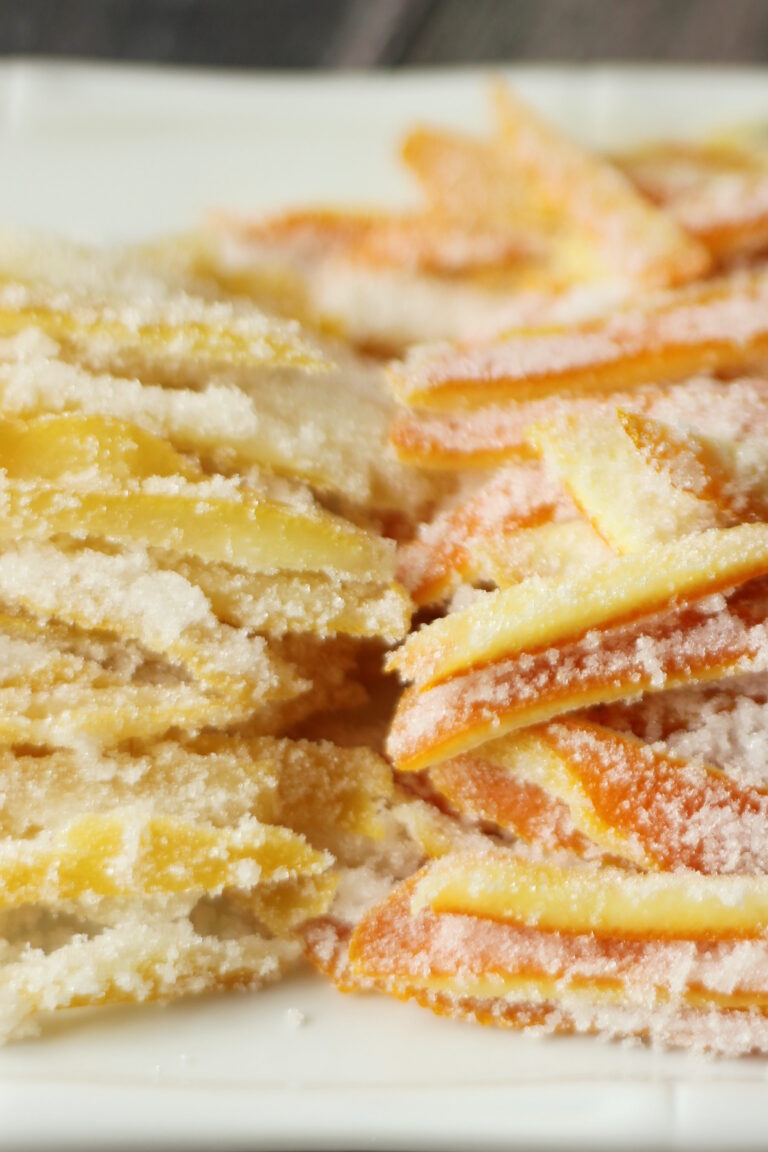 My mother's mother  lived on the other side of the country from us and we only saw her a few times a year. When we did see her, our trips centered around food, gardening and travel adventures locally and in Europe.
When she came to visit her suitcases were always exploding with fancy chocolate bars, gourmet liquorish, marzipan, delicate almond cookies and candied citrus peel. When we went to visit her I was allowed to raid the pantry for treats and help her in the kitchen.
Looking back now I wonder if she knew that for a few days a year she was making memories with me that would shape the course of my life. I wonder if she thought ahead to the woman I was becoming and tried to share things with me I would need to know.
She never served "kid" food. If the food was good enough for her, it was good enough for me. This, by the way, is the reason for my rather precocious introduction to Cointreau and lighting French desserts on fire.
Every now and then I still light something on fire, have a little Cointreau with my mother, and candy citrus peel.
Any type of citrus peel can be candied with this simple method. My grandmother favored orange. I like lemon the best and grapefruit is supposed to be quite lovely.
The flavor is quite strong but eaten in small quantities it is a lovely, refreshing zip on the tongue. You can serve it on its own, as a cocktail garnish, along with a candy platter, dipped in dark chocolate or as garnish to dessert such as cake.
I wish my grandmother could have seen Jonathan's face the first time I fed him candied citrus peel (he was quite surprised at the strong flavor). She would have liked the way his mind works and his creativity in the kitchen and she would love to know that I'm sharing this recipe with all of you!
Candied Citrus Peel
Candied Citrus Peel is usually made with lemons, oranges, or grapefruit. It's easy to make and lovely as dessert or as garnish for a special drink
Ingredients
3

large lemons or oranges

1

cup

granulated sugar

1/2

cup

water

several cups additional sugar for coating or melted dark chocolate
Instructions
Start with ripe fruits that have beautiful peels without blemishes.

Cut the peel from the fruits in strips leaving about 1/4" of the white pith attached.

If your strips are wide, cut them down into strips about 1/4" wide.

Put peels in a small sauce pan. Cover with cold water and bring to a boil over high heat.

Drain the peels and repeat the boiling process twice more. This helps extract the bitter taste from the peel.

After the third draining, place the peels back in the pan with sugar and water. Bring the mixture to a boil and then simmer until the peel is translucent, about 15 minutes.

Use a slotted spoon to remove peels and place them on a wire drying rack. Dry for 3-4 hours. The sugar syrup you boiled the peels in will have a slight citrus flavor. It can be discarded or saved for use in cocktails, hot tea, or drizzling on cakes.

When the peels have dried, dredge them in granulated sugar and store in an airtight container. Alternately, dip peels in dark chocolate, let dry and store in an airtight container.
Nutrition Disclaimer
MirlandrasKitchen.com is written to share great recipes. While we do our best to provide nutritional information as a general guideline, we are not registered dietitians and the values provided here should be considered estimates – not exact scientific data.
I read each and every comment and I try to respond to questions asap, so ask away! If you've made a recipe, I would love to hear about it! Please come back and share your experience and give the recipe a 5-star rating so other people will know how much you loved it!