This recipe is dedicated to the memory of my friend Bonnie Taylor (1949-2014) who first introduced me to the concept of fruit salad and raspberry sauce. She was a wonderful woman who always gave kindness and laughter wherever she went. Bonnie, you are missed. 

Why do you need a recipe for fruit salad – particularly one as simple as this one? Because it's perfect, because it will win you over, because it is just better than so many other fruit salad recipes.
The mighty raspberry is king among the fruits. If you don't believe me search desserts on Pinterest. What fruit shows it's face more than any other? Yep, the raspberry. There is just something about this seedy character that we fall for every time.
People dress fruit salad in everything from vanilla pudding powder to orange juice but my friend Bonnie always brought a simple unassuming fruit salad to my house dressed in mashed raspberries. And it was perfection.
The raspberry flavor touches every bite but and accents the pineapple and strawberries. The sauce gives the salad a bold, red dressing which goes well with most fruits and looks beautiful on the plate. It is simply perfect.
You can fancy this up with more types of fruit if you desire, or keep the prep fast and simple by sticking to the basics. Either way I think you will enjoy dishing up this special fruit salad with Easter brunch or at your next BBQ.
Fruit Salad With Raspberry Sauce
Ingredients
2

cups

of strawberries

sliced or quartered

2

cups

fresh pineapple chunks

2

cups

of fresh raspberries

sugar if desired
Instructions
In a medium bowl, combine the strawberries and pineapple.

Mash the raspberries with a fork until they are a sauce with some chunks. Taste and add a bit of sugar if desired.

Stir the raspberry sauce into the fruit and serve.
Nutrition Disclaimer
MirlandrasKitchen.com is written to share great recipes. While we do our best to provide nutritional information as a general guideline, we are not registered dietitians and the values provided here should be considered estimates – not exact scientific data.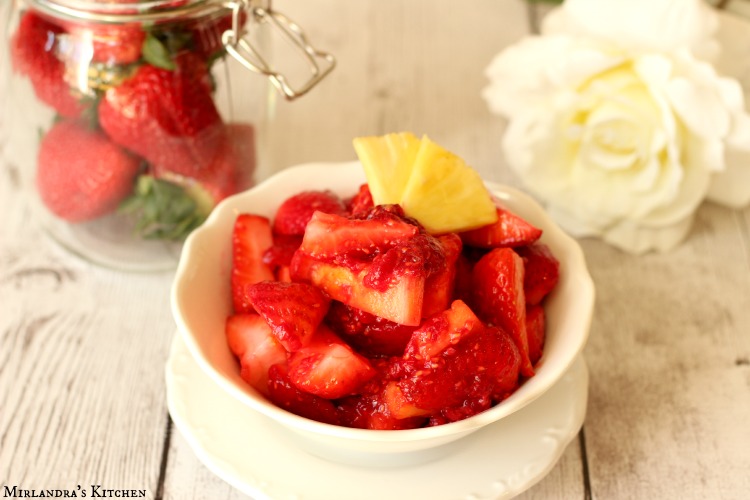 This is a great tool for working with strawberries.  I never believed in owning a strawberry huller until somebody gave me this one.  I'm converted!