This hoisin glazed zucchini is a easy side dish that gives a little something special to the most prolific summer veg. Easy and perfect for everybody.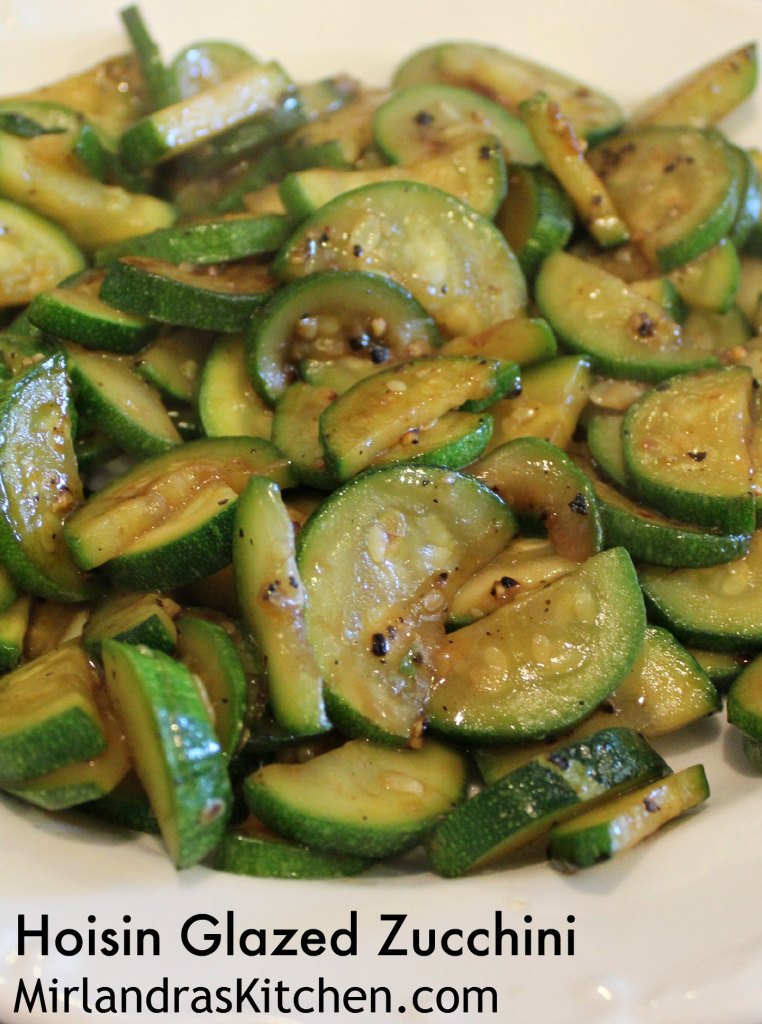 Jonathan is the original carnivore.  Really as long as there is a PILE of meat on the table he is a happy husband.  I desire to be his wife for many, many, many years to come so I intend to make sure there is a pile of veggies served along with his meat.  When it comes to the amazing vegetable there are many I love and only a few he enjoys.  Zucchini is one of the veggies he is happy to have as long as I prepare it in certain ways.  Hoisin Glazed Zucchini is one of the dishes that shows up on our table most weeks during the summer and quite a few during the winter!  It's amazing how many pounds of the stuff we can eat!!!
Have you used Hoisin sauce before?  It's easy to get in general grocery stores.  I have never seen one that did not carry it.  Check the Asian section to see what options you have.  I'm not picky about the brand – anything they have should be fine for this.  We buy ours in giant cans at large Korean markets because we use a lot of it but if you are new I would pick up a small bottle and see what you think.  Assuming you use just a little bit it will not be a strong Asian flavor that makes you think you are sitting down to a plate of Chinese.  Really it's a subtle little under flavor that gives the zucchini a delicious savor without being overwhelming.  I think you will love this easy veggie side dish!  If this is the first time you have used Hoisin sauce, leave me a comment and let me know what you thought!  I hope you enjoy this as much as we do!!!
Hoisin Glazed Zucchini
Ingredients
2

medium-small zucchinis

1-2

Tablespons Hoisin sauce

Splash of olive oil for frying

Fresh ground pepper

Splash of water

Salt if desired
Instructions
Slice zucchini in half lengthways and slice lengths into 1/4" slices.

Turn a nonstick pan on medium-high with a splash of oil. Add the zucchini. Grind in a good quantity of black pepper.

As it cooks give it a stir often enough to prevent burning. As the zucchini starts to brown turn the pan down to medium.

Add 1 Tablespoon of hoisin sauce. If things are starting to stick splash in a few Tablespoons of water.

Taste the zucchini and see how strong it is. If you want it a little stronger add a bit more hoisin sauce.

Cook until tender to the bite but not mushy.

We microwave leftovers for snacks!