This zesty cranberry jalapeno relish is perfectly balanced with raspberries and makes an excellent and unexpected zesty sauce for turkey.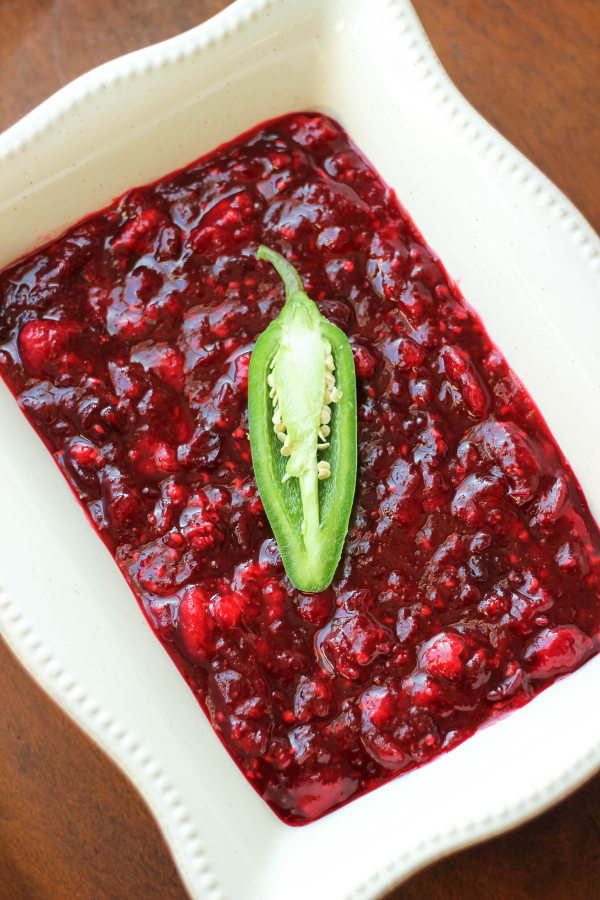 Last year I read an article in Bon Appetite magazine where they concluded that canned cranberry sauce was just as good as a homemade batch. I am a second generation BA subscriber and loyal to the core but I was quite disgruntled!
My homemade Cranberry Raspberry Relish is famous and requested year after year by friends near and far. My mother hordes any leftovers she can get her hands on and uses it for jam or mixes it into her yogurt. My secret is raspberries! Cranberry is so intense on its own it is almost overwhelming. Mixing in a few raspberries mellows the cranberry perfectly.
This year I have been enjoying sweet, spicy fruit combos so I have adapted my classic with some jalapenos. Thanksgiving dinner is often lacking in something spicy. Serving some sort of spicy relish or pepper jelly is a great foil to turkey!
Don't hesitate to make your own cranberry relish. It is a simple project you can do as far ahead of Thanksgiving as you like. I usually make mine about one week before and shove it to the back of the fridge. When Turkey Day arrives I put it in a pretty dish and serve.
Looking for more amazing Thanksgiving Recipes?  Try my Perfect Homemade Whipped Cream.  It is also easy to make and may well blow your mind. 
Cranberry Raspberry Jalapeno Relish
Ingredients
2

jalapeno peppers

1

cup

water

1 1/2

cups

sugar

12

oz

fresh or frozen cranberries

6

oz

fresh or frozen raspberries
Instructions
Remove seeds from jalapenos and discard. Mince the peppers finely.

In a medium saucepan combine the minced peppers, water, sugar, and cranberries.

Bring the mixture to boil over medium-high heat and then turn down to a simmer.

Simmer for 10 minutes.

Use a potato masher or a wooden spoon to smash the sauce into the size chunks you like. I prefer to leave the sauce somewhat chunky.

Stir in raspberries. If you are using the frozen ones you can add them frozen.

Chill the sauce and serve. Leftovers can be frozen.