A traditional Christmas treat that cooks in the crock pot! Tiny Tim would have loved this rich fruity pudding smothered in creamy hard sauce.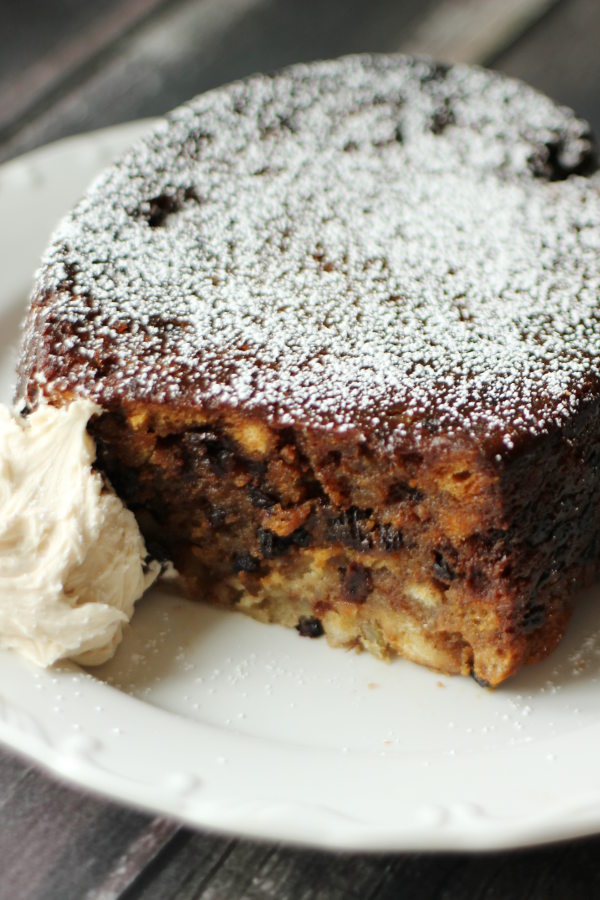 Christmas Pudding (also called figgy pudding or plum pudding) is a Christmas tradition dating back hundreds of years in England. We sing, "bring us a figgy pudding" and read about Tiny Tim eating it in Dickens' in A Christmas Carol. Food with a story is always fun and there is a great deal of history behind Christmas Pudding.
Technically "pudding" is the English term for anything we would call dessert and Christmas pudding refers to a concoction of fruits, bread crumbs, fat, eggs and booze steamed until it reaches maximum deliciousness.
Some people age the pudding for a year like a fruit cake. Some people cook it for 8+ hours on the stove. One tradition holds that anybody who stirs the pudding together will have good luck in the New Year. If you want to read a little bit more about the food click here for an informative summary.
I had so much fun this year I intend to start a yearly Christmas Pudding tradition in our family. This recipe is simple and the final result is rich and delicious. I like to think it is even a little bit better than the amazing figgy pudding I had in England for Christmas dinner some years ago.
Simplicity is an art form and I see no reason to add complication for the reason of adding complication. The crock pot method simplifies the entire cooking process but still makes an excellent pudding. I don't fuss with aging it either.  This version is best the first two days.  I suggest starting it in the morning, letting it cool in the afternoon, and serving it in the evening.  Refrigerate the leftovers to eat the next day.
Whatever you do, I promise you MUST serve this with Hard Sauce. It just makes everything perfect. Hard Sauce is another conundrum. It means so many different things to different people. In England I mostly heard it called Whisky Sauce and it was made with whiskey.
The sauce is essentially a sweet, buttery topping flavored with some sort of booze or vanilla. I have seen options for whisky, rum, brandy, and a myriad of others. My recipe calls for vanilla because it's my favorite. The pudding has a light after flavor of rum in it already and the simplicity of this hard sauce compliments it well without overwhelming it.
May your Christmas Pudding be spicy and full of delicious fruit and may our hard sauce runneth over. Merry Christmas!
Note: This recipe is loosely adapted from Frank Engstrom's recipe for Christmas Carol Plum Pudding. I particularly love his crock pot cooking method.
Christmas Pudding and Hard Sauce
Ingredients
For the Pudding
3

cups

day old white bread

torn into small pieces - almost like large crumbs

1/2

cup

black raisins

1/2

cup

yellow

raisins

1

cup

dried

currents

1 1/3

cup

granulated sugar

1

tsp.

cinnamon

1/2

tsp.

nutmeg

1/2

tsp.

clove

1/2

tsp.

allspice

1/4

tsp.

ginger

1/2

cup

candied lemon peel

1/2

cup

mincemeat

4

large

eggs

1/4

tsp.

almond extract

1/2

cup

Captain Morgn Spiced Rum

1

cup

melted butter
For the Hard Sauce
1

cup

butter

3

cups

powdered sugar

1

Tbsp.

real vanilla extract

(or 3-4 Tbsp. your favorite booze)

1

Tbsp.

whipping cream
Instructions
For the Pudding
Butter a medium Crockpot and set aside.

In a large mixing bowl combine both types of raisins, currents, sugar and spices. Gently combine using a tossing motion.

Add the candied lemon peel and mincemeat.

In a small mixing bowl beat the eggs until lightened in color. Add the almond extract and rum to the eggs.

Pour the egg mixture and the melted butter over the bread mixture.

Gently fold everything together.

Put it into the buttered crock pot and turn it on high for 1 hour.

After the 1st hour of cooking, turn the crock pot down to low and cook for 5-6 hours. Occasionally during cooking lift the lid and let the condensation run down on the pudding. This should be done every 60-90 minutes if possible.

The pudding is done when the sides have turned a dark brown but are not burned. The top will still be very tawny in color.

Allow pudding to cool, covered in the pot. When it's cool use a knife to loosen the sides and then invert it unto a plate. Cut slices and serve at room temperature with a health dollop of hard sauce. Alternately warm slices a tiny bit in the microwave.
For the Hard Sauce
Make sure the butter is not rock hard from the fridge but also not so warm it is squishy. It should be just soft enough that if you press very hard with your finger you can make a large indentation in it.

Using the paddle attachment, beat the butter, powdered sugar, vanilla or booze and cream in a stand mixer for several minutes until soft and spreadable. Serve at room temperature. Store leftovers in the refrigerator.