Rich dark chocolate, crunchy Oreo cookies and chunks of peppermint candy cane make a beautiful and tasty treat. This is kid friendly and takes 15 minutes.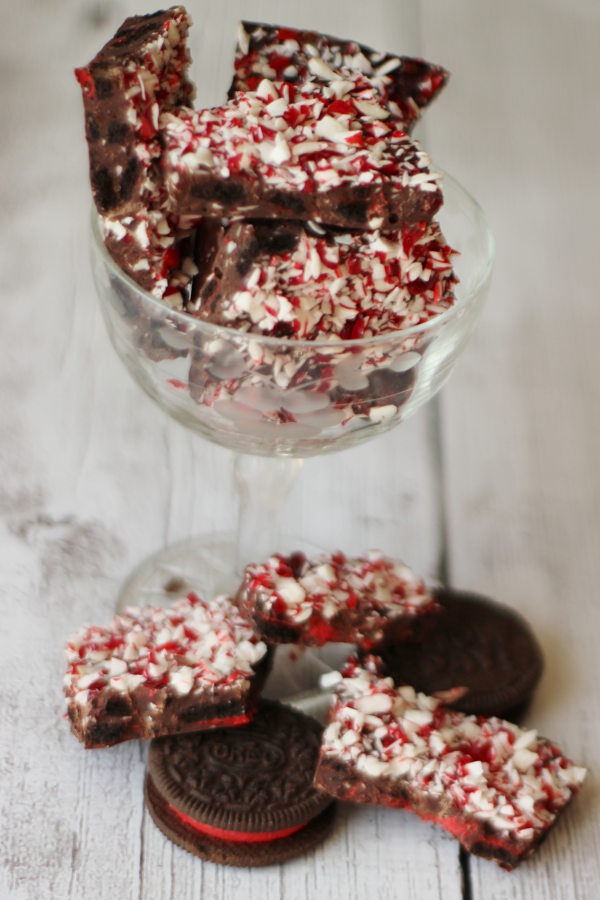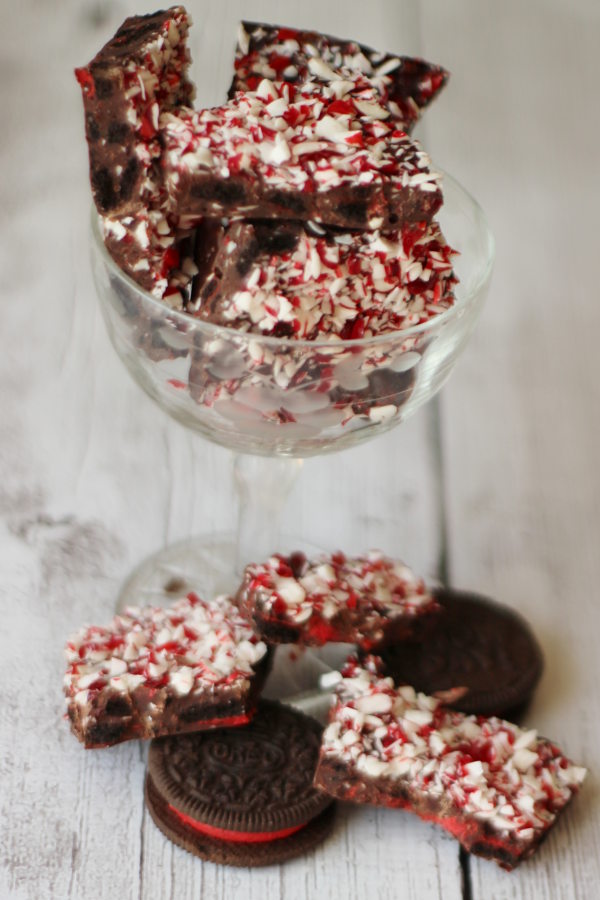 Peppermint Oreo Bark is the perfect recipe to make with your little boys and yell, "Hulk Smash!!!!", or at least that is what I dream of doing when I have little boys someday. Meanwhile I get to enjoy the smashing of the Oreos for myself. With Christmas prep in full swing I have to say smashing something is a great stress reliever!
Of course, you could also just make this bark because it is totally delicious! Rich chocolate, crunchy Oreo cookies and chunks of peppermint all come together to make a beautiful and tasty treat. I'm a texture girl so I am LOVING the way this feels in my mouth.
I confess, I used to laugh at all those people who made a bark out of everything under the sun. I figured they were daft at best! Nope -turns out bark is an amazing candy – simple and yet still crafty and delicious.
The first batch I made went to my book club end of year cookie exchange. Jonathan was sad afterword to discover there was not even a crumb left… Don't worry – I made it up to him by making a batch of lasagna!
Pick out any kind of Oreos you like for this. I used double stuff for one batch and the winter ones with red filling for another. Both were most excellent!
Today's batch of bark is off to another cookie exchange and Jonathan might have to be placated again. Don't worry – I have a Peppermint Truffle Cream Pie tucked away for just that reason. Speaking of which, peppermint fans stay tuned for that recipe soon!
Peppermint Oreo Bark
This recipe makes almost 2 pounds of candy.
Ingredients
16

oreo cookies

any kind

1

pound

semi-sweet chocolate chips

use a high quality chip for best results

1/2

cup

crushed candy cane pices

for the bark

3/4

cup

crushed candy cane pices

for the topping
Instructions
Line a pan about half the size of a standard cookie sheet with foil.

Place the Oreos in a one gallon sized Ziploc bag. Seal the bag and use a rolling pin to whack the cookies until each cookie is in about 5-6 pieces. Set aside.

Melt chocolate in double boiler, stirring occasionally. Remember that it has to be perfectly dry - a tiny bit of water can cause the chocolate to become grainy and yucky.

When chocolate is melted add 1/2 cup of crushed candy cane pieces and the smashed Oreos. Stir until fully mixed.

Spread the chocolate mixture out on the foil lined pan until it is evenly distributed.

Scatter about 3/4 cup additional crushed candy cane on top of the bark. Press it gently to the melted chocolate to make it adhere.

Place bark in the refrigerator to allow it to set fully, about 1-3 hours.

Use the edges of the foil to lift the bark out of the pan. Peel off the foil and put the bark on a wooden cutting board. Break into pieces with the tip of a sharp knife.

Store bark in an airtight container in the refrigerator.
Nutrition Disclaimer
MirlandrasKitchen.com is written to share great recipes. While we do our best to provide nutritional information as a general guideline, we are not registered dietitians and the values provided here should be considered estimates – not exact scientific data.