Need some new creative Easter ideas for toddlers? I've got 21 perfect solutions from miniature pineapple, to "Easter Egg" tomatoes, to healthy non candy options to family activity basket fillers. Make this your most cherished Easter in memory!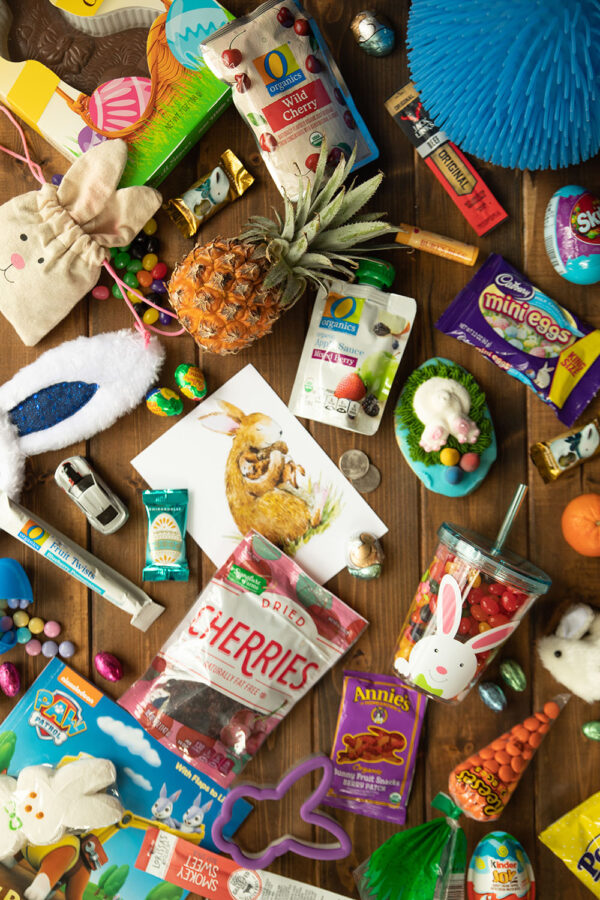 Full Disclosure: This post was sponsored by Albertsons on Broadway. They invited me to the store to check out all their Easter offerings and prepare some Easter baskets. I've been an Albertsons shopper since I was a little girl and I love getting to share about a great brand out of Boise, ID! All opinions in this article are my own as always.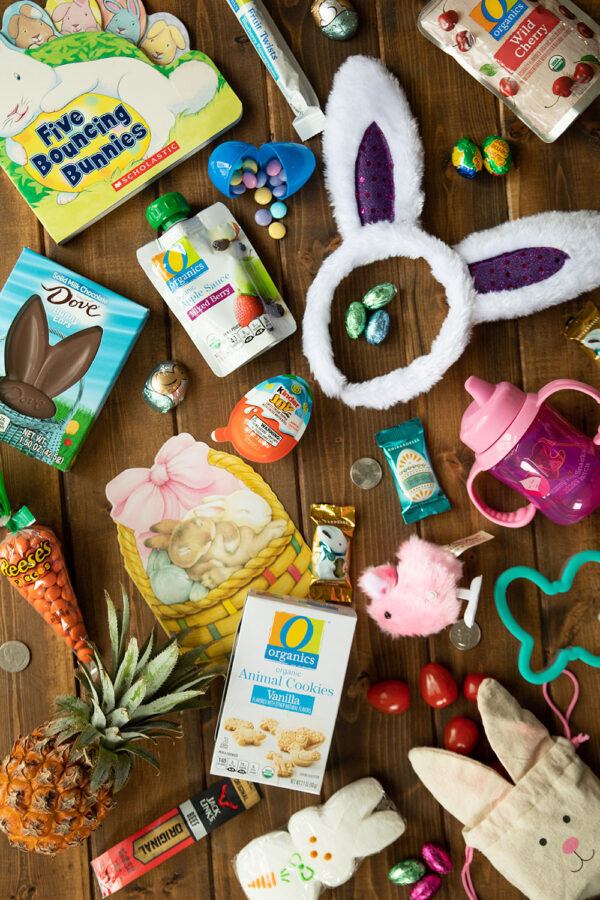 21 Creative Easter Basket Ideas for Toddlers
Special Toiletry: A chap stick, special lotion, bubble bath or other toiletry that you might not get every day for your kiddo will be a special Easter basket treat. Our 3-year-old loves chap stick and is getting his very first Burt's Bees this Easter.
Reusable Sack: I've never met a kid that didn't like to put little items in a small bag and haul around their treasures. This year I scored a beautiful little bunny sack with draw strings at Albertsons on Broadway. The sack can be empty, filled with paper Easter grass (if you dare) or small toys / treats.
Fresh Fruit: This year my little ones got their first miniature pineapple. The company that grows them is Melissa's Produce. Albertsons on Broadway has an entire display of Melissa's stuff. This is a great way to add a unique fruit to toddler baskets. I also use mandarin oranges, bananas or whatever my kid's current favorite fruit is.
Card from Mom and Dad: We are starting a new Easter tradition this spring. Both of our children are getting a special card in their Easter baskets. No matter your personal beliefs this is a great chance to make Easter about more than just the chocolate bunny. This is a place to tell our children how loved they are, encourage them where they are doing well, and generally build them up. When the eggs are all cleaned up, we will pack the cards away in the kid's memento boxes to save for adulthood. Make sure you write the year on the card so later they know how old they were etc.
Juice Box: Looking for a way to cut back on the sugar insanity? Put some juice boxes in the basket. My kids adore juice boxes and I get them infrequently. They are a perfect non candy Easter option. Albertsons has some wonderful juice boxes from their house brand O Organics™ that look beautiful in a toddler Easter basket.
Straw Cup or Sippy Cup: We found a cute bunny cup with a lid and swirly straw at Albertsons on Broadway for our son. Since our daughter will be 10 months old at Easter, we picked out a new pink sippy cup for her. Our kids love to find things inside of other things so I filled our son's cup with our favorite Starburst jelly beans and I put a package of bunny fruit snacks in the sippy cup for Ella.
Plastic Eggs: Of course plastic eggs are a classic that we can't forget! I fill ours with a variety of things: Small treats, jelly beans, M&Ms, fruit snacks, coins, tomatoes, and toys are popular at our house. Albertsons on Broadway had a few sizes of plastic eggs. The bigger ones are great for fruit snacks, a strawberry, or toy cars.
Chocolate Bunny: The chocolate bunny is an Easter tradition that lives on at our house! I was excited to see a new option from Dove at Albertsons on Broadway this year. It is just the bunny ears – perfect for our daughter. We will strip her down, let her go to town / make a giant mess and then throw out whatever she doesn't get to. Ok, I confess I might take a bite of the ears first!!! I love that there are smaller bunny options on the market. Since our son is older, we got him a bigger bunny that we will cut up into pieces and let him have a piece at a time to spread out the treat. Note: I avoid bunnies from Palmer. They look cute but the quality is AWFUL.
Healthy Snacks: This year I'm doing more fruit snacks and fewer jelly beans. I picked up some packages of Annie's Bunnies fruit snacks. My kids love them and the bunny shapes are pretty much made for Easter. I also grabbed some O Organics™ Fruit Twists. These are just made of fruit with no added sugar and are a perfect non candy Easter basket idea. They taste amazing too! While you are in that isle there are lots of other snack bar options that might fit your family.
Protein: There are lots of ways to do Easter gifts for kids that don't focus exclusively on sugar. I like to hit up the snack isle and grab some meat sticks, beef jerky or single serve packages of nuts. It is a creative Easter basket idea and the kids love them. Bonus getting some protein in their systems helps balance out the chocolate bunny crash!
Chocolate and Candy: As a child I always looked forward to the candy in my Easter basket and I try to recreate some of that experience for my kiddos. When you are thinking about what candy to get, pick a few that they love, or that are family favorites and make them traditional Easter gifts in your home. Growing up one of our treasured candies was the Cadbury Egg. I always make sure those are included in my kid's baskets.
Dried Fruit: This is a great non candy Easter egg filler or basket gift. I picked up some beautiful Signature Select ™ dried cherries for Jack this year. You can also grab single serve boxes of O Organics™ raisins, or bags of dried apricots or yogurt covered raisins. There are lots of options here to round things out.
Fresh Carrots with Tops: Ever gotten a fresh carrot for Easter? If not, you should have! I snagged some BEAUTIFUL orange and rainbow carrots with the tops on at Albertsons on Broadway. They were all organic and SO sweet. The rainbow variety is extra sweet and prized for roasting. But they are fun to tuck into a kid's Easter basket or put in the arms of a stuffed bunny. You can roast up the rest of the bunch for Easter Dinner!
Cookies: I picked up a cute box of O Organics™ animal cookies for Ella. Jack got one of the adorable "Bunny Butt" sugar cookies from the Albertsons on Broadway bakery. It was super cute and they make everything from scratch on site which I love. They are my go to bakery in town to pick up quick baked goods for the holidays.
"Easter Egg" Tomatoes: You want creative Easter basket ideas for kids? I gotcha! Hit the produce section and grab one of the variety of tomatoes that is more egg shaped. My kids love sweet cherry tomatoes and they usually hold up well to handling. Try putting the "Easter eggs" in a bunny sack or another fun container. One more way I'm creating toddler fun without buying 5 pounds of candy per child. (This is a great Keto Easter idea too!)
Money: Small children still love coins! Quarters, silver dollars and even $1 and $2 bills are all great in Easter baskets for kids or in plastic eggs. Considering the price of candy this might actually save you some money!
Family Activity: Plan ahead and set aside time during the holiday weekend to spend some quality time and make memories with your children. Long after the candy is eaten and the toys have been broken or outgrown your kids will remember the time you spent together. I found some great Easter cookie cutters at Albertsons on Broadway. The kids are getting three Easter / spring themed cookie cutters and a big container of Easter sprinkles. We are setting some time aside in the afternoon to make and decorate cookies with the kids. My recipe for sugar cookie dough does not have to be chilled and it makes delicious, soft cookies that hold their shape. It is a perfect recipe to make with toddlers. Other family activity ideas include games, play dough, or a puzzle.
Book or Coloring Book: Hit up the book / magazine isle to grab a book or coloring book for your Easter Basket. I found a cute board book for Ella and a Paw Patrol Easter book for Jack. Books will be enjoyed long after Easter is over so they are good Easter gift ideas.
Toys: I always grab a few small toys. For older toddlers a light up ball, Hotwheels car or small Easter toy are great choices. I did grab one of the cute Dan Dee hopping bunnies for Ella but it will be something we do with her. I do fewer toys for younger toddlers as we have so many toys already and I like to limit how much comes into the house!
Stuffed Animals: My children have about a crib's worth of stuffed animals! They seriously don't need any more but I always gravitate towards the beautiful, soft bunnies. This year I have a new plan. I picked up two big stuffed bunnies for our children to give away. Our children are young but we are starting to having conversations with them about the importance of being kind, being generous and giving sacrificially at times. These are lessons that can't just be learned by a conversation. They are learned by doing. A local women's shelter, or a homeless shelter for families would be a great place to donate something like this.
Bunny Ears: Kids just look SO cute in bunny ears! And they love them. Bunny ears have become one of our traditional basket items. You could save these in your holiday box and use them year after year but ours get played with enough I just leave them with the toys for the kids to enjoy.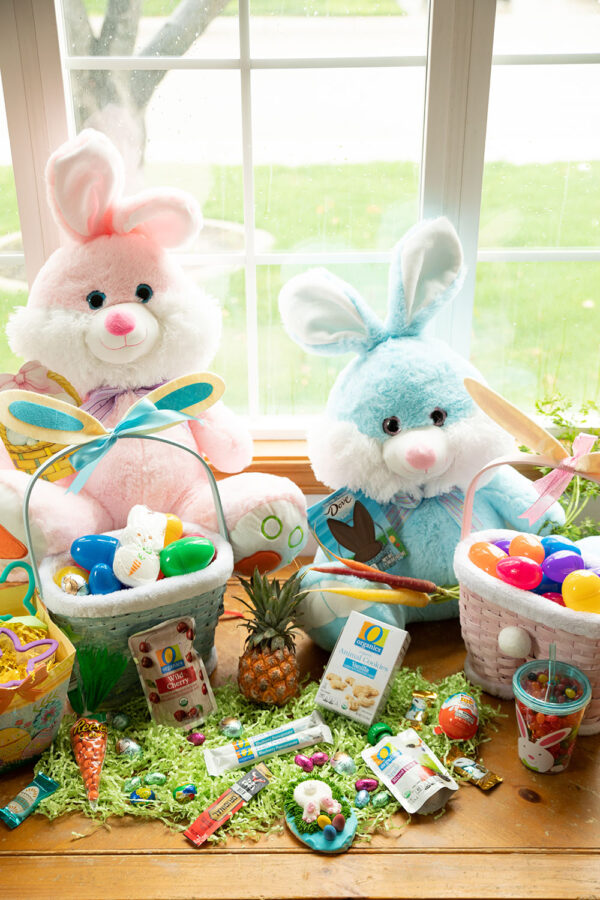 Easter at Albertsons on Broadway
Albertsons on Broadway is a one-stop destination for everything Easter. Everything I pictured for these Easter baskets came from their store. They also have an amazing produce and meat selection to grab everything you need for Easter Dinner. The Easter deals begin on April 17th.
If you have kiddos, mark your calendars for April 20th. The Broadway store will be hosting a Hippity-Hoppity Easter event. Bring the kids to the Broadway on the Rocks Event Room from 1-3pm, take a photo with the Easter bunny and receive a goodie bag!
I used lots of the great O Organics™ for our baskets. They have affordable, quality options in organic food throughout the store. The customer service at the Broadway store is also really amazing. If you need anything at all just let them know! Recently I was looking for a specific baby product and when they realized they didn't carry it the manager went right off to order it.
I'm always inspired by something new at the store! They are a great resource for what's fresh, new and at its best all year long!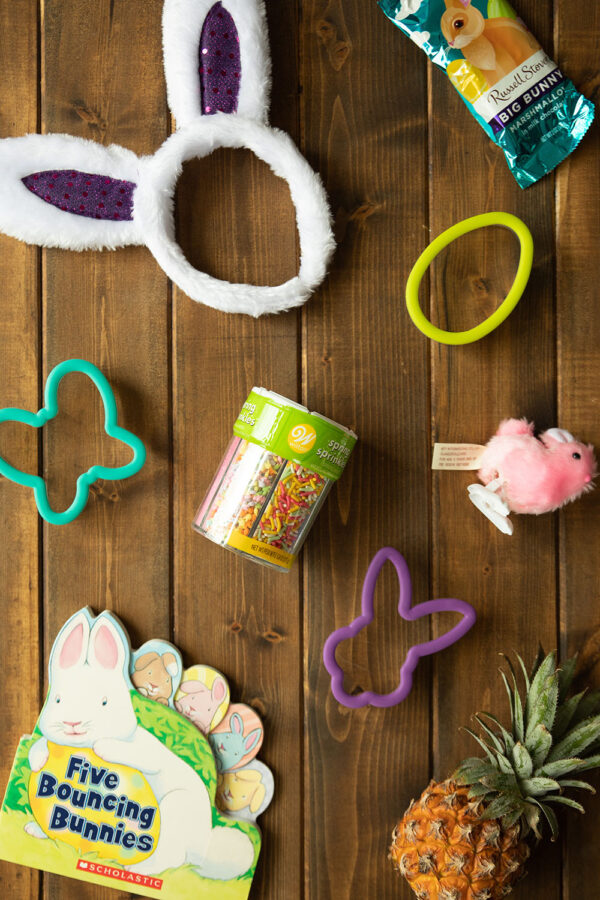 You may have noticed from the pictures that I had a little bit more stuff than my two kids need to wake up to on Easter! All the extra stuff from photos has been donated to Boise Angels to give to foster children. The Boise Angels mission is to walk alongside children in the foster care system, as well as their caretakers, by offering consistent support through intentional giving, relationship building and mentorship. They are doing an amazing job caring for some of the most vulnerable people in our community.
Reader Interactions