Brazilian Lemonade is a creamy, smooth, refreshing lime drink native to Brazil.  This version is just like the one Tucanos Brazilian Grill makes!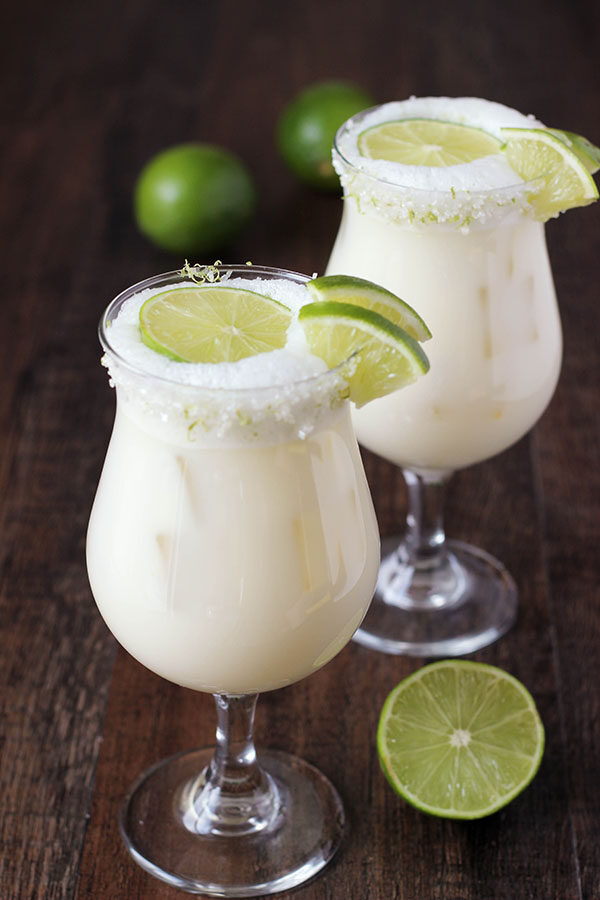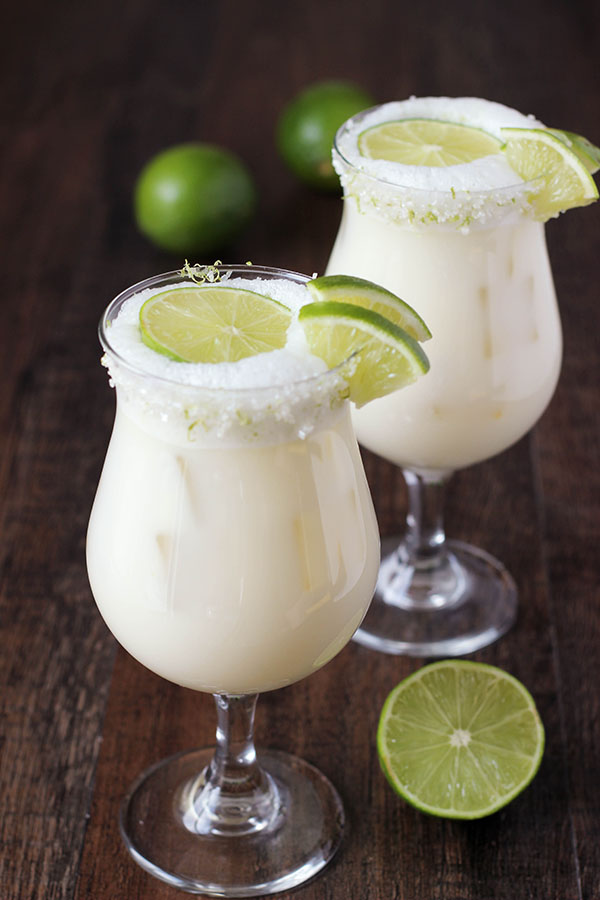 In honor of my 33rd birthday tomorrow I'm sharing one of my favorite drink recipes!  Consider it my birthday gift to each and every one of you.
I know that sounds a bit backwards but I always thought it would be lovely to be able to give gifts on your birthday instead of receiving them!
Brazilian Lemonade is Made With LIMES
Brazilian Lemonade sounds backwards too.  It is called "lemonade" but there are no lemons in it – just limes.  Don't as me why – I haven't the foggiest!
What I do know is it is ridiculously good and that one drink will have you hooked for life.  Sorry, but at least I warned you?
How To Make The BEST Brazilian Lemonade (Like Tucanos)
Some versions of this recipe call for blending limes together with the water etc.  I find that makes the drink bitter most of the time.  My version is simpler and is dependably amazing.
Have a great week guys, enjoy my birthday tomorrow and don't wait to whip up a batch of this lovely lemonade to enjoy with friends!
The Tools Needed to Make Brazilian Lemonade
These awesome gadgets from Microplane are a good price and mine have held up for years!  They make grabbing a bit of zest for cooking projects easy.
I'm always juicing lemons, limes, oranges and grapefruits.  Having a cheep and easy juicer like this one makes that job fast and easy.  If you juice citrus fruit frequently get one of these!  Heck, it is worth it just for the treat of fresh squeezed orange juice a few times a year.
How to Make Dairy Free Brazilian Lemonade
I've had some requests for a dairy free or lactose free version of Brazilian lemonade. There are several options depending on what you need and how much time you have.
Lactose Free Options
You can use a lactose free milk to make sweetened condensed milk with a recipe like this one
Nestle brand makes a product called La Lechera Lactose-Free Sweet Condensed Milk
Dairy Free Options 
Substitute 1/2 cup of canned coconut milk for the sweetened condensed milk. Taste the finished product and add a little bit more sugar if the drink is still too tart.
Make your own dairy-free sweetened condensed milk with a recipe like this one
Make dairy-free sweetened condensed milk with coconut milk like this
We are nuts about cool, refreshing summer drinks.  Another favorite of ours is my Anne of Green Gables Raspberry Cordial.
Brazilian Lemonade
Brazilian Lemonade is a creamy, smooth refreshing lime drink native to Brazil. This version is just like the one Tucanos Brazilian Grill makes! (For non dairy options see the notes in the post.)
Ingredients
6

cups

cold water

divide

1

cup

bakers sugar

can sub granulated sugar

zest of 2 limes

1

cup

+ 1 Tbsp. fresh squeezed lime juice

1/2

cup

sweetened condensed milk
Instructions
Measure 3 cups cold water and pour into a blender. Pour the other 3 cups of cold water into the pitcher you plan to serve in.

Add the sugar, lime zest, lime juice and sweetened condensed milk to the blender.

Holding the lid down firmly, blend the mixture until everything is combined and frothy. Pour contents of blender into the pitcher of water and stir to combine.

Serve the drink in glasses of ice and garnish with lime wedges.

Lime Juicing Tip: Use your hand to slightly flatten a lime against the counter or cutting board and roll it several times. This will help to release the juice.
Nutrition
Calories:
341
kcal
|
Carbohydrates:
21
g
|
Protein:
3
g
|
Fat:
3
g
|
Saturated Fat:
2
g
|
Cholesterol:
13
mg
|
Sodium:
49
mg
|
Potassium:
142
mg
|
Sugar:
21
g
|
Vitamin A:
102
IU
|
Vitamin C:
1
mg
|
Calcium:
109
mg
|
Iron:
1
mg
Nutrition Disclaimer
MirlandrasKitchen.com is written to share great recipes. While we do our best to provide nutritional information as a general guideline, we are not registered dietitians and the values provided here should be considered estimates – not exact scientific data.