No cook fudge. Yes, that is a real thing. It's rich, chocolaty, sweet, thick and ready in less than 10 minutes. I still like to cook fudge. I like the way it makes the kitchen smell, I like the feel of the spoon while I'm stirring and I like the way I feel in front of the stove. Grounded. Connected. Centered. Yeah, I'm weird.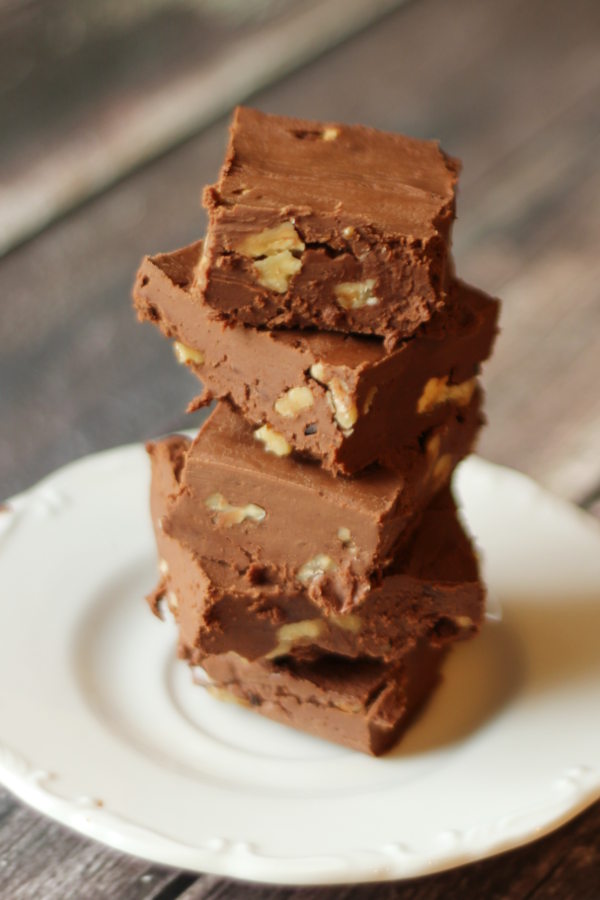 It used to be that fudge was made with butter and cream on the stove. It came in chocolate and maybe chocolate with nuts. FYI the world has changed. "Fudge" is made of all sorts of things now and it comes in every single flavor you can think up. Seriously people, I ate POWER BAIT FUDGE in Nevada two years ago. Cabela's is a weird and mysteries store, my friends, weird and mysteries.
I think about fudge in four distinct categories:
• No Cook
• Easy Cook
• Marshmallow (my favorite)
• Old Fashioned Cream and Butter
Each kind is different and has pros and cons. My mom likes Old Fashioned best – it was what she grew up on. I was raised on my cousin Stephanie's classic marshmallow fudge and the habit stuck. I'm sure that's partly because it was delicious and partly because of the wonderful memories I have of making it with her.
I make Easy Cook when I'm having a fudge emergency. Boys, you may not believe a fudge emergency is a real thing – this comes under the heading of women being strange and mysterious creatures. We love you the way you are, please just let us have our fudge emergencies.
I make No Cook Fudge for you readers who asked me for the simplest method in existence for making fudge. Besides, Valentine's Day is tomorrow and I know some of you might need a last minute idea. Consider this my gift to you!
I used semi-sweet chocolate and walnuts for this version. You can use any chips you like for this. Go crazy! The flavor of the chips reflects the flavor of the fudge. Add the nuts, leave 'em out, stir in some mint extract or a handful of maraschino cherry halves. Do anything you like! Well, maybe anything but make it Power Bait style…
No Cook Fudge & All About The Four Categories of Fudge
Ingredients
1/2

cup

butter

at room temperature

1

pound

powdered sugar

1/8

tsp.

salt

1/2

tsp.

vanilla

4

Tbsp.

heavy whipping cream

12

oz

semi-sweet chocolate chips

1

cup

chopped walnuts

optional
Instructions
In the bowl of a stand mixer, use a whip to beat together butter, powdered sugar and salt.

When they are combined, add the vanilla and cream. Beat until no lumps remain.

Melt chocolate carefully in the microwave (checking every 30 seconds) or by another method if you prefer.

Beat chocolate into the butter mixture. Stir in nuts until combined.

Press into a 9x9 pan. cut into 16 squares and serve.
I read each and every comment and I try to respond to questions asap, so ask away! If you've made a recipe, I would love to hear about it! Please come back and share your experience and give the recipe a 5-star rating so other people will know how much you loved it!