Simple but elegant, these easy no bake fruit tarts are similar to a no bake cheesecake.  Prepare to fall in love with this fun treat.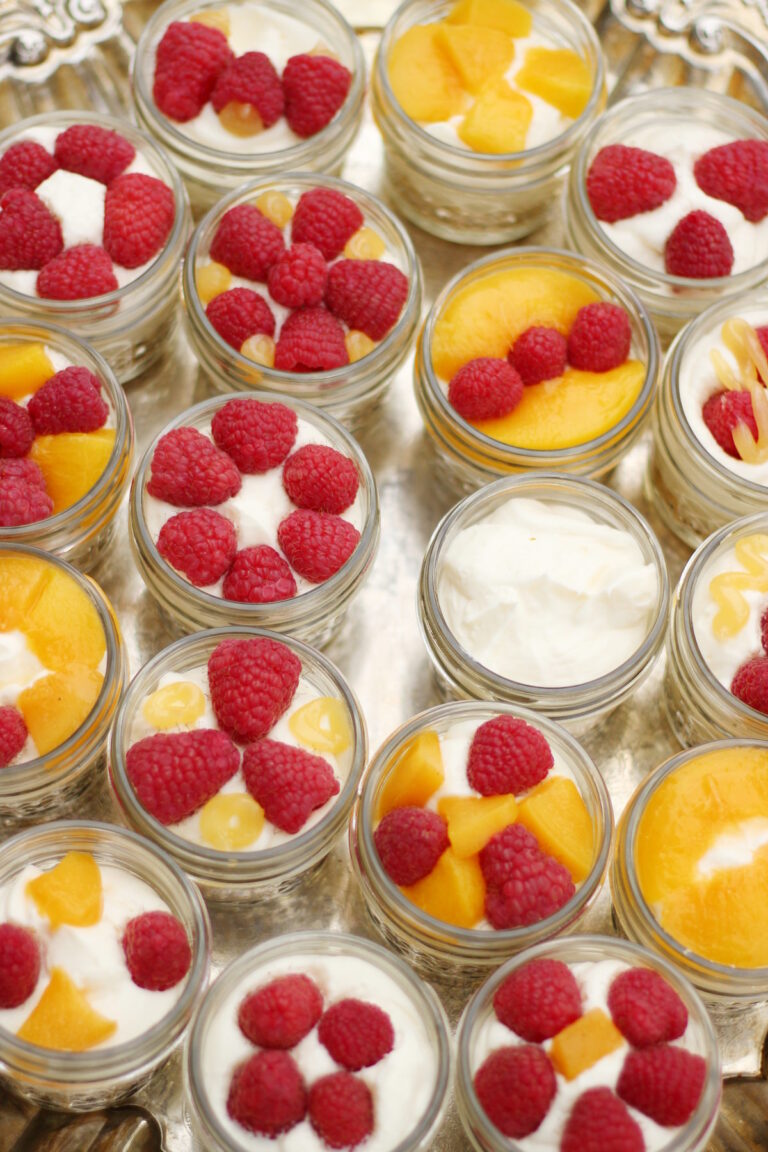 I have been on a crazy cooking binge this week. There was some method to my madness though . We had Jonathan's team over for dinner on Saturday along with their spouses and children which totaled about 25 people. Our house was bursting at the seams but it was pouring rain outside so it felt cozy and wonderful indoors.
We love to entertain and have larger dinner parties throughout the year. Having deep, meaningful relationships with people is very important to Jonathan and me. Hosting people in our home is one of the ways we build those relationships. Each party is lots of work but I pull it off by relying on careful planning, detailed lists, and making everything I possibly can ahead of time.
Our house is 1600 square feet – perfect for the two of us but we can't seat everybody at tables when we have 25 guests. If I know our guests will be eating with plates balanced on their laps I try to serve food that will be easy to eat without a table.
For this party we planned to do a lot of appetizers, special drinks and a huge salad. My fridge was maxed without main dish elements and dessert to consider. Originally my thought was to make some fun single-serve fruit tarts in beautiful stemware. Throughout the week my refrigerator started to burst with party food and I realized that the stemware idea was history.
After a certain amount of dithering it dawned on me that mason jars were the perfect solution! The 4oz size is perfect for serving, they are classy, and each one came with a lid!!! I could assemble the individual desserts before party day and stack them up in the refrigerator in their trays –  easy peasy! Can I just say that I felt like a genius when I figured all of this out?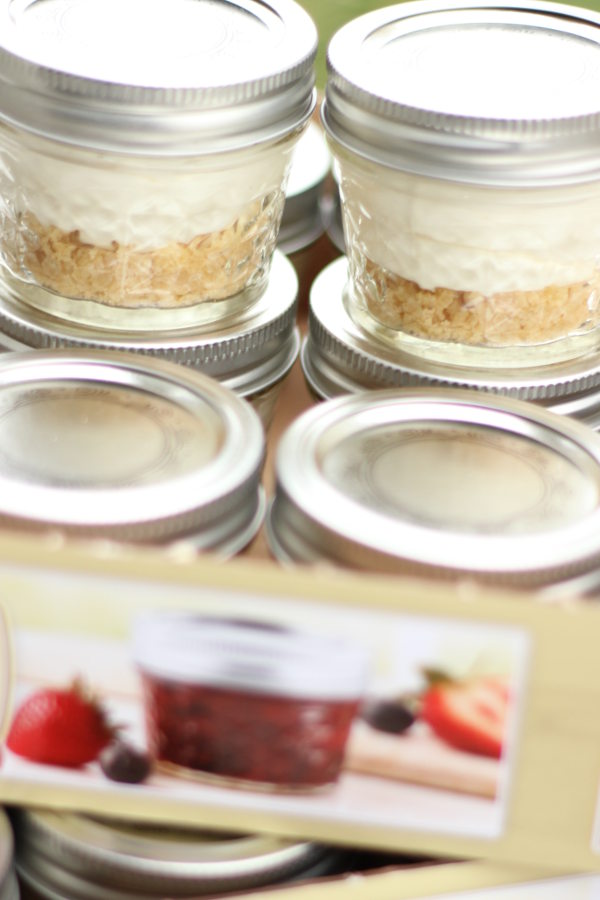 The party was wonderful and I got very positive feedback on the tarts. It's a simple recipe that looks stunning – my favorite kind of dessert! They remind me of the little hand tarts I used to find at fancy bakeries in Spain.
We happened across some really great raspberries out of season so I focused on them with some of the peaches I canned last summer. Don't feel like you have to stick to the fruit I used. Be creative and use whatever looks best at the store.
I also suggest mixing up the fruit combos and patterns so there are a few options. I even left the fruit off a few and piped lemon curd on a few for the lemon lovers. The variety gave our guests a chance to choose their favorite combination.
With a few major holidays right around the corner keep these in mind. They are a wonderful addition to a holiday dessert table. I particularly love the fresh, summery feel of the creamy filling and fruit topping in contrast to the pumpkin and apple desserts. Happy entertaining!
Easy Fruit Tarts in Mason Jars
Ingredients
For The Crust

8

oz

Walker's brand shortbread fingers

3

Tbsp.

sugar

1/4

cup

melted butter
For The Filling
14

oz

cream cheese at room temperature

1/2

cup

sugar

2

tsp.

lemon curd

plus additional to top if desired

7

oz

whipping cream

raspberries

peaches or fruit of choice to top
Instructions
Grind the cookies up in a food processor until they become crumbs. Add to a medium mixing bowl with butter and sugar. Stir to combine.

Add about two tablespoons of the crumb mixture to each 4oz serving dish. Press lightly to tamp down the crumbs. Use a spice jar or other clean object that fits.

In a stand mixer beat the cream cheese on medium until it is creamy.

Add the sugar, lemon curd, and whipping cream. Beat on low until mixture starts to come together and then turn the mixer on high and whip until the filling is light with no lumps.

Put the filling in a gallon Ziploc freezer bag and cut the tip off to pipe filling into your dessert dishes.

Decorate with fruit or lemon curd. You can put the lemon curd in a sandwich size Ziploc bag and use it to fill raspberries, drizzle on top, or make designs.