We love to make these incredible Smashburgers with crispy edges and decadent flavor. They are quick and delicious for dinner or a party!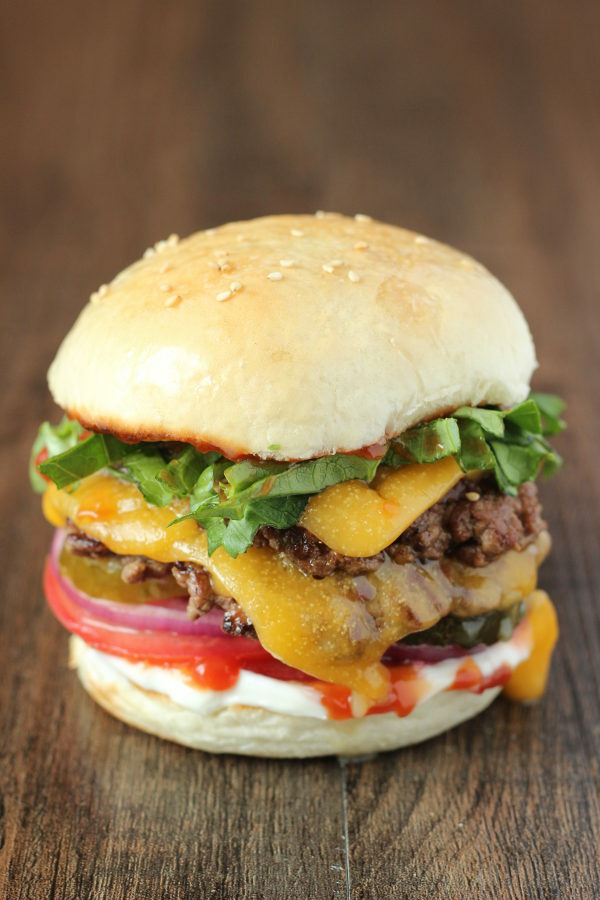 I'm a burger girl.  I love 'em – always have, always will.  I remember one trip in college where a friend and I explored part of Northern California for a long weekend and I ate a burger at almost every restaurant we went to.  (The Italian place we tried didn't have a burger on the menu.)
A Great Homemade Smashburger
I've had a lot of good and mediocre burgers in my life and a few absolutely out of this world incredible burgers!  The sad thing is that a great burger is easy to make.  You just need a good method and a little attention to detail.
A few years ago we started eating at Smashburger here in Boise and fell totally in love.  The burgers were juicy with a crunchy brown exterior and fresh, warm buttery buns.  It was magic!  Then I started seeing people smash their own at home and we just had to try it.
Fast forward a few years and we are smashing all the time at home.  We introduced my brother to smashing and now he is a convert! The great thing is that it is easy to pull off and does not take fancy meat or any special prep.
The one word of caution I will give is to use nice fresh hamburger.  It should look red and juicy and not smell funky.  You want a delicious meat flavor to come through!
Tools In This Post:  A kitchen scale is a great tool for making these burgers.  If you don't have one it is cheep to buy and useful for lots of cooking projects.  This one is less than $10!
If you love hamburgers as much as we do make sure to check out my grilling recipe and tips. These burgers are excellent and likely to become your favorite grilled burger!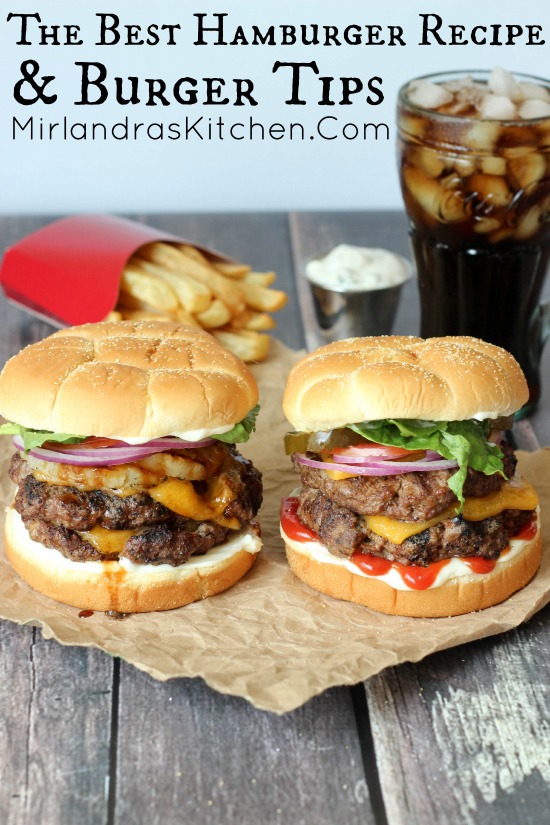 How to Make a Smashburger
We love to make these incredible Smashburgers with crispy edges and decadent flavor. They are quick and delicious for dinner or a party!
Ingredients
1

pound

of fresh good quality ground beef

I suggest about 12% fat

4

soft rolls or buns

I bake my own from Rhodes dough or use Hawaiian Rolls

butter

if desired for toasted buns

8

thin slices sharp cheddar

American Cheese or your favorite burger cheese

Seasoning salt

Pepper

Favorite Condiments: Ketchup

mayo, mustard, lettuce, onions, grilled onions/mushrooms, tomatoes, pickles

Foil

1

smaller cast iron pan or skillet for smashing
Instructions
These burgers should be immediately after cooking. I prepare all the condiments and then cook the burgers handing each out to a person right as it is done.

Use a kitchen scale to divide the meat into 2-ounce balls (a total of 8 balls).

Turn on the kitchen vent – thinks are going to get smoky!

Preheat a large skillet or sauté pan over high heat for 2 minutes. Your skillet should be big enough to hold two burger patties at a time. (At this time toast and butter the buns if desired.)

Place a ball of beef in the pan. Cover with foil and use small skillet to apply firm pressure to smash the beef patty as thin as you can get it. Quickly lift the foil reuse it to and smash a 2nd patty the same way.

Season liberally with seasoning salt and pepper. Cook about 45 seconds or until the top starts to turn pale pink / gray in spots.

Use a sturdy spatula to carefully scrape the burgers up (with all the crunchy brown bits!) and flip them.

Immediately place a slice of cheese over each patty. Cook a bit longer until the other side gets a bit of crunch. (You can use a lid to help melt the cheese if desired.)

As soon as the burgers are done to your liking (from rare to medium-rare) transfer to buns and serve right away.

Continue cooking the burgers until you have cooked all the meat.
Nutrition
Nutrition Disclaimer
MirlandrasKitchen.com is written to share great recipes. While we do our best to provide nutritional information as a general guideline, we are not registered dietitians and the values provided here should be considered estimates – not exact scientific data.