This classic fudge recipe makes a good sized batch to share with everybody you love at Christmas!  You can make it ahead and freeze it or eat it warm out of the pan.  This is a simple candy recipe that does not require a candy thermometer.  I even make some batches into mint fudge!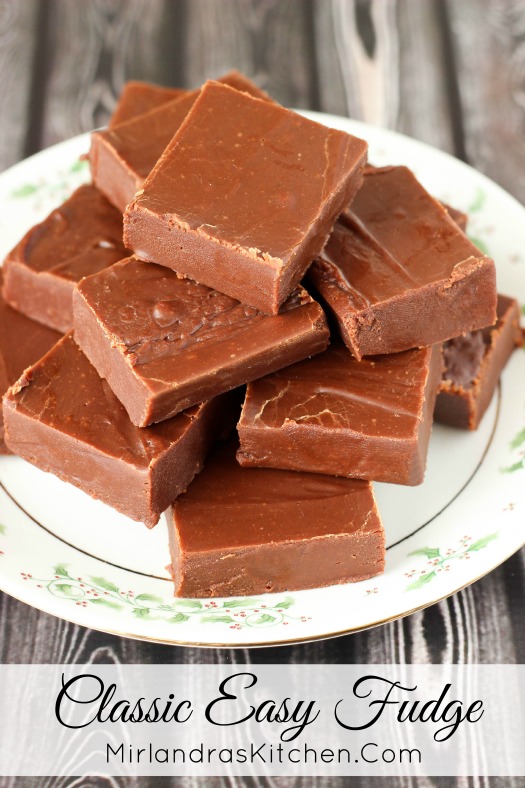 There are things that make me think of Christmas and then there are things without which there would be no Christmas! Fudge, specifically this fudge, is a Christmas tradition we never skip.
Growing up my cousin always made huge tins of it and a wonderful candy plate was delivered each year. When I was in high school she taught me to make it and I've made many a pan since.
Her recipe came from the old recipe for Kraft Fantasy Fudge. It is a simple fudge to make because you don't have to use a candy thermometer. Just cook and stir and add the marshmallows at the end! It could not be easier.
These days I have gotten smart about adding just a touch of salt to some kinds of candy. It balances out the sweetness and helps develop the chocolate flavor. I have included notes in the recipe for deciding how much salt you personally might want to add.
The recipe is also highly adaptable. My cousin adds walnuts to some batches and mint extract to others. I have added raspberry extract, orange extract, and even dried cherries / almond extract. You can stir in anything you like at the end! When I'm using an extract I start with a little bit, stir and taste, and then add more as needed.
Christmas is right around the corner. It is never too early to whip up a big pan of this to share. Don't be surprised when you suddenly have more friends than you used to! It is great other times of the year too. We even served a big platter at my August wedding!
If you are interest in lots of easy fudge recipes and some great teaching check out my friend Beth's site How To Make Easy Fudge.  She is amazing and has some great resources you are going to love!
 Tools In This Post:  I pour my fudge out into this pan to cool.  It is also my favorite cookie sheet for baking!
If you like easy candy recipes that always turn out great, try these wonderful homemade caramels!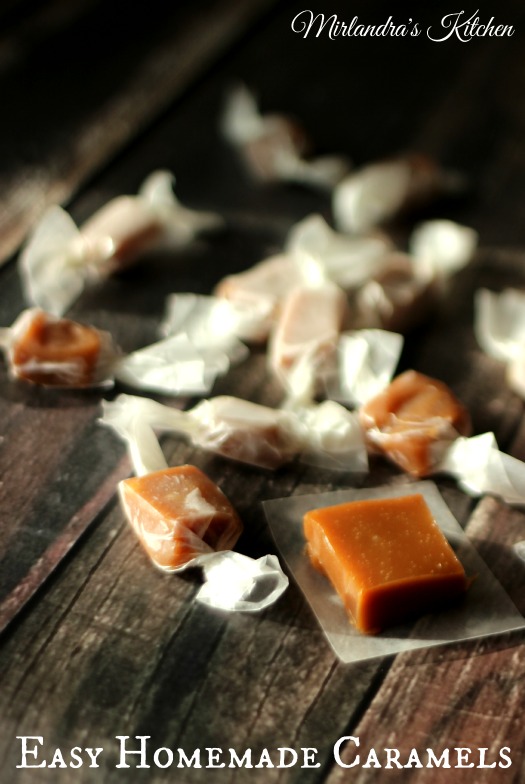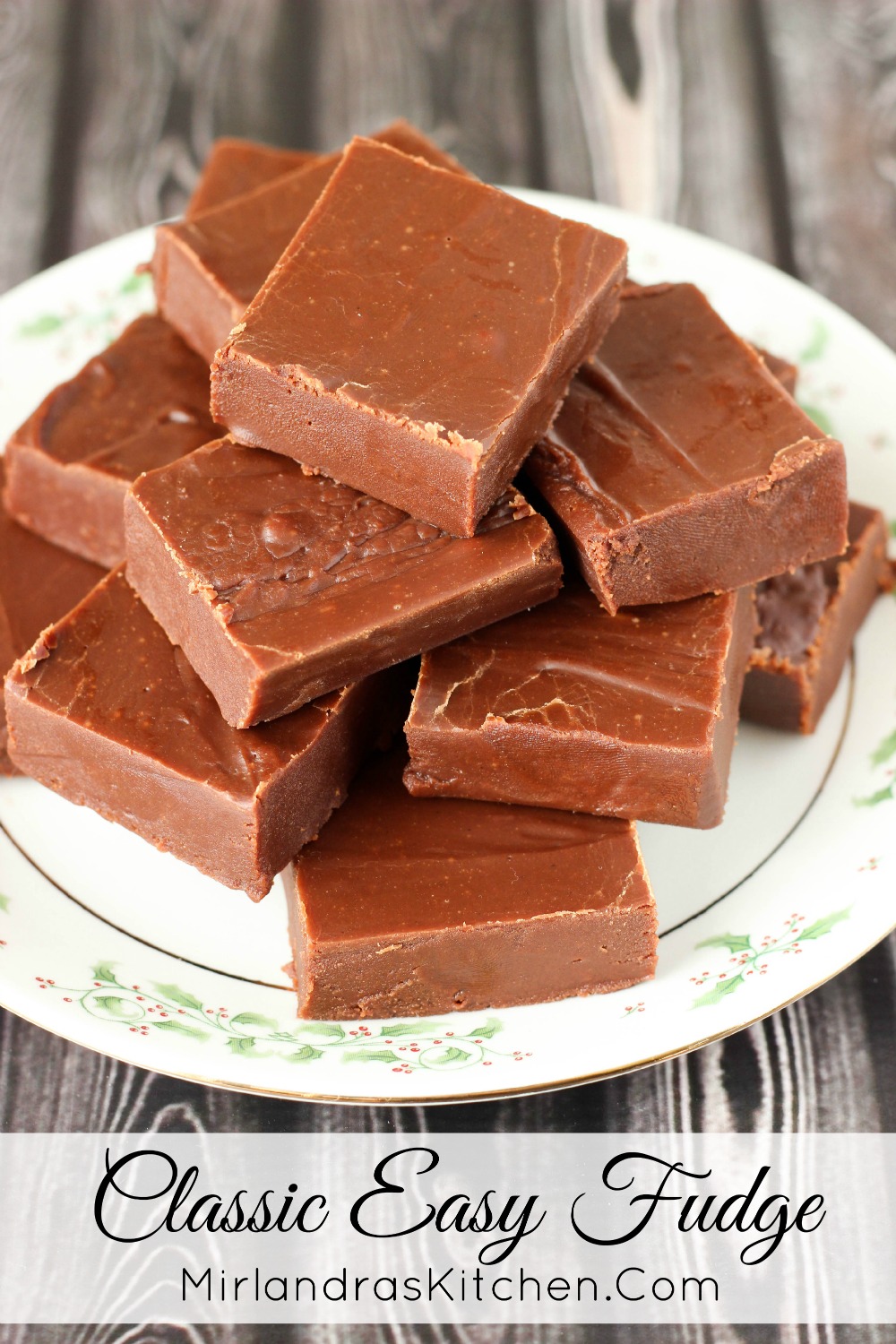 Classic Easy Fudge
Easy fudge for every occasion.
Ingredients
1 ½

cups

salted butter

1

can evaporated milk

12oz

6

cups

sugar

16

oz

marshmallows

24

oz

semi-sweet chocolate chips

1/8 - 1/4

tsp.

salt

2

Tbsp.

vanilla
Instructions
Grease a jelly roll pan or a rectangular baking pan with butter (do not use oil or oil spray).

In a large heavy bottomed pan over medium heat combine the butter, milk and sugar. Bring to a rolling boil over medium, stirring constantly with a strong, flat spatula.

Once it comes to a rolling boil, continue to stir over the same heat for five minutes.

Meanwhile put the marshmallows in a large microwave safe bowl and cook for two minutes or until they are pretty melted.

After five minutes, remove the milk mixture from the stove and add chocolate chips, stirring until melted. Add melted marshmallows, salt and vanilla – beat until well blended.

Poor into greased cookie sheet and cool on racks at room temperature. Cut into desired size squares when ready.

Store in an air tight container for short term or freeze for longer term storage.
Notes
Note on salt: A little salt brings out the flavor of the chocolate and cuts the sweetness just right. The fudge is still sweet and won't be salty. If you are sensitive to salt use 1/8 tsp. If you like foods a bit more salty use 1/4 tsp.
Serving Size: In this recipe a serving is 2oz.
Nutrition Disclaimer
MirlandrasKitchen.com is written to share great recipes. While we do our best to provide nutritional information as a general guideline, we are not registered dietitians and the values provided here should be considered estimates – not exact scientific data.