When it comes to Fablehaven food, the hot chocolate is the most famous. This is a simple, rich recipe that is perfect for sipping with the books!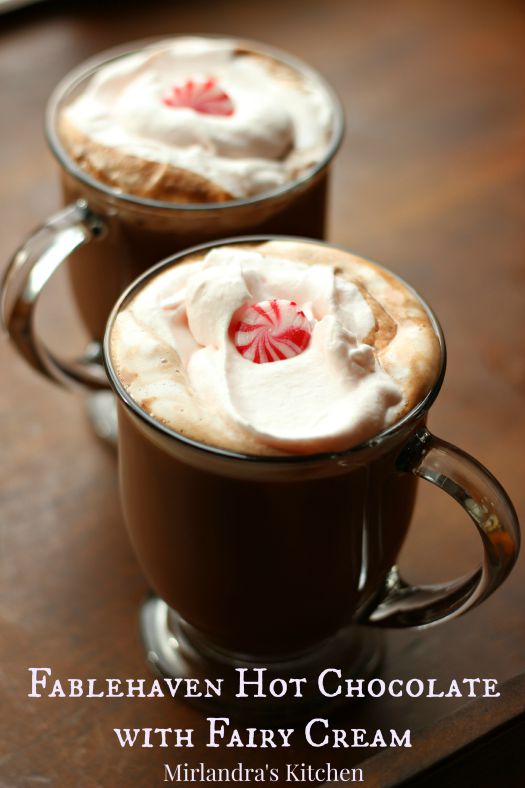 I belong to a book club made up of amazingly imaginative women. I am new to the club this spring and joining has become one of the highlights of my year. The discussion is always lively and thought provoking . Often when we meet there is food designed to go along with the book theme. I love that the group combines my passions of reading and cooking.
This month we are reading Fablehaven by Brandon Mull and inviting our husbands and children to join us for the October meeting. I had never heard of the book but am enjoying it quite a bit! Every chapter is brimming with wonderful descriptions of amazing Fablehaven food. This is not one to read hungry.
Every morning the characters begin the day with a mouth-watering hot chocolate that is extraordinary in its flavor. As I have been reading, I got to thinking about my grandmother's recipe for hot chocolate from scratch. My mom always made it in the winter when we had been out smashing ice or playing in the cold. I remember wonderful cups of rich chocolate served hot with the occasional scoop of ice cream to cool it off. My mom was a very fun mom to grow up with!
For Fablehaven Hot Chocolate I took the basics of our family recipe (which had no measurements) and modified it quite a bit to create a consistent, rich chocolate drink. I use peppermint candies to make a slightly pink whipped cream for the top that carries a touch of peppermint flavor. After all, a hot chocolate that you serve in Fablehaven should have a bit of magic to it. I hope you enjoy making this wonderful drink all winter. Don't forget to save this with your holiday recipes for a wonderful Christmas morning treat!
Fablehaven Hot Chocolate with Fairy Cream
Ingredients
1

cup

unsweetened cacao powder

1

cup

hot water

1 1/2

cups

heavy cream

2 1/2

cups

milk

2

pinches

salt

1

cup

of sugar
Fairy Cream
1

cup

heavy cream

6

peppermints

additional for garnish if desired

2

Tbsp.

powdered sugar
Instructions
To make Hot Chocolate: In a large sauce pan, whisk together cacao powder and hot water. Place pan on stove over medium heat. Continue to whisk frequently as mixture comes to a simmer. Right before the mixture begins to bubble it is vulnerable to scorching and should be whisked almost constantly.

Simmer the mixture for 30 seconds and then whisk in cream, milk, salt, and sugar. Leave the pan on medium-heat and continue to whisk occasionally until the drink reaches the temperature you desire. Remove from heat and serve with Fairy Cream.

To make Fairy Cream: Place peppermints in a Ziplock Bag. Use a strong one intended for the freezer or use two to make sure the bag is thick enough. Place the bag of candies on a cutting board and gently whack the mints until they crumble into pieces the size of a pie and smaller. If you are in a hurry the mints must be ground to a powder to dissolve quickly in the cream. Otherwise, leave the larger chunks.

Stir the crushed mints into the cream and refrigerate overnight or until the candy has dissolved.

Whip the cream and powdered sugar on the highest setting of a kitchen aid or electric hand mixer until soft peaks form, 2-3 minutes.

Spoon dollops of cream unto the hot chocolate and garnish with additional peppermint if desired.
Nutrition
Nutrition Facts
Fablehaven Hot Chocolate with Fairy Cream
Amount Per Serving (8 g)
Calories 0
* Percent Daily Values are based on a 2000 calorie diet.