These Easy Homemade Caramels are one of my favorite candies to make and you don't need to have a degree in candy making or any highly specialized equipment. It is actually the perfect introduction to home candy making.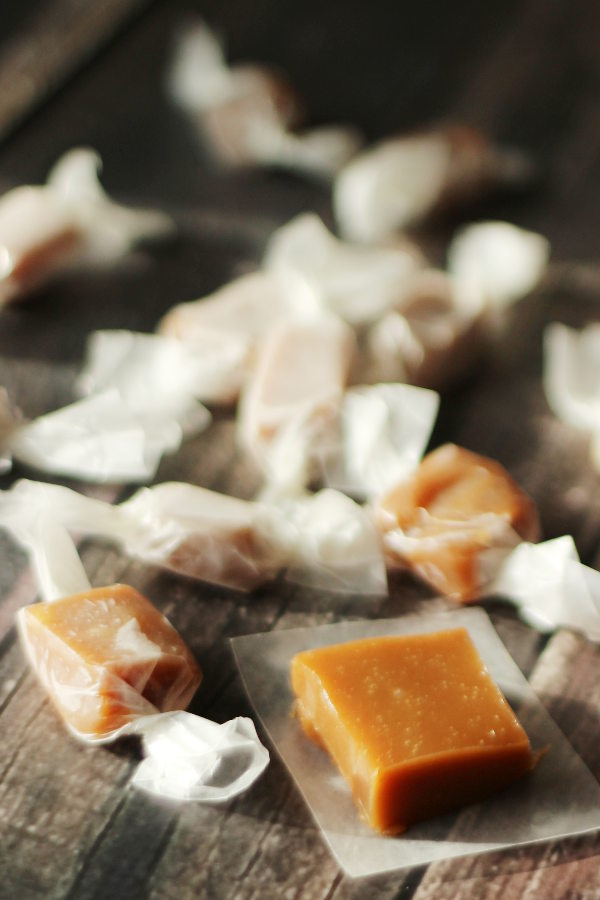 My husband (who is not an experienced candy maker) has turned out plenty of batches without problems. While the recipe and method are simple, the results are spectacular. The caramel is buttery and rich. Each square is chewy while still being soft and luscious.
Easy Homemade Caramels
Unfortunately, it seems that one batch is never, ever enough. I'm always popping an extra chunk in the freezer so we have them for later but somehow when "later" comes we are all out. I have NO idea who might be eating them! Consider yourself warned!
The one piece of equipment that is absolutely required for this recipe is a candy thermometer. If you have a glass one that will work fine but I am absolutely loving the newer digital candy thermometers.
There are many to choose from, most under $25. We use this one
and love it. Make sure you buy one that is intended for candy making or deep frying and has a clip to attach it to the pan.
Please remember that most candy recipes should not be doubled. If you want to double this one see my notes at the bottom of the recipe. Also this is something that does have to be stirred on occasion. You can do something else close by while the candy cooks but set a timer! A little tending makes them most excellent!
Easy Homemade Caramels
Servings
81
squares (1"x1")
Ingredients
2

cups

heavy whipping cream

divided

2/3

cups

light corn syrup

1 1/2

cups

sugar

1/2

cup

salted butter

very soft

4

Tbsp.

flour

4

Tbsp.

corn starch

2

tsp.

vanilla
Instructions
In a large sauce-pan with a heavy bottom, heat the sugar, corn syrup, and one cup of cream over medium heat. No need to stir yet.

When the mixture comes to a boil, stir in the rest of the cream and attach a candy thermometer to the side of the pan with the end in the caramel mixture. Turn the temperature down to the lowest simmer possible. I usually use the 1-2 level heat on my burner.

Allow the candy to heat slowly to 235 F (the beginning of softball stage) stirring every 15 minutes or so. The candy can be cooked on a higher heat but using a low heat and cooking it slowly allows the sugar to fully caramelize and take on a much better flavor. A nice dark amber color should develop before you let the candy come fully to softball stage. If they are light in color and getting too close, just turn down the stove.

While the caramel is cooking, butter 9x9" baking dish and set aside.

In a small bowl, mix butter, flour, and corn starch together and set aside.

When softball stage is reached, add the butter / flour mixture to the caramel on stove and stir until it boils again.

Remove from heat, and stir in vanilla. Pour the caramel out into the buttered baking dish and refrigerate until cool.

When cool cut into bite size squares and wrap in waxed paper. It is easiest to cut these when they are cold from the refrigerator. I use a metal frosting spatula to lift them out of the pan.

Store in the refrigerator to keep them nice longer and serve chilled.
Notes
All stoves and pans are different. If you cook it on higher heat it will be done faster, lower heat it will be done slower. The lower the heat and slower the cooking the better the flavor. If you double the recipe it will take much longer. One time I made four batches in one pan and it took me about 8 hours to get them cooked! I don't suggest making more than two recipes at once. These days when I want to make two batches I usually use two pans and make the batches simultaneously.