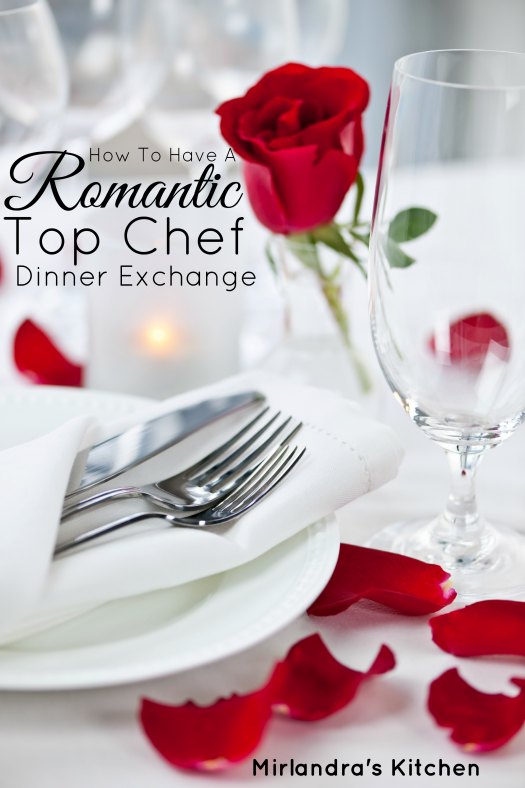 My good friends Katie and Chris Moore have created a wonderful Top Chef style cooking exchange for special occasion gifts.  It is a creative way to spend time together and make each other a "gift" on any budget.  I asked them to come guest post here before Valentine's Day and share their story.  If you want to try something new this year or skip the overcrowded restaurants this is a fun way to share a special meal. 
Katie: My husband and I aren't big gift people, so we often stray into other gift stand-ins.  For Christmas this year, I suggested we make a Top Chef dinner for one another where we each choose 5 ingredients and the other has to use those ingredients to cook a meal.  The meal had to consist of an appetizer, a cocktail and a dinner with a wine pairing, and the five ingredients could be in any part of it.
Chris:  Katie has a remarkable talent for coming up with unique gift ideas.  I read an article once about a high school shop teacher whose students credited him with teaching them to be more creative, his secret was to give his students a wide open assignment and let each student figure out how to do it in their own way.
This is what Katie does to the gift giving process. She turns the act of giving into a creative act.  When she told me that we'd each make each other a meal using select ingredients I was ready to hit the ground running.
She thought of the ingredients I was supposed to use for her meal almost as quickly as she thought of the idea: scallops, cheese, pasta, mushrooms and fennel pollen.  It wasn't hard to read between the lines on this one, she was using her ingredients to request the exact dish she would order at any Italian restaurant: pasta with scallops and cream sauce.  I was going to have to do something about that.
For the cocktail I dipped the rim of a champagne flute into lemon juice then into a mixture of sugar and fennel pollen and let that harden on the rim for a few minutes before filling the flute with vodka, cherry juice, lemon juice and champagne with a maraschino cherry sunk at the bottom of the glass for effect.  The fennel pollen sugar rim added a nice scent to the drink without becoming overpoweringly liquorishy, it was a little sweet with the lemon to balance it out.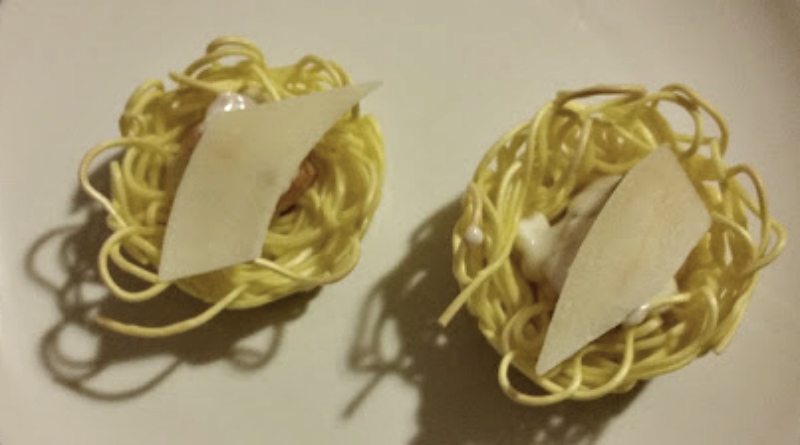 The appetizer was by far the trickiest, I had no recipes to go on and as far as I knew what I was creating had never been done before (although a quick Google search afterwards proved me wrong).  To start I took a piece of raw bacon and greased a muffin pan then in each part of the muffin pan I put a little twirl of noodles with a balled up piece of aluminum foil in the center to create a nest shape.  I then baked them in the oven to create little noodle nests.
While they were baking I fried up the bacon and used the fat to cook the scallops.  When the noodles were cooked enough to hold their nest shape I pulled them out of the oven, removed the aluminum foil, put a scallop in each nest then topped it with a chardonnay cream sauce, bacon crumbles and a single large shaving of Parmesan cheese.  Scallop Noodle Nests with chardonnay cream sauce, bacon crumbles and Parmesan cheese.  Mirlandra would be proud.
By the main course I'd used every ingredient except mushrooms.  Mushrooms are by far Katie's absolute favorite food so I knew I had to out mushroom the mushroomiest thing she'd ever eaten.  My solution: Black Fungus Five Mushroom Soup with Balsamic Drizzle.
For this dish I rehydrated dried Chinese black fungus, and added the liquid and the mushrooms to some sautéed onions, fresh oyster mushrooms, porcini mushrooms, cremini mushrooms, chanterelle mushrooms, thyme and vegetable stock.  After simmering for 90 minutes I blended the mixture, ladled it into bowls and drizzled a spiral of balsamic vinegar over top.  The Chinese black fungus made the soup very dark and it looked a little intimidating but it was rich and delicious and paired perfectly with a glass of Shiraz.
It was definitely the most complex and challenging meal I'd ever cooked, and one I never would have come up with unless I had had those specified ingredients.  Overall it was a huge accomplishment and to say I was happy with how it turned out is an understatement.  It was time to sit back, relax and let Katie plan the meal she was making me the following weekend.
Now I should say, despite her amazing ability to come up with creative gift ideas, Katie is and always will be a scientist at heart.  She likes a process to follow.  She likes exact steps, steps which, when followed, yield a predictable result.  In the case of cooking, the girl needs a recipe.
In an effort to thwart her impulse for order I threw five random ingredients together to force her to come up with something waaaay outside her cooking comfort zone: forbidden rice, ramps, celery, sesame seeds and shiro dashi.  Boom. Good luck Katie.
Katie:  I was definitely a bit nervous about Chris's ingredients because I had never cooked with most of them and had only had some of them a few times, it was hard to make up a recipe without knowing what proportion to use of something and what they would go best with.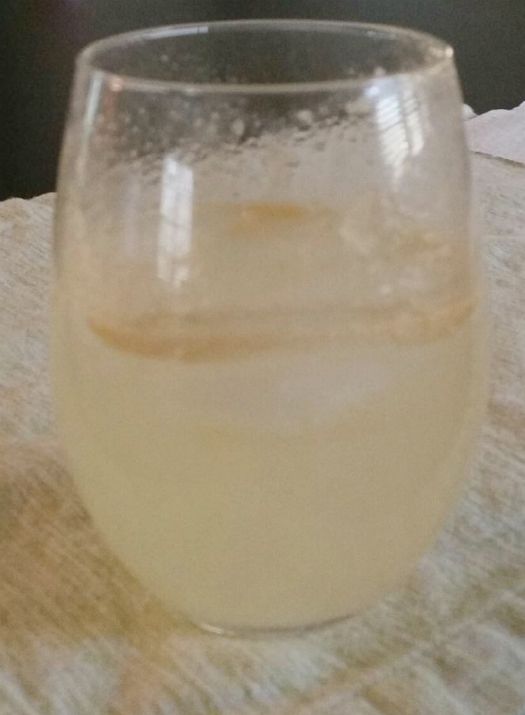 It was hard to even find some of Chris's ingredients in a store. His had an Asian theme to them, so we ended up going to one of the huge "farmer's markets" scattered around Atlanta. These are not outdoor markets that just show up on the weekend, but instead huge warehouse type grocery stores with lots of fresh produce and meat as well as foods from all over the world. For a dish I thought I was going to cook Chris, a forbidden rice cake, I needed umebashi paste. A nice Japanese man helped me find it in the Japanese section of the market but he kept asking me if I was sure I wanted it.
When I asked if it was bad tasting, he took a moment, but then said he wasn't sure how to explain it but that it was an "interesting" taste. In the end we bought it, but I became too nervous to try that recipe and returned to my original idea of forbidden stir fry rice (What can I say? Chris knows me well. I like to know what I'm getting myself into).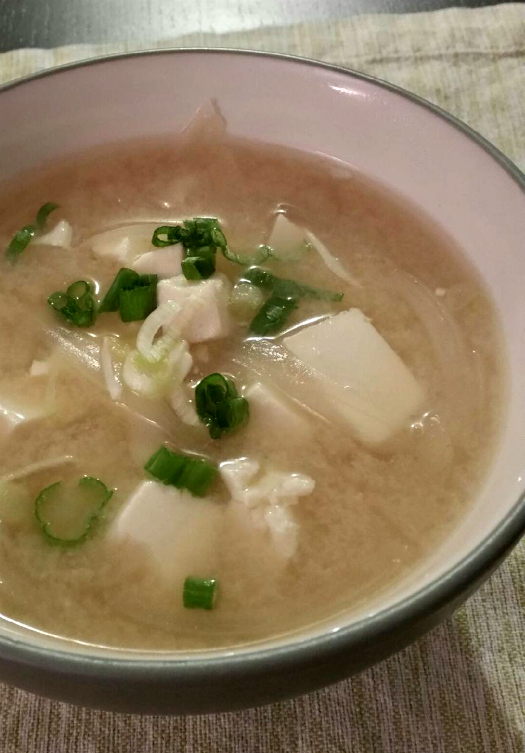 As my appetizer, I did a miso soup using the Shiro dashi with some onion in it. This was the only place I went off the script a bit in an attempt to make something like French onion soup, which Chris loves. I then did a cocktail made with toasted sesame oil, cucumber, simple syrup, lemon juice and vodka. The forbidden rice stir fry was served with an Asian marinated flank steak that Chris was nice enough to grill for me, even though it was his dinner. In addition, I made braised celery. I'm not the biggest fan of celery, so I was trying to find a recipe where I might like the celery too.
I was relieved everything went so well and tasted so delicious. Chris was very happy with the dinner and made sure to send pictures to his whole family and tell them all about it. I'm not sure if we'll end up doing this again next year, but I'm excited at the possibility of coming up with something else and maybe even going a bit farther outside of my comfort zone.
Some of my favorite parts of this gift was the time each of us put into coming up with our meals and all of the help we got from family and friends who were all so curious about what we were going to make. It also made me respect those Top Chef contestants even more because we didn't have any time or resource constraints and it was still really hard! So, what do you think? Maybe a Valentine's day surprise meal for you and your special someone is in order this year?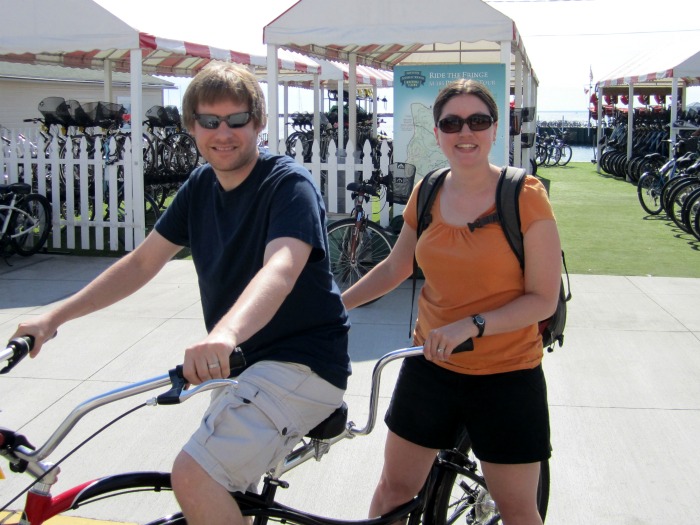 About the Authors:  Chris and Katie Moore live in Atlanta, GA.  They have been married almost three years and love to cook and travel together.  When they aren't in the kitchen, Chris is an eCommerce manager and Katie works is an epidemiologist for the health department.  The photos for this article are personal snapshots belonging to Chris and Katie.  They have been used with permission.