It is easy to make beef jerky from ground meat. The results are delicious, quick, and don't require a jerky gun. This also works with wild game!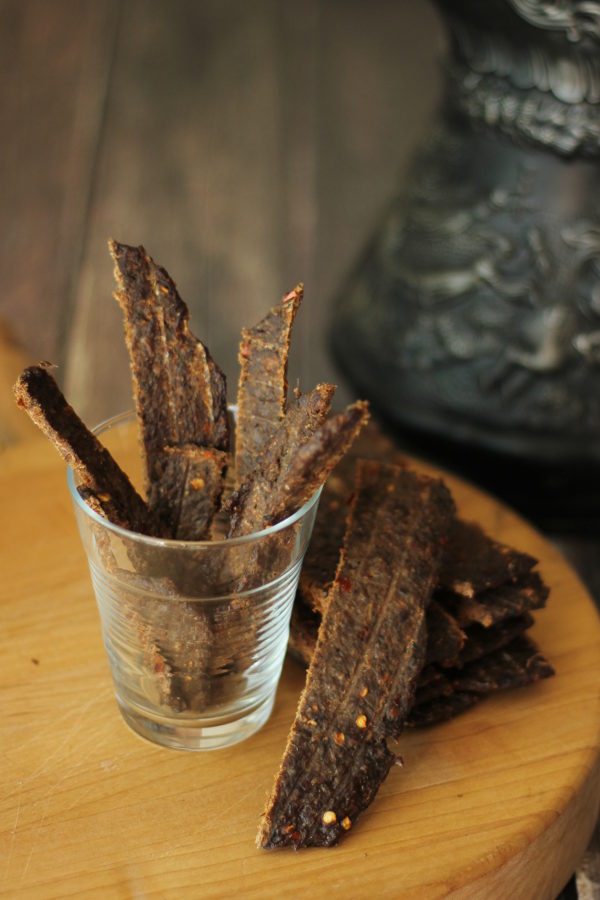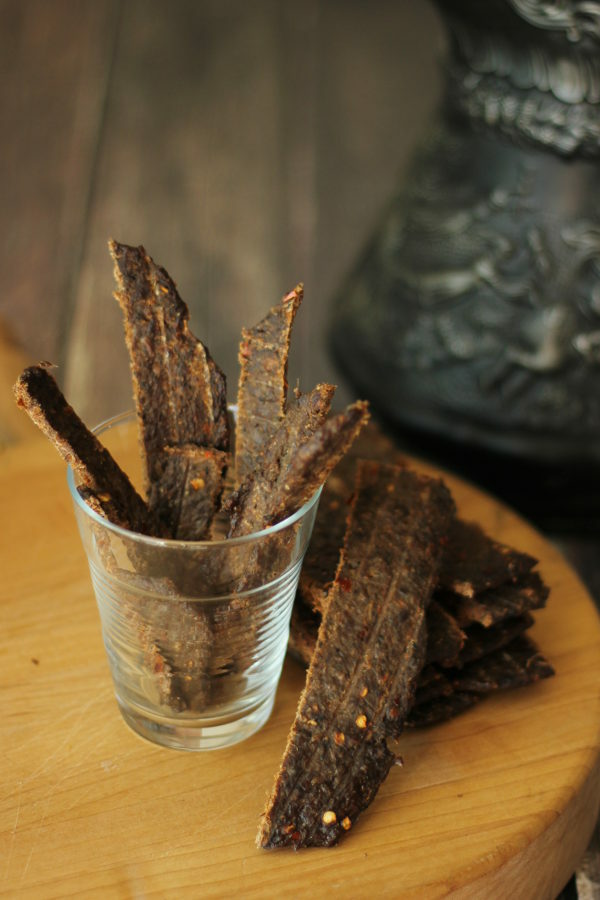 I love jerky. I can sit down with a one pound bag and eat it all in an hour without difficulty but that gets expensive fast. Fortunately ground beef and other ground meat can be gotten for much less than your standard bag of beef jerky.
Recently I came into a large pile of ground meat and had to find something to do with it other than the ever popular hamburgers and sausage. I settled on experimenting with jerky. It was a really good idea.
Ground beef and other ground meats make a wonderful beef jerky for a couple of reasons. First is the price. Ground beef is pretty cheap when compared to most cuts. Second is the tenderness. Because the meat is ground it comes out in a nice, easy to tear sheet that is bursting with flavor. Last is the speed. I can make a batch in less than 2 and a half hours. To do the same with sliced meats it takes me at least 4 hours not including marinating time.
I have been sharing it around the office and with friends.  The jerky went so fast I had to make more batches. So far this recipe is the favorite.
To make Ground Beef Jerky without a jerky gun you can do the following:
Find yourself a pair of slats about 1/4 inch tall. I recommend metal slats because they are reusable but you can use paint stir sticks, rulers, magazines… there are lots of choices.
Grab a rolling pin. If you don't have one, grab any bottle with a wide, smooth edge, a oversized pop can, etc… What you're looking for is something to use to roll out the Ground Beef Jerky.
Place the slats just under the width of your rolling pin apart. I'd leave about 1/2 inch of wiggle room on each side to make your life easier.
Place a sheet of plastic wrap just over 2 times longer than your slats over your slats with the long part running the same direction as your slats.
Get a dollop of your ground beef mixture and put it on the plastic wrap, then fold the plastic wrap over the meat so that the corners of your plastic wrap touch.
Use your rolling pin to roll out the ground beef into a large strip.
Remove the plastic wrap and transfer the strip to your drying rack. You can cut it into smaller strips while it is still in the plastic wrap if you want to help it keep form.
A good video of someone doing almost exactly what I do is located here.
This grilling tray is very similar to the drying rack I'm using.
For longer term storage we use our FoodSaver to vacuum pack the jerky and refrigerate keep it fresh.
How to make Beef Jerky from Ground Meat including Wild Game
A quick, simple jerky recipe that you can make at home
Ingredients
1

pound

ground beef

lower fat is better in this case

1

Tbsp

garlic powder

1

Tbsp

black pepper

1

Tbsp

onion powder

1/2

cup

soy sauce

1

tsp

beef bullion powder

1

Tbsp

liquid smoke
Instructions
Preheat oven to 170 degrees Fahrenheit.

Combine all ingredients in bowl and mix thoroughly including any optional ingredients you have have decided to add.

Divide mixture into flat strips. You can use a jerky gun for this or follow the directions in the post. The strips should be between 1/8 and 1/4 inch thick. For ticker strips more cooking time will be needed.

Place strips on baking cooling racks.

Place racks in oven and let cook/dry for 2 hours.

For a dryer jerky, increase cook time but do not shorten time to less than 2 hours. The jerky needs to reach an internal temperature of at least 160 degrees Fahrenheit for this recipe.

For best long term storage I refrigerate the jerky in FoodSaver Bags or in Ziploc.
Nutrition
Nutrition Facts
How to make Beef Jerky from Ground Meat including Wild Game
Amount Per Serving
Calories 161
Calories from Fat 99
% Daily Value*
Fat 11g17%
Cholesterol 40mg13%
Sodium 854mg36%
Potassium 214mg6%
Carbohydrates 3g1%
Protein 12g24%
Vitamin C 1mg1%
Calcium 20mg2%
Iron 2mg11%
* Percent Daily Values are based on a 2000 calorie diet.