Milk chocolate, white chocolate and Dutch cocoa come together in this classic and decadent hot chocolate mix perfect for every day drinking and gifts. Best of all?  You can make an entire batch of mix in six minutes!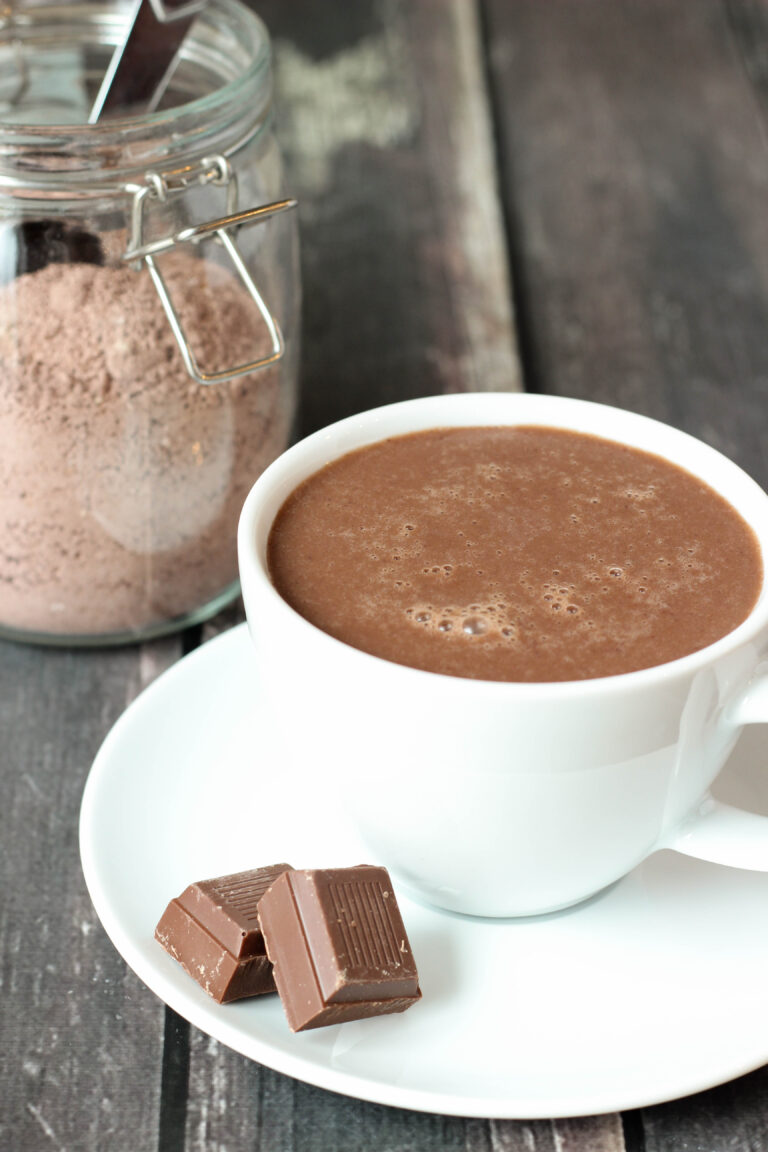 To say I am a hot chocolate fiend may be understating things.  To me, a comforting cup of very chocolaty hot chocolate will cure most of life's problems, warm you up on a cold night, make a camping trip perfect, and start your morning off just right.
Here in Idaho we have had an extended mild fall but now the hard bite of winter is closing in and I'm making cup after cup of hot chocolate.  I was always curious but a bit distrustful of making up a homemade mix.  Hot Chocolate needs to be perfect and no recipe I ever saw made me think "YUM."  After hearing a few people I trusted talk about a mix they had made and loved I got curious.  Could it be done?
After some extensive experimenting, covering my entire kitchen in chocolate and drinking my way through more mugs of cocoa than I want to admit, I have a true winner!  Jonathan even got excited and lent a hand though I must say I have asked him to stop following me around at bedtime with test batches.  He really loves the challenge of a good recipe experiment!
In the end we discovered several "secrets" of great hot chocolate.
You need a mix of milk chocolate and white chocolate.  It gives you the perfect flavor balance and adds to the creaminess.
Using a higher end Dutch Process cocoa makes a big difference.  Cheaper cocoa powders don't have the same deep chocolate flavor.
Corn starch  – sounds weird, but it makes the hot chocolate creamier.  "Mouth Feel" is an important thing in food.
Salt.  My friend Katie teases me that I physically can't make a food without adding salt.  She is only 98% correct.  Seasoning foods matters – even sweet ones.  A small addition of high quality sea salt brings out the beautiful flavors of your chocolate and perfects the drink.
Isn't life fun?  Who knew a simple hot chocolate mix could have such fun little cooking lessons tucked into it?  Now that I have an amazing and perfect jar of this epic stuff I'm going to package some up for Christmas gifts.  After all, 'tis the season!
Tools In This Post:  If you are a chocolate nut the quality of cocoa powder you use in this recipe will determine your results.  Your four year old probably won't catch it but when I made batches side by side I found that using a quality Dutch Process cocoa was the deal breaker for great cocoa.  I picked mine up at Costco.  You can also find it on Amazon if your store does not carry it.
Triple Chocolate Hot Chocolate Mix
Ingredients
8

oz

milk chocolate bar

I used the Belgian Milk Chocolate from Trader Joe's

4

oz

white chocolate bar

I used Baker's White Chocolate

2

cups

powdered sugar

1

cup

unsweetened cocoa powder; Dutch Processed is the best choice for chocolate flavor

2 ½

cups

nonfat dry milk powder

2

tsp.

cornstarch

1

tsp.

sea salt
Instructions
Using a food processor or box grater grate both types of chocolate.

Dump the chocolate into a one gallon Ziploc bag along with the rest of the ingredients. Seal the bag and shake well to combine.

Store in an airtight jar for up to a year.

To make a cup of cocoa measure 8oz of hot water or milk into a mug. Stir in ¼ cup to ½ cup of mix until dissolved. Add a splash or two of cream or half and half for richer cocoa.

Enjoy with whipped cream or marshmallows as desired.