This healthy leek soup is ready in less than 30 minutes, tastes delicious, and helps you fight off cold and flu. It's the perfect winter dinner.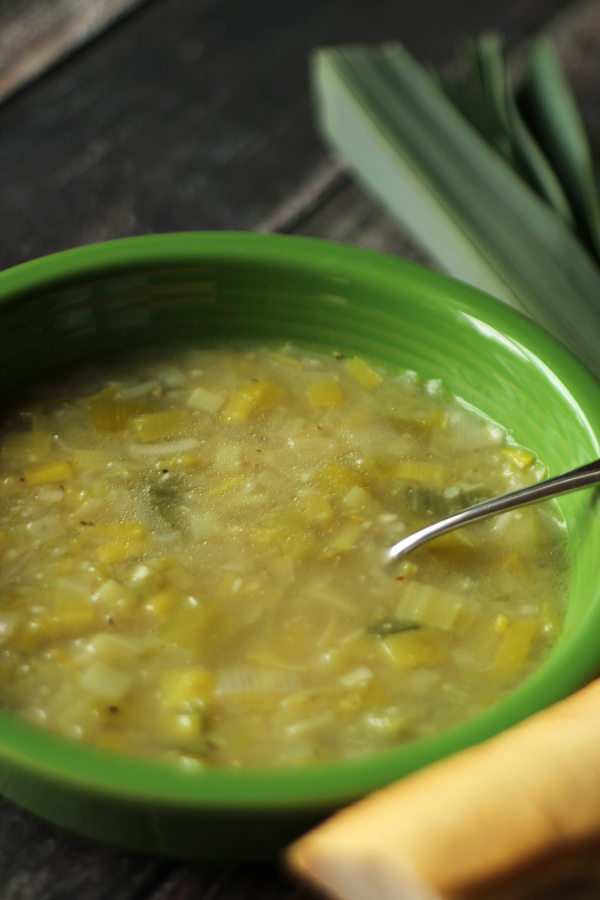 I don't know about you but I had some sugar around the holidays. Actually, if we are being honest I had sugar for breakfast, lunch, dinner and some snacks! I did OK until my brother and I started making candy together. That was the end of it all.
It was fun and it was insanely delicious, but it really is time for a sugar break! This Leek soup recipe always shows up at my house around January.
Healthy Leek Soup
Of all the soups I make, this is one of the simplest. It is full onion and garlic which are really good for your body during the cold and flu season. It can make it on the fly and this time of year leeks often go on sale…  What more can you ask for???
It really is the perfect soup for January. However, one word of caution! If you don't like onions this may not be the soup for you. Leeks are in the onion family and the finished soup is deliciously reminiscent of onion without the strong, overpowering flavor.
I highly recommend the Better Than Bouillion
Chicken Base for this recipe. It adds a lot. If you are vegetarian the same company has a great vegetarian bouillion that you can substitute here.
Healthy Leek Soup in 30 Minutes
Ingredients
5

cups

chopped leeks

1

Tbsp.

olive oil

1

Tbsp.

butter

3 1/2

cups

water

divided

1

Tbsp.

minced garlic

1 1/2

Tbsp.

chicken bouillon

(or vegitarian bouillon)

1

tsp.

black pepper
Instructions
Remove and discard any remaining section of root end and any tough upper green leaves. Slice leeks in half and run under cold water gently fanning the layers open to make sure all dirt and grit can run out.

Slice the cleaned leeks into quarters. Chop the quarters into chunks no wider than 1/3".

Add 5 cups chopped leeks to a large soup pot with olive oil and butter. Cook on high for a few minutes, stirring often with a spatula until leeks have softened and turned slightly translucent. If the leeks start to stick to the bottom of the pot, add 1/2 cup of the water and continue to cook.

Add the remaining water, the garlic, chicken bouillon, and black pepper. Bring to a hard boil, then turn down and simmer for 10 minutes.
Notes
Note: Additional garlic can be added if you are trying to fight off a cold or flu bug.