Do you have a cake mix and jam in the pantry?  A few minutes later you can have wonderful berry bars hot and ready.  What are you waiting for?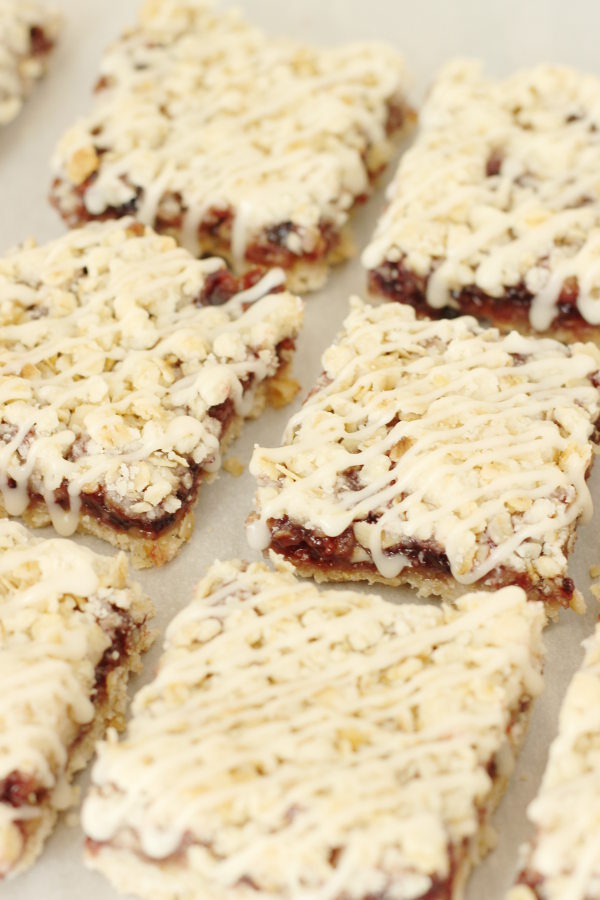 I love cooking things from scratch but sometimes I also have to pull a rabbit out of the hat (or the hat out of the rabbit on really crazy days)!  Just because it is a "hat out of the rabbit" day does not mean I don't still want to smell something baking in my oven and tuck into a fresh, warm treat.  OK, lets be honest – the more crazy the day the more likely I am to bake something sweet!  Enter the usefulness of the amazing yellow cake mix.
Cake mixes go on sale for $1.  When they do I stock up with a few and then the pantry is stopped for little baking emergencies.  Just baking up a mix cake has some draw backs.  But…if you add a few things suddenly your cake mix is looking pretty fancy and people are reaching for second helpings!
These bars a nice for a sweet breakfast, after school treat for hard working kiddos, softball practice (my husband's team loves me!), or just plain old crisis Thursday.
This is the baking season and you will probably see quite a few sales on cake mix.  I am hooked on Betty Crocker.  It is all I have bought for years.  Drop me a note and let me know how you like these Crumb Bars and if you are picky about the brand of cake mix you stock!
Love Easy Recipes?  You might also enjoy my Lemonade Icebox Pie with Oreo Crust.  It is heavenly (and simple)!
Four Ingredient Berry Crumb Bars (A Yellow Cake Mix Recipe)
Ingredients
To Make The Bars
1

package yellow cake mix

2½

cups

quick-cooking oats

¾

cups

butter

melted

1 1/2

cups

mixed berry jam

or any combo of your favorite berry jams
To Make The Optional Glaze
1

cup

powdered sugar

2

Tbsp.

milk

1/2

tsp.

real vanilla
Instructions
Preheat the oven to 375 degrees. Grease a 9 x 13 baking dish with nonstick spray and set aside.

Mix cake mix and oats in a large bowl. Add melted butter and stir until crumbly.

Press 2/3rds of the crumbs into the bottom of the pan.

Spread jam over crumbs (if your jam is sticky and hard to spread stir in 2Tbsp. of water before spreading).

Spread the remaining crumbs over the jam and press down gently.

Bake for 20 to 25 minutes or until very lightly golden brown.

You can eat these fresh out of the oven or let them cool. If you want to glaze them use a fork to stir together powdered sugar, milk and vanilla. Drizzle over the bars.
Reader Interactions