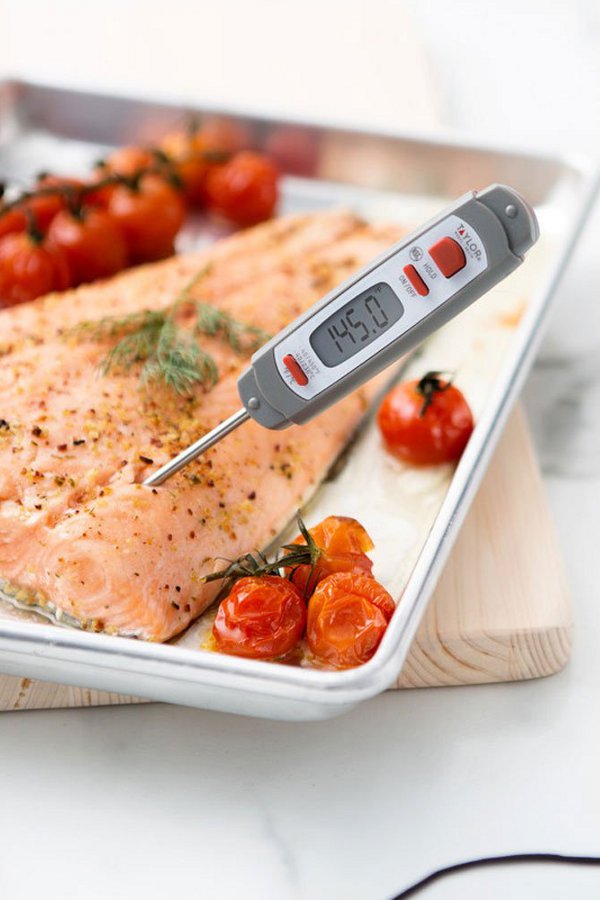 At-a-Glance:
Product: Taylor Digital Thermometer
Rating: 10 of 10
Usefulness: Every kitchen needs one
Price: Under $12
Where to Buy: Amazon
People who watch me cook often wonder what the heck I'm doing probing everything with my digital thermometer. The truth is – I am becoming a better cook! This is my trick to making sure is food cooked enough to eat safely without being overcooked. It is the simplest way I have found to determine if a casserole is hot through to the center, if a chicken is done roasting or even if a loaf of bread is done baking! I love any tool that helps me eliminate guess work in my pursuit of great food! I am convinced every good cook needs one of these in their kitchen.
I have been cooking with digital thermometers for quite a few years now and Ive owned several styles and brands. Unfortunately, I have experienced a lot of frustration with durability and accuracy. I loved my thermometers but never felt like I really had one I could depend on – even when I bought more expensive ones!
When I stumbled upon the inexpensive Taylor thermometer, it began one of my all time best cook/tool kitchen relationships. This gadget sells on Amazon for under $12 and has held up for years. Heck, not only has it held up – it still works like new even though my husband is always "borrowing" it to take out and BBQ, which means it gets left outside sometimes.
This is also a great gift for somebody who is newer to cooking.
Happy cooking!
Click Here To See The Taylor Digital Thermometer On Amazon