Roasting a chicken is quick and easy. This recipe takes less than an hour from start to finish and yields moist, succulent meat.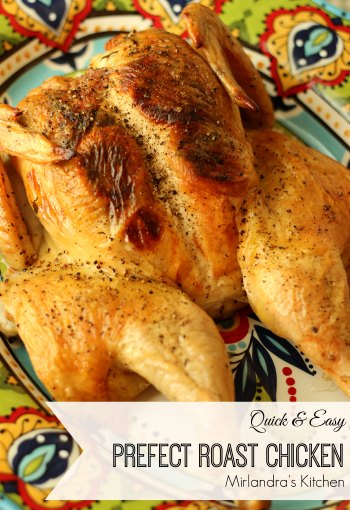 Have you ever roasted a chicken before? It is said that the competency of a cook can be determined by how well they roast a chicken. These days anyone who wants to avoid roasting a chicken can buy one hot and ready in the store but it is an unnecessary short cut. The truth is, it can be EASY and QUICK to roast a chicken.
There are a lot of ways to roast a chicken but many of them are complicated or involve multiple steps including flipping a chicken part way through. This recipe goes in the oven in under 10 minutes, is cooks in about 45 minutes and yields moist, succulent meat – not dry or scary rubber chicken.
Sunday afternoon I roasted up one of these birds and pulled the meat off of the bones to eat during the week. It didn't take long for Jonathan to sidle up and start nipping the crispy skin from my project. If you have a skin lover, this recipe yields more crunchy skin than traditional roasted chicken.
A few things to keep in mind:
• 500°F is one hot oven! When you open the door stand to the side and allow the heat to escape a moment before you lean down to the oven. Otherwise your eyeballs feel singed.
• Buy quality meat shears. I own a Cutco pair that cuts like a dream. You will never regret buying a good tool for this job. You can also use it to cut pizza.
• Enjoy the leftovers! Make chicken salad or some yummy enchiladas the next day. You can also freeze some cooked meat to use next time you are in a pinch at dinner time.
• I love to use this as a gift meal when a family has a new baby or they are all sick. Everybody loves it hot and the leftovers are flexible / can be frozen.
This recipe is always very popular. The subtle lemon and thyme flavors and crispy skin keep people coming back for more. I hope you enjoy it as much as we do!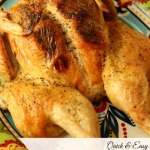 Perfect Roast Chicken
Ingredients
1

chicken

4-5 pounds

1

lemon

sliced into 4-6 thin slices

6-8

sprigs fresh thyme

Salt and Fresh Ground Pepper

Special Equipment: Sharp kitchen shears intended for meat such as Cutco
Instructions
Preheat oven to 500 degrees.

Wash chicken carefully and pat dry. Place breast side down on a work surface.

To remove the back bone start at the thigh and cut along one side of the back bone with a kitchen shears. Turn the chicken around and cut down the other side. Place the back bone on a roasting pan or save it to make stock.

Flip the chicken over so the cut sides are down. Press firmly on the breast bone to flatten the chicken into a butterfly.

Working at the neck end, carefully slide your fingers between the skin and the breast meat on both sides of the chicken. Move them from side to side gently to open up a pocket.

Slide half the lemon slices and half the thyme between the meat and the skin on one side of the breast and half into the other side.

Sprinkle coarse salt and plenty of fresh ground pepper unto the bird.

Roast in the preheated oven for 30-45 minutes. The smaller the bird, the faster the roasting time. Use a digital thermometer to make sure the chicken reaches 160 at the thickest part of the breast.

Remove the chicken from the oven and allow it to rest for 5-10 minutes after coming to temperature. This allows the juices to settle into the meat so that they will stay in the meat when you carve the bird. Enjoy!
Free Simple Weeknight Meal Plan!
Sign up here for your free plan and start rocking dinner!

✕
Free Simple Weeknight Meal Plan
Sign up here for your free plan and start rocking dinner!