Buttery cookies loaded with pecans, raisins and Captain Morgan Spiced Rum! The combination makes a decadent, moist bar perfect at Christmas or any time.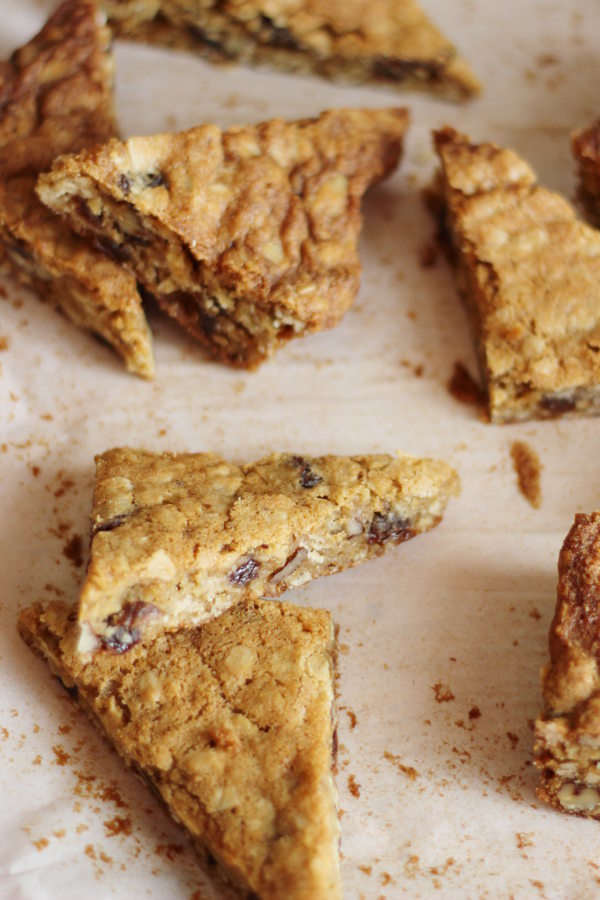 In honor of National Cookie Day I'm sharing a few favorite with you today.  I don't like oatmeal raisin cookies much. Every time I eat one I think it's a terrible waste of cookie space that could be used for chocolate! However, these oatmeal rum raisin cookies with Captain Morgan Spiced Rum and pecans are another story altogether!
I got curious about soaking raisins in liquid about the same time I picked up a bottle of Captain Morgan for some cooking experiments. I don't think I have to tell you what happened next.
Somehow in my mind adding the rum to the raisins seemed like a nice idea, an oddity at best. I was so wrong! Rum + Raisins = Cookie Magic. Not expecting this, I made the terrible mistake of baking them before lunch and then trying to take photos…
Yeah, I ate my photography subject. I guess we should just be glad I'm a food photographer as opposed to another kind of photographer. The cookies are just so rich and buttery with delicious texture and gooey raisins loaded with rum and crunchy pecans and if I keep talking about them I will have the worst run on sentence of all time!
I like cookies. Heck everybody I know likes cookies but when it comes to this favorite treat there are good cookies and then there are epic cookies. These, dear friends, are epic.
Ok, I will stop waxing eloquent about the cookies. Just bake a batch and enjoy.
Before I go, one quick note on rum. I set the recipe up so the alcohol would contribute to moisturizing and flavoring but will all cook off in the end. You can feed these to kids and teetotalers without any cause for concern.
Oh, and I "accidentally" dipped one into my really amazing homemade whipped cream. For the one-two dessert punch serve these with a dollop that and just don't bother with dinner. Don't worry I won't report you to the dinner police.
Oatmeal Rum Raisin Cookies
Buttery cookies loaded with pecans, raisins and Captain Morgan Spiced Rum! The combination makes a decadent, moist bar perfect at Christmas or any time.
Ingredients
1

cup

raisins

1/4

cup

Captain Morgan Spiced Rum

1

cup

salted butter

3/4

cup

granulated sugar

3/4

cup

dark brown sugar

firmly packed

2

large

eggs

1

tsp.

vanilla extract

1 1/2

cups

all-purpose flour

1

tsp.

baking soda

1/2

tsp.

salt

2

cups

old-fashioned rolled oats

1

cup

pecans
Instructions
Preheat the oven to 400 F.

Put raisins and rum in a small microwave safe bowl. Microwave for 1 minute. Let sit for 20 minutes to absorb most of the liquid while you prepare the rest of the dough.

Place the pecans on a sheet pan and bake for 5 - 6 minutes at 400 F until crisp. Set aside to cool.

In a stand mixer beat butter, sugar, and brown sugar on high for three minutes. Beat in eggs and vanilla until smooth.

Add the flour, baking soda, salt, and oatmeal. Beat on medium speed until mixed. Scrape bowl as needed.

Line a 9x13 metal sheet pan with parchment paper and preheat oven to 350 F.

Add the pecans and raisins. Include any extra liquid that was not absorbed by the raisins in 20 minutes. Beat in on low until incorporated.

Press the dough into the lined pan and bake at 350 F until the edges are golden brown and the middle is just set, about 30-35 minutes.

Cool and cut into 12 squares. Cut each square on the diagonal to make two triangles. Serve with whipped cream or store in an airtight container.
Nutrition
Nutrition Facts
Oatmeal Rum Raisin Cookies
Amount Per Serving
Calories 233
Calories from Fat 99
% Daily Value*
Fat 11g17%
Cholesterol 35mg12%
Sodium 173mg7%
Potassium 116mg3%
Carbohydrates 28g9%
Protein 2g4%
Vitamin A 260IU5%
Vitamin C 0.4mg0%
Calcium 20mg2%
Iron 1mg6%
* Percent Daily Values are based on a 2000 calorie diet.