Strong coconut rum cocktails with plenty of pineapple juice and fresh squeezed lime juice! This classic Hawaiian Mai Tai recipe takes you back to the islands in the dead of winter.   It comes in two versions: One is very strong, and one is more fruity.  Pick your drink and enjoy! Both are delicious and wonderfully reminiscent of vacation!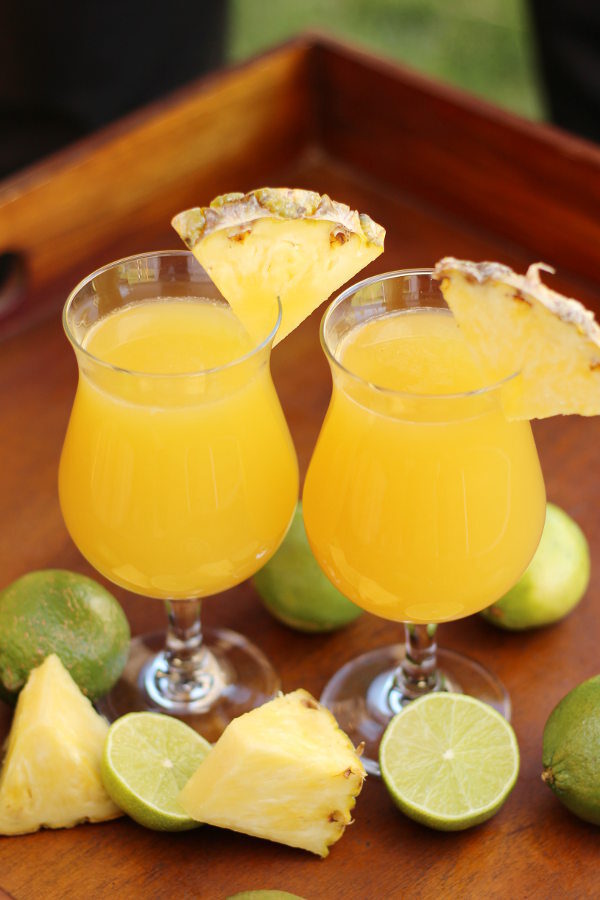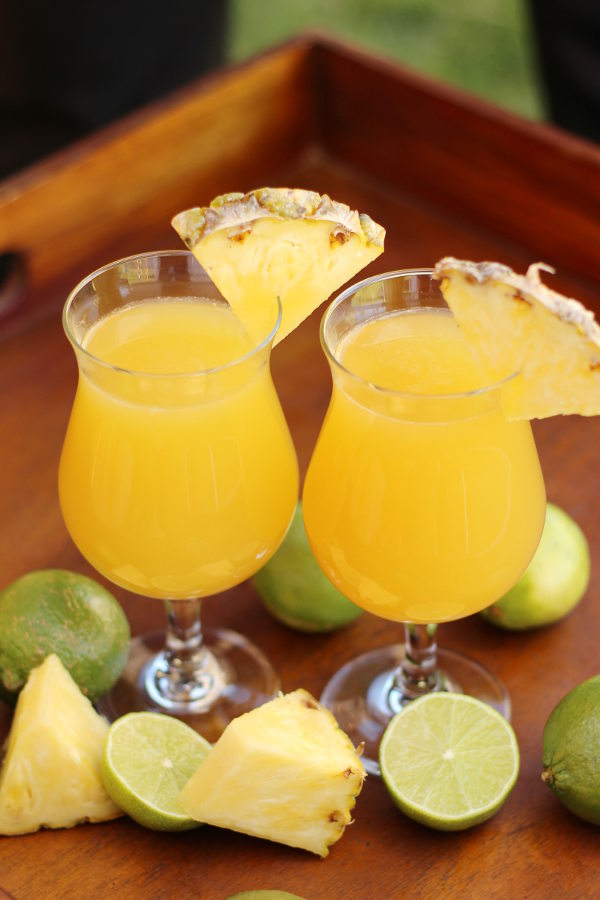 Jonathan and I had never had true Hawaiian Mai Tais and I felt the urge to experiment. In the interest of thorough research we stocked up on a variety of possible ingredients and invited company for dinner!  Before we began our Daniel, a retired Navy sailor, warned me that the best Mai Tai he had ever had was from a Costco mix. His expectations for our experiment were very low. I was undeterred.
Getting the Classic Mai Tai Just Right
In our quest to develop the perfect drink, we tried various famous recipes. There was even one by Betty Crocker – who knew she made cocktails as well as cake mix??? Depending on the recipe you consult, a Mai Tai comes in a range of colors from red to yellow to striped, and involves a variety of different types of alcohol. In the end we settled on drinks without any red ingredients. They were not as pretty but they tasted much better!
Our test subjects totaled two men and two women. The men gravitated towards the stiffer drinks and the women liked the mixes that focused more on pineapple juice and lime. I am also proud to say that we sent Daniel home with a new recipe for the Best Mai Tai he has ever had!
As a group we decided that you really need two Mai Tai recipes. One is for a stiff drink with just a hint of fruit and the other is more tropical – still strong but relying on the sweet pineapple juice to carry the drink.
Developing Your Own Cocktail Recipes
It was a lot of fun to develop a cocktail with friends. There was much laughter and general hilarity. To have your own cocktail development party I suggest gathering 3-5 recipes, the ingredients to make them multiple times, and a bunch of paper cups. Make one drink at a time and pour out a little for each person. Take notes as you go making sure to write down the measurements. Experiment with abandon and enjoy the journey.
More Favorite Tropical Cocktail Recipes
Hawaiian Mai Tai Recipe
This strong, tropical cocktail packs a punch! The combination of pineapple, lime and coconut rum takes you right back to the islands any time you like. Get a good quality pineapple juice for the best results!
Ingredients
Two recipes follow - pick your favorite!
The Stronger Mai Tai: Makes Two Drinks
4

oz

rum

2

oz

90 proof coconut rum

1 1/2

oz

orange curacao

1 1/2

oz

amaretto

1/2

oz

fresh squeezed lime juice

5

oz

pineapple juice
The Fruitier Mai Tai: Makes Two Drinks
1 1/2

oz

rum

1

oz

90 proof coconut rum

1

oz

amaretto

10

oz

pineapple juice

1 1/2

oz

fresh squeezed lime juice

fine ground baking sugar or simple syrup to taste if your limes are tart
Instructions
Add all ingredients to a cocktail shaker of ice. Shake well and serve in a chilled glass or on the rocks. Garnish with pineapple or lime wedges.
Notes
Use a quality fresh pineapple juice for the best flavor. Trader Joe's has a great one in the refrigerated section. We also liked both versions with a 90proof coconut rum but beware - that is one strong drink.
Nutrition
Calories:
331
kcal
|
Carbohydrates:
39
g
|
Protein:
18
g
|
Fat:
4
g
|
Saturated Fat:
1
g
|
Cholesterol:
48
mg
|
Sodium:
51
mg
|
Potassium:
542
mg
|
Fiber:
1
g
|
Sugar:
33
g
|
Vitamin C:
21
mg
|
Calcium:
38
mg
|
Iron:
2
mg
Nutrition Disclaimer
MirlandrasKitchen.com is written to share great recipes. While we do our best to provide nutritional information as a general guideline, we are not registered dietitians and the values provided here should be considered estimates – not exact scientific data.
I read each and every comment and I try to respond to questions asap, so ask away! If you've made a recipe, I would love to hear about it! Please come back and share your experience and give the recipe a 5-star rating so other people will know how much you loved it!
This recipe was originally posted in October of 2014.  It has been updated for content.