Two recipes for the classic Mai Tai. One is very strong, and one is a bit more fruity / girly. Both are delicious and wonderfully reminiscent of vacation!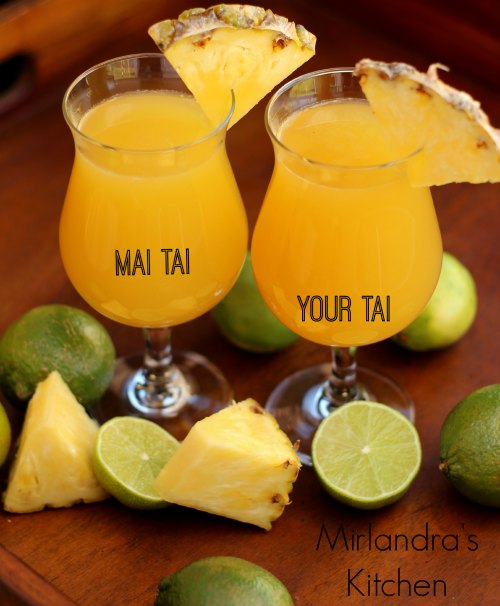 Yesterday I saw the Frozen drinking game that is floating around the internet. The idea is that you have a drink every time Elsa shows up at your front door on Halloween. This tickled my funny bone to no end. I'm sure that somebody is going to do it and they will see many, many Elsa dresses. I predict a rough Saturday morning for the participants.
If you don't plan to play the Elsa game, you will still need great drinks on Friday night. Maybe you will make some nice mulled cider to get you through the thundering herds of trick-or-treaters. Maybe you will make my Fablehaven Hot Chocolate to brace your little ones against the cold as they brave the elements on their candy quest.
However, if a cocktail will hit the spot, I offer up the Mai Tai for your consideration. Jonathan and I had never had this vacation cocktail and I felt the urge to experiment. In the interest of thorough research we stocked up on a variety of possible ingredients and invited company for dinner.
Before we began our Daniel, a retired Navy sailor, warned me that the best Mai Tai he had ever had was from a Costco mix. His expectations for our experiment were very low. I was undeterred.
In our quest to develop the perfect drink, we tried various famous recipes. There was even one by Betty Crocker – who knew she made cocktails as well as cake mix??? Depending on the recipe you consult, a Mai Tai comes in a range of colors from red to yellow to striped, and involves a variety of different types of alcohol. In the end we settled on drinks without any red ingredients. They were not as pretty but they tasted much better!
Our test subjects totaled two men and two women. The men gravitated towards the stiffer drinks and the women liked the mixes that focused more on pineapple juice and lime. I am also proud to say that we sent Daniel home with a new recipe for the Best Mai Tai he has ever had!
As a group we decided that you really need two Mai Tai recipes. One is for a stiff drink with just a hint of fruit and the other is more tropical – still strong but relying on the sweet pineapple juice to carry the drink.
It was a lot of fun to develop a cocktail with friends. There was much laughter and general hilarity. To have your own cocktail development party I suggest gathering 3-5 recipes, the ingredients to make them multiple times, and a bunch of paper cups. Make one drink at a time and pour out a little for each person. Take notes as you go making sure to write down the measurements. Experiment with abandon and enjoy the journey.
No matter what you are drinking on Friday night we wish you all a safe and fun Halloween with plenty of Twix bars!
Need a good cocktail shaker? We love this
one so much I have been buying more and giving them as gifts.
[amd-zlrecipe-recipe:70]