I'm often asked what blogging resources and tools I use at Mirlandra's Kitchen.  These are my favorite resources listed by topic alphabetically!  (Please note that some of these are affiliate links but I make recommendations based on what I use and like.  I don't recommend things just to get paid.  Integrity for the win!)

As I try new resources I will be updating this page with my favorite stuff.  The last update was September 26, 2017
Ad Management
---
I use and LOVE AdThrive.  They have worked hard for me and are always the first ones I would recommend.  I was with The Blogger Network (Now Monumetric) and they displayed ads that were outside of my family friendly limits.  After I switched I was blown away by the customer service at AdThrive.  I have consistently had a much higher RPM with them and never even one ad problem!  AdThrive has also been quick to support me in other ways that have been excellent!
Camera Equipment

---
I'm a Canon girl – always have been and always will be.  Once you buy in one brand don't switch because your lenses won't transfer!  Canon is cheaper in general.
Camera Body:  I currently shoot with a Canon EOS Rebel T3i.  I bought it in 2012 long before I was shooting professionally.  It is a great learning camera.  The more modern version of it is this:
I plan to replace it with one of these two in 2018:

I use this 50mm lens for all of my food photography.  Next year I want to try using some other options but this is a easy way to learn.

If you have a nice camera, don't use a cheep tripod! I use the Manfrotto and it was one of my best investments of 2016! Great quality and easy to use.

I use a remote switch like this one. If you buy one make sure you get the right one for your camera.

Conferences I LOVE
---
It takes a lot of time, money and energy to attend a conference.  Don't bother with conferences that won't deeply impact your business.
If you go to one conference this year make it Craft + Commerce by ConvertKit.  I've never been to a better one! This was the conference of 2017 that kicked me in the butt and infused new direction, energy and projects into my business.
For food bloggers who want to stay at the top of their craft I suggest Everything Food Conference.  They are one of the most respected food blogging conferences right now and in 2018 Nagi is speaking!  If you plan to be there drop me an email – I would love to get to say hi in person!
Email Marketing
---
There are more than 100 options for email marking out there.  I've used MailChimp (which I don't recommend) and now use ConvertKit.  When you pick a provider you need long term value, functionality and service.  ConvertKit is a company of excellence that does everything well.  The service works like a champ and is worth every penny.  Your email list is one of the most important things you have in your business.  Find a good provider with top notch automation and learn to use it well!
Essential Blogging Foundations
---
Recently I gave a talk on the essential foundations needed to build a profitable blog business from the ground up.  It is a resource heavy workshop style talk.  While the slide are intended to go with the information I was speaking on they are also useful by themselves.  You can download a PDF of the Essential Blogging Foundations; 9-26-17 talk here.
Facebook Ads
---
Claire is the queen of all things Facebook Ads!  She is a major ad nerd and also just a sweet, smart girl.  Learn from her free resources or her reasonably priced ebook, Bullseye.
Facebook Strategies
Right now I'm learning a lot from Rachel Miller in her free FB group.  She also has a paid course I have not tried.  If you are interested in learning more about how FB works and how you can build a page that works check out her stuff.
Learning and Training (Blogging and Entrepreneur Stuff)
---
Nicole Walters – my FAVORITE hands down Entrepreneur to learn from!  Follow her stuff on FB for fun, encouraging and solid teaching on all things entrepreneur!
Nagi at Food Bloggers Central – Best training on food blogging available.  FREE.  (But do buy her ebook as I mention below.)
Elite Blog Academy – I took the first EBA class and it was really foundation to building an excellent blog.  I love the program and I love Ruth.  While I do think it is great for somebody starting out I also think there are some cons – namely that it is expensive and less focused on entrepreneur stuff. Also the EBA team has gotten into very aggressive pitching that goes beyond what I want to experience as a buyer or do as a seller.  Bottom line this could be a great fit for you but do your research before you sign up and know what you want out of a program.
Blog to Biz Bootcamp  – I heard Melyssa Griffin speak at Craft + Commerce in 2017 and then took some of her free training.  It was well done, accessible, inspiring and actionable.  I have not taken Blog to Biz Bootcamp but it is a training I may take sometime soon.  Where EBA is more focused on blog creation, Melyssa is more focused on Entrepreneur and course creation.
ProBloggger – Darren has lots of free information for bloggers and he has introduced me to many great resources I love and use today.  I trust his content to be true and unbised. He is one of the first places I will do research for blog info.  I have not taken any of his classes.
Food Blogger Pro – I know lots of bloggers love this program but it was not the right fit for me.  I bought a one year membership and didn't get a lot of value out of it.  If there is something specific you need to learn and feel like that is the option I suggest blocking out the time you need and doing it for a month.  I think they are great people but I'm not into the program.  Specifically I felt like they had outdated content in the lessons, didn't have enough quality content to justify the price, and don't really have the value needed for a membership site.  It is certainly not bad training but I thought other options like EBA and Food Bloggers Central offer better value.
Photo Editing

---
I edit in Lightroom and Photoshop.  For the most part now you have to buy a monthly subscription to the Adobe Creative Cloud but it is worth it.  I highly suggest googling to look for basic tutorials and videos for basic information on using these programs.  You can learn the basics in a few hours or less!  PLEASE shoot in RAW and learn to use good software for great images.
Photography Education
---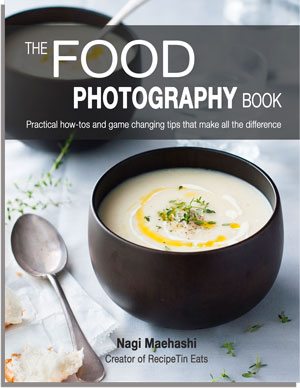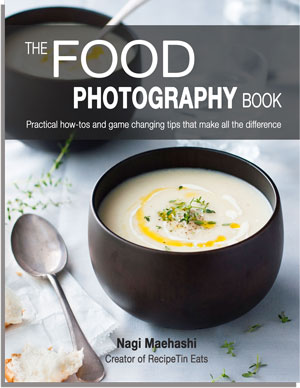 The best money I ever invested in my photography was the $29 I spent on Nagi's book The FOOD Photography book.  Her training is simple, clear and practical.  It is THE book that every beginning food blogger should start with.  A few dollars and hours invested with this book are life changing.  You can also check out her FREE Food Blogging information at Food Bloggers Central.  I think her resources are the best available right now!
If you are looking for advanced food styling information I have enjoyed the Food Photography Tips and Tricks ebook by Christina Peters.  Her teaching style is easy to understand and the book covers an amazing depth of information.  Some of this is beyond what you need as an "average" food blogger but I like the professional photography information taught in a way a novice can grasp.  I also think that a grounding in this information is sensible for even your "average" food blogger.  It gives more substance to your work.  Christina also offers some great free resources on her Food Photography Blog that are worth checking out!
---
Search Engine Optimization (SEO) Stuff
---
I highly recommend Casey Markee at Media Wyse for all SEO questions.  He is an expert in the field and works hard to support the Food Blogging community.
It is also a great idea to use Yost SEO WordPress Plug-in to make sure you are optimizing for SEO in each post.  I use the free version.
Twitter
---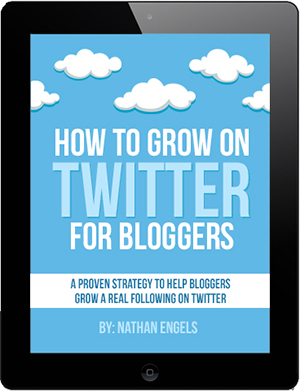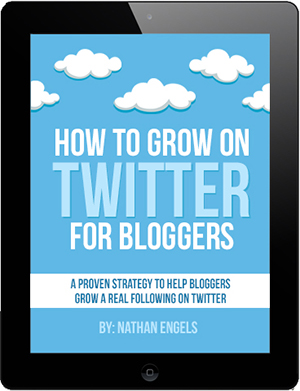 I do the bare minimum with Twitter right now.  However, in 2017 I grew exponentially in followers using Nathan Engels $10 ebook.  I use his simple system through ManageFlitter and it works perfectly for me.  I also use ManageFlitter to schedule all my tweets.
Web Hosting
---
Great quality hosting is essential.  Your business will literately die without it.  I started with Liquid Web and loved it until they sold us to another company.  After that things went further and further downhill and my site speed tanked.  Finally I worked with AdThrive for recommendations and they sent me to SiteGround.  I had a good migration experience and have had an easy time getting help.  Things are running smoothly and they way they are supposed to.  Pick a quality hosting service with good customer service to avoid having problems with the page going down and with site outages.
Working With Brands
---
Learning to effectively pitch a brand you want to work with is essential to success in creating brand partnerships.  Most of what I know I've learned from Casey Benedict through Kitchen Play and Pitch Power Pro.  Check out here free FB group for great lessons, and sign up for her free content.  I have not taken any of her paid courses but her free stuff is the reason I landed my first five figure contract in 2017!