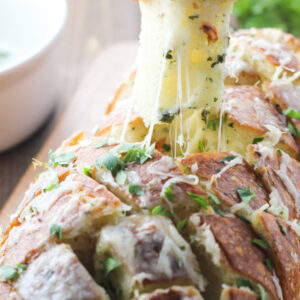 Print Recipe
Cheesy Garlic Pull Apart Bread (AKA Crack Bread)
Hot, crusty bread is drenched in melted butter, crushed garlic, flavorful herbs and then smothered in cheese. Serve it as an easy appetizer or side dish! No matter how you serve it up nobody can resist pulling off piece after cheesy piece!
1

loaf of French bread

any kind but firmer loaves hold up better (use cooked bread, not dough)

½

cup

salted butter

melted

2

tsp.

minced garlic

1

Tbsp.

Italian Herb Blend

freeze dried such as Litehouse is preferable

1

cup

shredded mozzarella or other favorite cheese that melts well
Preheat the oven to 400 F.

Use a serrated bread knife to cut the bread on a diagonal into 1" sections being careful to not cut through the bread. This means cut diagonally across the loaf from one end to the other and then come back making diagonal cuts the other direction. As long as the bread ends up cut into sections that go almost to the bottom crust it should work. You do need to end up with a diamond pattern from the end of the loaf and not a square pattern.

Place the loaf of bread on a large piece of foil. Combine melted butter, garlic, salt and herbs.

Use one hand to gently separate the chunks of bread and drizzle the herb butter into the cracks with a spoon. The butter can be drizzled over the top and down into the cracks – It won't look messy after you bake it. The goal is just to get the butter distributed through all the cracks of the bread.

Tuck the cheese down into all the tops of the cracks (pushing it in too far causes the bread pieces to fan open more).

Wrap the bread in the foil and bake for about 15 minutes until the cheese is melted. Unwrap and bake for another 5 minutes to crisp everything up.

Serve hot.