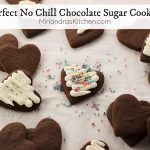 Print Recipe
Buttercream Frosting for Decorating
This is the easiest recipe for chocolate sugar cookies that exists! The dough does NOT have to be chilled and the cookies taste wonderful. These are cookies you can actually enjoy making with kids and I've included a great buttercream frosting recipe to decorate with!
Servings:
36
frosts about 36 cookies
n the bowl of a stand mixer with the whip attached beat butter until creamy. Add powdered sugar and beat on slow speed until incorporated. This is a good time to use a shield or throw a towel over the mixer.

Add the cream, vanilla and salt. Beat on low speed until combined and then beat on medium-high speed for two - three minutes. The frosting will be fluffy and light. Taste for salt and vanilla if desired.

Use at room temperature to frost cookies by spreading or piping.

Leftovers can be saved in the fridge for a month of frozen for long term storage. This stuff is always great to have around!