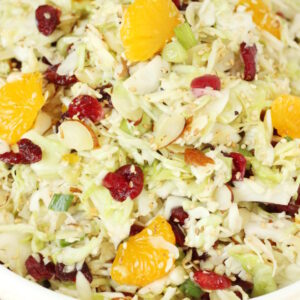 Print Recipe
Healthy Asian Coleslaw
Note: This is best made about 12 - 24 hours before serving so it can sit and marinate.
Remove core from cabbage and shred in a food processor or by hand.

Mince onions and combine with cabbage in a large bowl. Add almonds, craisens, and sesame seeds. Toss to combine

In a separate bowl whisk together oil, sesame oil, sugar, salt, pepper and vinegar.

Pour over cabbage mixture and toss to combine. Refrigerate 24 hours to marinate. Toss again before serving and add the drained oranges.