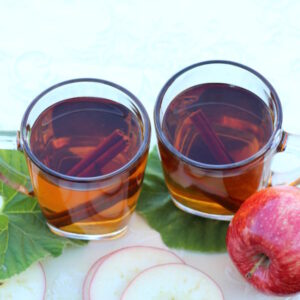 Print Recipe
Easy Mulled Apple Cider
This Mulled Apple Cider is easy to make in a crock-pot and makes the entire house smell nice. Every fall gathering is better with a little cider!
In a large crock pot, mix apple juice concentrate with water according to package directions. Turn crock pot on high.

Add the spices. Cover the crock pot and leave on high for 3 hours.

Use a strainer to skim out spices if desired.

Wash the apples. Slice 1/8" slices down the length of the apple to reveal the star pattern of the core. Remove the seeds (they are poisonous). Add all the pretty slices to the cider. Eat or discard any slices that don't display the star pattern. Turn the crock pot to the "keep warm" setting to hold the cider for serving.