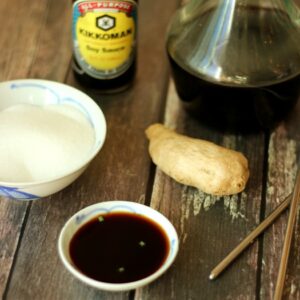 Print Recipe
"Da Sauce" Teriyaki Sauce & Marinade Copycat
A Sweet, gingery soy sauce based Teriyaki and Marinade
Combine water, soy sauce and sugar in a medium sauce pan.

Slice garlic cloves into large slices and put into sauce pan.

Grate ginger put into a large tea strainer. Add to pan.

Bring sauce to boil for 5 minutes, stirring occasionally.

Remove from heat and let sit for 4-5 minutes to cool.

Strain out garlic slices and remove tea strainer.