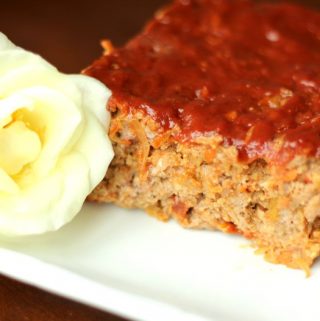 Print Recipe
Gourmet Meatloaf
Gourmet Meatloaf that lives up to it's name with every tender, juicy bite. Easy to prepare and bursting with flavor. Try my simple trick to keep it moist.
1

Tbsp.

butter

1/2

of a

onion

minced

1

stalk

celery

minced

1/2

of a

red bell pepper

minced

1/2

of a

carrot

grated

1

oz

water

optional

1

egg

beaten

3/4

cup

spicy ketchup

(1/4 cup inside the meatloaf and 1/2 cup for the top glaze)

1/2

tsp.

salt

1/4

tsp.

white pepper

1/2

tsp.

fresh ground black pepper

1/4

tsp.

red pepper flakes

1

Tbsp.

minced garlic

1/4

cup

Worcestershire sauce

1/2

cup

Panko bread crumbs

1

pound

hamburger

20% fat (more fat is too rich, less fat is too dry)
Preheat the oven to 350 F.

Put a cast iron skillet over medium heat. Add the butter and onion. Sauté for a few minutes until the onion starts to turn color a bit.

Add the celery, bell pepper and carrot to the pan. Continue to cook stirring often. If the mixture starts to stick to the pan, add a big splash of water, about 1 oz. Cook for about 7 minutes until all the veggies are tender.

Meanwhile add everything else but the meat to the mixing bowl. Stir to combine.

Crumble the meat into the mixing bowl but don't stir.

When the veggies are tender, add them to the mixing bowl on top of the meat. Use your hands to gently combine everything. Do not over mix.

Gently press the meatloaf into a loaf pan. Top with the remaining 1/2 cup of spicy ketchup.

Bake in a preheated oven for 20-30 min. Do not overcook as this will make it dry. The meatloaf is done when it shrinks away from the edges of the pan slightly and a thermometer inserted into the center reads 160F.

Remove the loaf from the oven and allow it to rest for 5-10 minutes. This helps it retain its juices. Serve with mashed potatoes and additional spicy ketchup.
Note: If you don't want to make
spicy ketchup
you can substitute regular ketchup but it will change the recipe.
Calories:
359
kcal
|
Carbohydrates:
53
g
|
Protein:
11
g
|
Fat:
7
g
|
Saturated Fat:
2
g
|
Cholesterol:
39
mg
|
Sodium:
867
mg
|
Potassium:
269
mg
|
Fiber:
2
g
|
Sugar:
7
g
|
Vitamin A:
260
IU
|
Vitamin C:
3.2
mg
|
Calcium:
191
mg
|
Iron:
4.3
mg