Gourmet Meatloaf that lives up to it's name with every tender, juicy bite. Easy to prepare and bursting with flavor. Try my simple trick to keep it moist.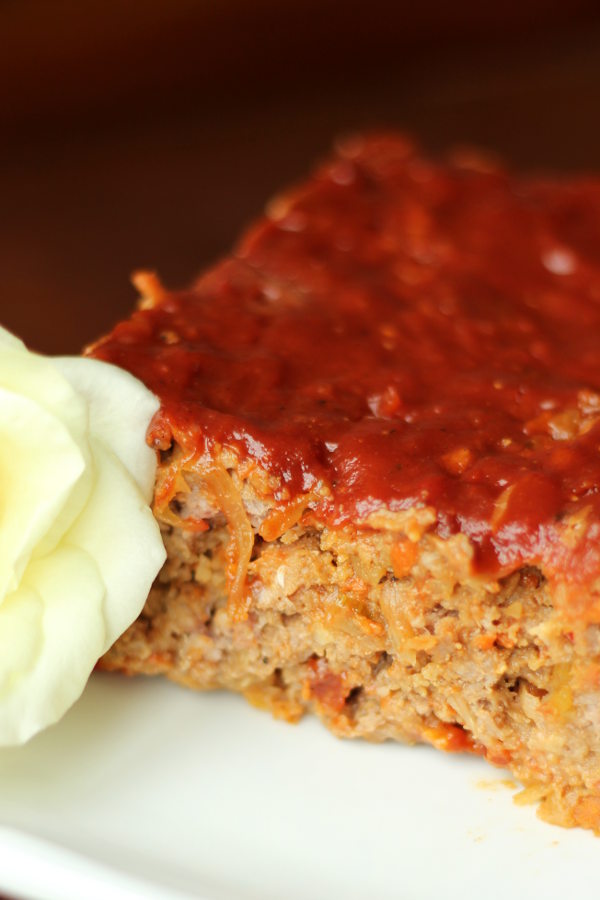 Justin Timberlake brought sexy back (where did it go exactly?). Meghan Trainor brought booty back. I am going to do so much more than that. I am bringing meatloaf back! I am going to single handedly restore Gourmet Meatloaf to the dinner table where it has always belonged. There is an argument here that my accomplishment is much more useful than Timberlake's but never mind that.
Great Tender Meatloaf
Somewhere in the last 20-30 years of cooking history meatloaf picked up a reputation as cheap, dry, overcooked, and a meal to avoid. This really is sad. Meatloaf is a classy dish, rich in flavor, tender and juicy. It is a friend to my beloved mashed potatoes and a hit at dinner parties! Really, you need to invite meatloaf over sometime.
Last fall we hosted my husband's work team and their families for a dinner party. It was not a formal affair by any means but I wanted to assemble a memorable and classy dinner menu that would honor our guests. It was a group of more than 20 that included children so I needed food that everybody would like and that I could do most of the work ahead.
When I suggested meatloaf my husband was about one step below horrified. This was NOT his idea of nice food. Thankfully I'm married to a man who trusts and respects me. We talked about it and he agreed to let me give it a shot.
The party was a smashing success and the meatloaf was the star of the show. Over and over guests expressed their surprise that meatloaf could be so delicious. I have thrown dinner parties with meatloaf as the main dish several times in the past decade with a similar response. It really is a gourmet main dish.
The term "gourmet" sometimes implies complexity and difficulty but when it comes to Gourmet Meatloaf nothing could be further than the truth. You need a good recipe and 15-20 minutes to mix a few things together. Bake and wow your dinner audience.
My "secret sauce" for this recipe is our family's beloved spicy ketchup. It boosts the flavor without adding any serious spiciness to the loaf. It is also easy to make and has many uses beyond meatloaf. You might even wonder how you ever lived without it.
The other "secret" for this meatloaf is a digital thermometer. Lots of people overcook meatloaf. This is a terrible crime against meatloaf but not yet punishable by law. Don't worry Americans, I'm sure the government will remedy that soon!
Because meatloaf has ketchup in it, you might find it hard to tell when the meat is cooked. By the time you are sure it is safe to eat the damage is usually done – particularly for less experienced cooks. Using a inexpensive thermometer eliminates the guessing game and tells you exactly when the food is done every time.
So, ready to help me in my crusade to bring meatloaf back? Make it, share it, pin it, tell the world about it and above all else, enjoy it. I suggest serving it with some really good mashed potatoes and a green vegetable like asparagus, zucchini or snow peas. Enjoy!
Gourmet Meatloaf
Gourmet Meatloaf that lives up to it's name with every tender, juicy bite. Easy to prepare and bursting with flavor. Try my simple trick to keep it moist.
Ingredients
1

Tablespoon

butter

1/2

onion

minced

1

stalk

celery

minced

1/2

red bell pepper

minced

1/2

carrot

grated

1

oz

water

optional

1

egg

beaten

3/4

cup

spicy ketchup

(1/4 cup inside the meatloaf and 1/2 cup for the top glaze) - see note

1/2

teaspoon

salt

1/4

teaspoon

white pepper

1/2

teaspoon

fresh ground black pepper

1/4

teaspoon

red pepper flakes

1

Tablespoon

minced garlic

1/4

cup

Worcestershire sauce

1/2

cup

Panko bread crumbs

1

pound

hamburger

12% fat (more fat is too rich, less fat is too dry)
Instructions
Preheat the oven to 350 F.

Put a cast iron skillet over medium heat. Add the butter and onion. Sauté for a few minutes until the onion starts to turn color a bit.

Add the celery, bell pepper and carrot to the pan. Continue to cook stirring often. If the mixture starts to stick to the pan, add a big splash of water, about 1 oz. Cook for about 7 minutes until all the veggies are tender.

Meanwhile add everything else but the meat to the mixing bowl. Stir to combine.

Crumble the meat into the mixing bowl but don't stir.

When the veggies are tender, add them to the mixing bowl on top of the meat. Use your hands to gently combine everything. Do not over mix.

Gently press the meatloaf into a loaf pan. Top with the remaining 1/2 cup of spicy ketchup.

Bake in a preheated oven for 20-30 min. Do not overcook as this will make it dry. The meatloaf is done when it shrinks away from the edges of the pan slightly and a thermometer inserted into the center reads 160F.

Remove the loaf from the oven and allow it to rest for 5-10 minutes. This helps it retain its juices. Serve with mashed potatoes and additional spicy ketchup.
Notes
Note: If you don't want to make spicy ketchup you can substitute regular ketchup but it will change the recipe.
To make a homemade spicy ketchup combine the following:
1 cup ketchup
1 teaspoon white vinegar
2 Tablespoons honey
2 teaspoon Worcestershire sauce
1/4 teaspoon ground white pepper
1/4 teaspoon ground cayenne pepper 
Nutrition
Nutrition Facts
Gourmet Meatloaf
Amount Per Serving
Calories 359
Calories from Fat 63
% Daily Value*
Fat 7g11%
Cholesterol 39mg13%
Sodium 867mg36%
Potassium 269mg8%
Carbohydrates 53g18%
Protein 11g22%
Vitamin A 260IU5%
Vitamin C 3.2mg4%
Calcium 191mg19%
Iron 4.3mg24%
* Percent Daily Values are based on a 2000 calorie diet.
I read each and every comment and I try to respond to questions asap, so ask away! If you've made a recipe, I would love to hear about it! Please come back and share your experience and give the recipe a 5-star rating so other people will know how much you loved it!